Brisbane punk rockers The Arturos will release their long-awaited debut album, "Tokyo-A-Go-Go!" on September 18th
Hot on the heels of Morticia, the album's first single and video, "Tokyo-A-Go-Go!" is a 16-track onslaught of hard-hitting guitar-driven tunes that is unapologetically grounded in punk rock and uniquely their own. Recorded with producer Adam Merker at Studio Anders Debeerz, and mastered by Jack Shirley (Jeff Rosenstock/Western Addiction), vocalist/guitarist Rob Garry explains the recording process:
"We recorded our first EP with Adam and enjoyed the experience so much that we never even considered recording with anyone else. Working with him in the studio is always both fun AND productive. He creates an atmosphere that makes everyone completely comfortable and is amazing at capturing the sounds which previously only existed in our heads. We tried to combine elements from our favourite records, while still attempting to deliver something that was fresh and visceral."
Lyrically, covering everything from tales of heartbreak and addiction, to the love of a 60's horror icon, it's the albums title track that holds a special place in their heart.
"It's actually the very first song that we wrote together as a band. I had nothing more than the words Tokyo-A-Go-Go!, which I thought sounded cool. Those words alone sparked all our imaginations and the ideas just started flying. Before we knew it, the structure of the song and the melody was done. It seemed almost effortless. From that moment on, we knew we had the makings of something pretty special with this collection of players." Garry recalls.
Formed in late 2016 by Rob as a solo studio based project, The Arturos (named in honour of the late Arturo Vega, the unofficial "5th Ramone", and the genius behind the iconic Ramones Presidential Seal logo) started out as a love letter to 70's punk rock. In particular The Ramones, an obsession that started with Rob's first listen of "Ramones Mania" in high school.
The goal was pure and simple, write and record an EP's worth of material, and share it with like-minded friends and fellow bands. Overwhelming positive feedback, and repeated airplay on local community radio station 4ZZZ, demanded that The Arturos become a live entity. Enter Robb Perkin (bass/vocals) and Danyn Andrews (drums) in early 2017.
The chemistry was undeniable. They also brought with them a broader spectrum of influences (think Black Flag/Dwarves), and a dynamic far beyond what was originally thought possible. Since then, they have released an EP and shared the stage with great bands such as The Supersuckers (USA), The Creepshow (CAN) and most importantly, CJ Ramone, on his final Australian tour.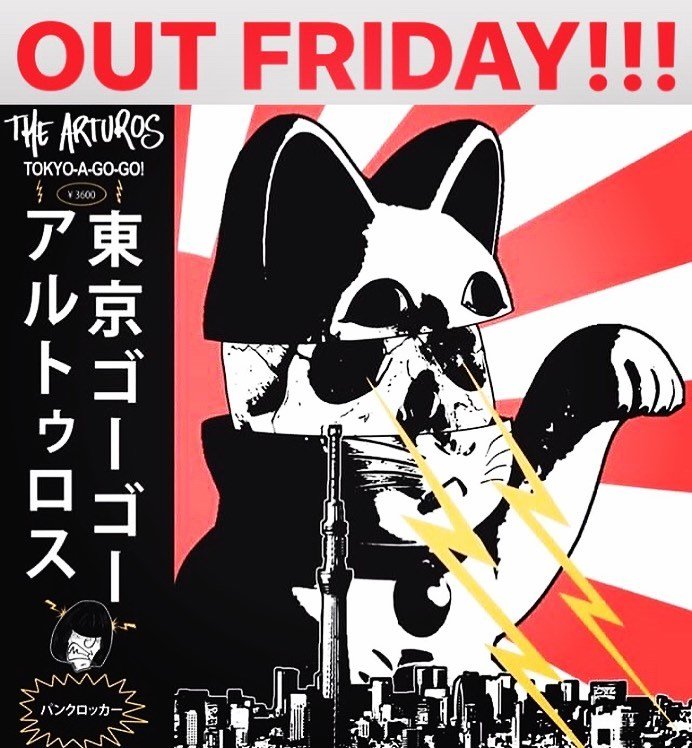 ---
The Arturos Socials
Pre-save your copy of Tokyo-A-Go-Go
---
Everyone should have a soundtrack playing loudly in the background of their life. I was born moshing to my own beat and have never swayed from my love of music. Spreading my passion through the written word is my soul's purpose. My punk heart beats loudly with the rhythm of my rock soul. I plan to continue to mosh like no one gives a shit.
Click on Tracey's photo for more of her articles!