Acid Blood's debut album is going to be released in the United States! US label Dead Beat Records will give the 2019 "Acid Blood" album a limited CD release this Friday, November 6, 2020.
The self-titled debut album from Swedish punk band Acid Blood has previously only been available on vinyl from the German label JANML/MVL Records.
The new limited CD version will include all 14 songs from the LP plus two bonus tracks originally released on the band's first 7″ EP "Dagger Eyes" in 2017.

Acid Blood is from Umeå, Sweden, and features vocalist Jojo Anderbygd, guitarist Karl Backman (previously in AC4, The Vectors, The T-55s), bass player Emil Fjällström (previously in Raging Steel), and drummer Isak Mörtzell. The band is influenced by Motörhead, Girlschool, Stooges, Exploited and Plasmatics among others.
The new US CD can be ordered directly from the label at http://www.dead-beat-records.com while the European vinyl versions of both the LP and 7″ EP are available at http://www.janml-records.de
---
MORE ACID BLOOD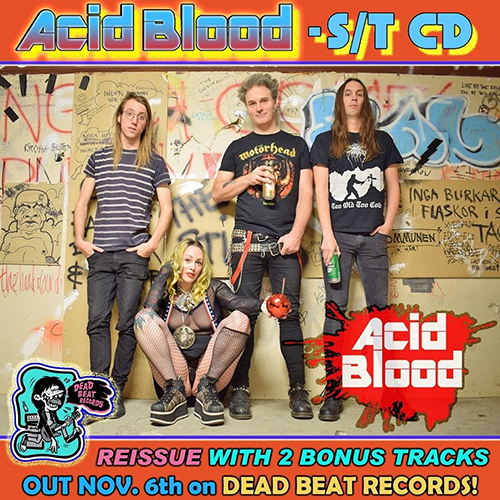 Acid Blood Photo by Nicklas Viberg.

---
Punktuation Magazine For All Your Daily Punk News, Features, Interviews, Lifestyle and more!