The new Queen of punk and The Black Halos frontman release a limited edition 7" of two songs.
Remember duets? Of course you do: I Got You, Islands In The Stream, Stop Draggin' My Heart Around, Don't Go Breakin' My Heart, Wendy O Williams and Lemmy blasting through Stand By Your Man. Duets ruled the airwaves and remain karaoke classics to this day. 
Suzi Moon, dubbed "the new Queen of punk" by Vive Le Rock Magazine, and Billy Hopeless, frontman of The Black Halos, met years ago while touring with their respective bands. When Billy reached out to Suzi about a duet project, she jumped at the chance to work with someone whose work she greatly admires.
The result of their collaboration is "Love Is A Stranger," a gut-wrenching "pirate ghost waltz" about unrequited love that showcases both Suzi and Billy's strengths as lead singers. The spooky organ played by Moon guitarist Drew Champion adds another layer of haunting beauty to the song. On the B-side, "Communicado," a short but sweet catchy blast of pop aware punk written by Billy, shows off the duo's playful side.
Duets can be a challenging task, but Suzi and Billy's mutual respect and love for rock and roll made the process a joy. The limited edition 7″ is out now on white vinyl through Yeah Right! Records. Get ready to add "Nothing Left To Lose" to your collection and immerse yourself in the haunting beauty of these two talented musicians.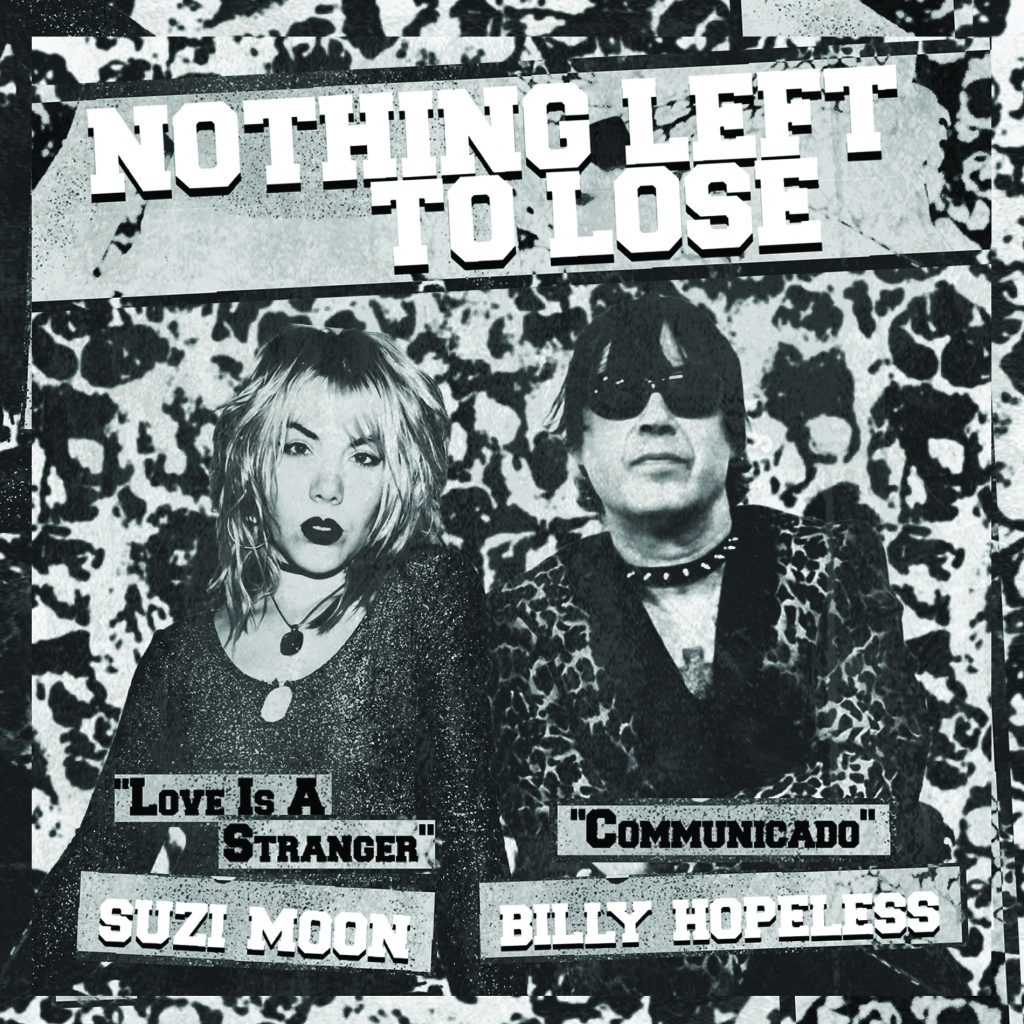 w/ AGENT ORANGE
04/21/2023 – Flagstaff, AZ – Yucca North
04/22/2023 – Tucson AZ – House of Bards
04/23/2023 – Bisbee, AZ – The Quarry Bisbee
04/25/2023 – Fort Worth, TX – Tulips FTW
04/26/2023 – San Antonio, TX – Paper Tiger
04/27/2023 – Austin, TX – Come and Take It
04/28/2023 – Corpus Christi, TX – Rich's Billiards
04/29/2023 – Houston, TX – Last Concert Cafe
04/30/2023 – New Orleans, LA – Santos Bar
05/02/2023 – Pensacola, FL – Vinyl Music Hall
05/03/2023 – West Palm, FL – Respectable Street
05/04/2023 – Tampa, FL – Brass Mug
05/05/2023 – Sanford, FL – West End Trading Company
05/06/2023 – Jacksonville, FL – Archetype
05/07/2023 – Charleston, SC – The Charleston Pour House
05/09/2023 – Barco, NC – Historical McHorneys Odditorium
05/10/2023 – Asheville, NC – The Grey Eagle
05/11/2023 – Knoxville, TN – Brickyard Bar & Grill
05/12/2023 – Chattanooga, TN – Songbirds Guitar & Pop Culture
05/13/2023 – Huntsville, AL – Sidetracks Music Hall
05/15/2023 – Kansas City, MO – recordBar KCMO
05/16/2023 – Wichita, KS – WAVE
05/18/2023 – El Paso, TX – The Reagan
05/27/2023-05/29/2023 – Las Vegas, NV – Punk Rock Bowling
06/30/2023 – Hünxe, DE – Ruhrpott Rodeo
07/06/2023-07/09/2023 – Novi Sad, Serbia – Exit Universe Festival
07/07/2023-07-08-2023 – Periam, Timiș, Romania – Rock la Mures Fest
07/24/2023 – Köln, DE (w/ THE BRIEFS, TSOL, STITCHES)
07/29/2023-07/30/2023 – Gijón, ES – Tsunami Xixón 2023
08/04/2023 – Duffel, Belgium – BrakRock Festival
08/06/2023 – Blackpool, UK –  Rebellion Festival
08/08/2023-08/11/2023 – Tolmin, Slovenia – Punk Rock Holiday
08/11/2023-08/12/2023 – Villmar, DE – Tells Bells
Follow Suzi Moon on Socials
Need more Punk In Your Life?
New Releases
The new single ' DC Special Sha La La' hints at what's to come from the band's first new LP since 1993
Read More »