Indie-punk newcomers Sunliner release their self-titled debut album via Lockjaw Records and it sets out an impressive stall for this Leeds-based four piece.
'Sunliner' was produced by Andy Hawkins at The Nave in Leeds, mastered by Dave Draper, and powered by cups of tea. The 10 tracks on the album can be read as one person's journey through life or lots of different people at different stages in their life.
"Lyrically, I approached the album differently to how I've written songs before. Taking influence from Bruce Springsteen and his ability to create a narrative story of an average person – running away to be something, as well his social commentary of class divides and critique of the government is something that resonated with me and could not be more relevant today," says vocalist Jake.
And it certainly lives up to that ambition to capture life's key moments, with an expansive sense of storytelling and developing sound that expresses relatable moments from angsty teenage years, through work life, bereavement and all those other countless moments that take place in the in-between.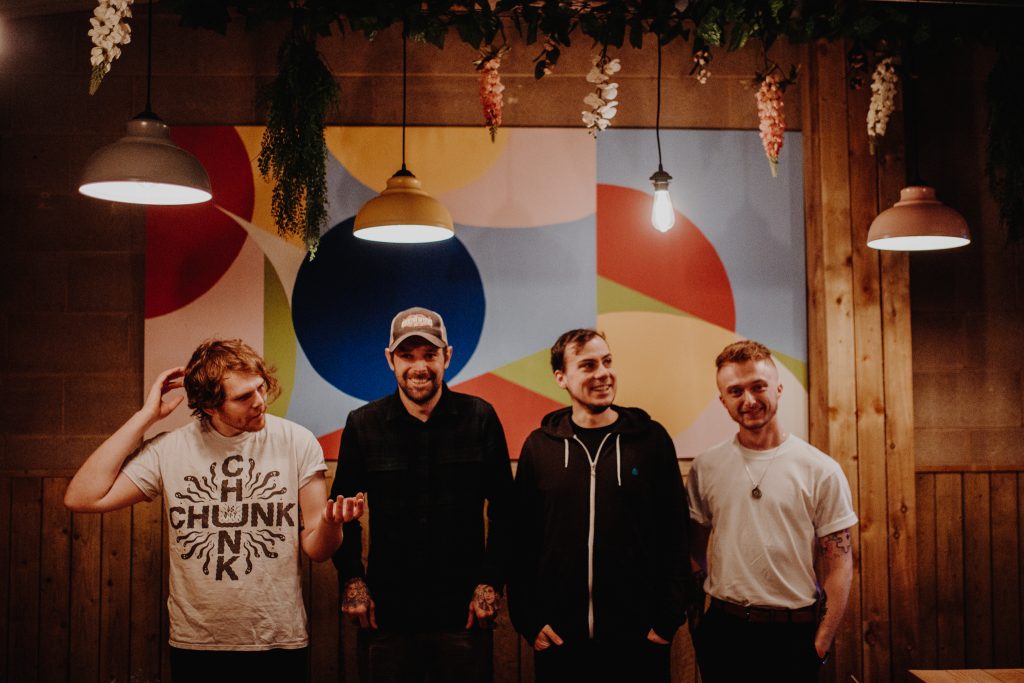 The album features their energetic summer single 'Salad Days' , a fun pop punk anthem with a high octane pace and a super fun skateboarding themed-video.  
Vocalist Jake says of the track, "During lockdown my sister was staying with us; we were talking about how when applying for jobs, or in this case Masters courses, the worst part of the rejection is the investment of the hope that you had. The job you were going for, as you apply for it, you see yourself getting.
It's completely unavoidable, you know you shouldn't do that, but you can't help yourself but think about how completely different and how much better your life will be if you do get this job, get this gig, get on this course…"

He adds, "As always, Stephen King put this best in 'Joyland' (2013): 'You think Okay, I get it, I'm prepared for the worst, but you hold out that small hope, see, and that's what fucks you up. That's what kills you.'"
The single is a good indicator of the quality on display on the rest of the album- the band are certainly able to showcase what they're capable of across the 10 tracks.
There is an explosive start with the stunning 'Palliative Care' which really demonstrates right out the gate what this band can do. It has melody, gentility, awesome harmonies and drumming that takes us towards moments of release and then back down again. It is a fantastic opening track.
There are plenty of sing-a-long moments in tracks like '4am' and 'I Call Him Gamblore', tracks sure to keep even the most discerning pop-punk fan satisfied. The band can certainly give a feeling of space and grandeur in their songs whilst keeping the tempo going.
Sunliner's vocalist Jake can run the full range of timbre, intensity and power in his singing- often within the same sentence.
In fact, the whole album is a pretty good example of a band that are coming onto the scene unapologetically strong. Everything is displayed to equal intensity, every component works just as hard as the next- drums, guitar , bass and vocals. Everything has a chance to stand out.
The drums in particular get a good chance to showcase themselves across all tracks on the album. Drummer Harry clearly working hard to balance precision and nuance with just outright power.
The LP builds in power with some metal sounding tracks nestled in the middle. There is some great riffage in tracks like 'Dialtones'.
In true pop punk tradition, there is a slower track to play us out- 'What A Time To Be Alive'. Beautifully crafted, and heartbreakingly paced, a good way of exploring the band's serious side.
Sunliner are an up and coming indie-punk-rock four-piece from Leeds comprised of Jake (vocals, guitar) Caffs (bass and vocals) Harry (drums) and Jonty (guitar). And if this release is anything to go by, there is a lot more great stuff to come from these four lads.
'Sunliner' is released on 4th November. Order your copy HERE.
---
Follow Sunliner for more…
---
More of the latest from Punktuation: