The Buzzcocks frontman chats to Punktuation's Nic Howden about the new EP, the tour, the new album and of course, Pete.
'All the gods are looking down on my senses out of control, all my dreams have hit the ground with my senses out of control' – built around a big riff and a thumping bassline 'Senses Out of Control', A-Side of the new Buzzcocks' EP, is fast and fabulous.
Released in April, it bodes well for the upcoming album, 'Sonics of the Soul', which is finished and subject only to the queues at vinyl pressing plants, and the tour that starts in Bristol tonight (Wednesday, March 2nd).
Written during "Covid time" – as a proper journey rather than just a bunch of songs – the LP is frontman Steve Diggle making a statement and "kicking up a little dust", he tells me over lunchtime pints in North London.
"Senses Out of Control' came a bit later in the process. I'd done about three or four songs by then, and I was remembering how we started, with Howard and Pete.
"I thought, 'we haven't got a 'Spiral Scratch'-type of song. We need one of them'. So, it's kind of come full circle. 'Senses Out of Control' is instant and a good place to start."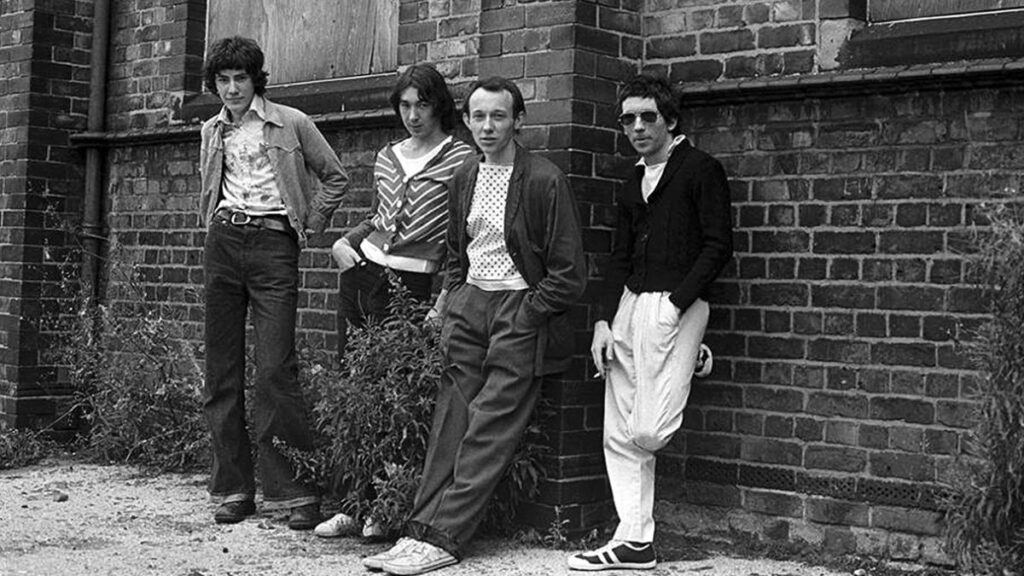 The flip features of Carnival of Illusion, replete with a lift from Bowie's 'Look Back in Anger', and 'Hope Heaven Loves You', a tribute to Pete Shelley.
"I've said in a few interviews I want to start doing some weird B-sides, like in the 1970s," Diggle says. "Hawkwind's 'Silver Machine' had 'Seven by Seven' on the other side, which I always thought was a bit better, the B-sides of Sweet songs and so on. It was always interesting putting them on the jukebox in a pub.
"Somewhere in my house, I had Eno's 'Here Come the Warm Jets' playing. That was a big thing for me and Pete, and I just made the chords up for 'Carnival of Illusion', which is [about] the cancel culture, all this kind of stuff, so I thought I'd just write a list of words.
"I played it to the other guys in the studio – we did all the backing tracks there in two days – I had that 'woke, joke, made me choke', all those kind of things, and I needed something for the middle. In step with the Eno thing, we played Bowie's 'Look Back in Anger', and I thought, 'let's stick a bit of that in'.
"'Hope Heaven Loves You' started off as a good idea," Diggle smiles. "I thought I should write a song about Pete, and it kind of tumbled out. All the other songs made sense in terms of what the album was going to be about – but that one came a different way."
Across the beer, it's easy to see just how much Steve Diggle misses Pete Shelley and how ballsy it is for him to carry on with Buzzcocks, reshaping the band around its third frontman.    
Preparing for the 2021 dates, wanting to listen to some of the old records to help get in the zone, he found he couldn't. It was just too emotional. Similarly, a copy of Louie Shelley's winsome book of interviews with Pete remains unread.
Part of the separation process, though, has Twitter activity emphasising the Steve Diggle songs in Buzzcocks' canon. Pete Shelley was more prolific, but Diggle wrote many great songs for the band. Still does. So, why worry?  
"I took a cassette around to Pete, however long ago – said 'I've got this song, 'I might need you, I might need you, do want you want, don't make me blue' C F and G. Next week he had 'What do I get'! So, I see that as half my song. I think I inspired him in that [style]. It was a good combination. 
"Right from the first album, I came up with 'Autonomy', which wasn't like 'Boredom' and all that. 'Why Can't I Touch It' was my chords; that's my Keith Richards' influence, I guess. I'd always try and put something a bit different in – Pete was a bit more linear in some ways," Diggle shrugs. 
"There was a time where I thought the Buzzcocks thing was a millstone around my neck, in some ways, to keep having to justify myself, saying 'this is a Steve Diggle song', but there will be less of that now.
"Making the crossover is a process that people are getting used to. And saying all that, I will always keep Pete's songs alive."
That compromise is evident on stage, where Diggle fills in for the contrast between his voice and Shelley's, a telling punctuation in the non-stop sets of yore, by adopting elements of the vocal patterns synonymous with songs like 'I Don't Mind, Promises' and 'Ever Fallen in Love (With Someone You Shouldn't'veShouldn't've)'.
"People thought, 'Fucking hell! He's singing now – what's going to happen?' My brother's gone, so what I've done is to blend, like a fine whisky, my voice with his.
"People who've bought my solo stuff know the two sides, or the many complexities, of Steve Diggle," he chuckles.
Absolutely live 
Watching Buzzcocks step in last minute for Covid-hit Futureheads at Rockaway Beach Festival in January, playing to a neutral crowd, the simple thing for Diggle – who had to get himself from Blackpool to Bognor sharpish – would have been a snappy 'Singles Going Steady' set but, much to his credit, they started with 'Senses Out of Control' and won the room anyway.
"We'd been opening up with 'What Do I Get' at the end of last year, but I thought we've got to have a little element of danger here.
"You hope the audience understands you a bit, or the whole situation a bit, and thinks, 'He's opened with a new song! That's brave!' We did a lot of other things, songs off the last album, songs we didn't play when Pete was alive. 'Third Dimension', for example, has got this groove to it, which I can do a load of guitar noise on, that's a good song, and people get that now.
"We don't want to be a greatest hits band. It's got to move on. I love all the old stuff, of course I do, but I'd like to squeeze as many new ones on this tour as I can."
This is a big year for Buzzcocks. The EP, the tour, the new album – likely to be out in August – with more live shows sure to come in support. A Rebellion R Fest slot is already in the diary – albeit fourth on the bill. With Squeeze headlining? Craziness.
Expect a fierce, fast set thick with new songs and the classics on the March dates, a run of small venues starting at Thekla Bristol tonight (March 2nd) and finishing at the O2 Institute Birmingham on the 26th.
As Steve Diggle would be sure to say, Buzzcocks on fire!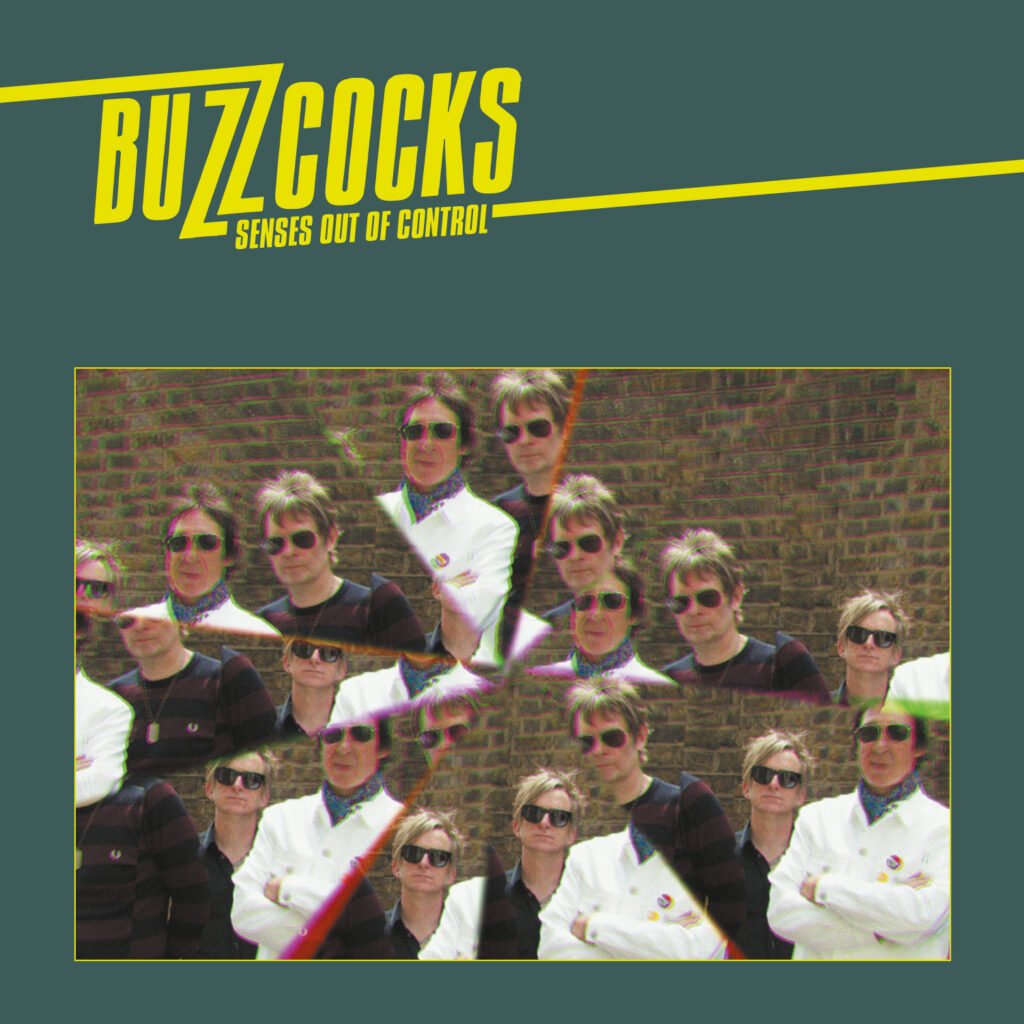 Buzzcocks Senses Out Of Control 10″ Vinyl EP Out April 29th on Cherry Red Records PRE ORDER HERE
---
Follow Buzzcocks
---
Check out more of the latest in punk