New York pop-punks State Champs are heading out on tour with some special guests.
Celebrating what has so far been a monumental year, New York powerhouses State Champs have announced the Kings Of The New Age Tour. Special guests Hunny and Between You & Me are joining the cross-country affair, with Young Culture (11/11 – 11/20), Games We Play (11/22 – 11/30), and Save Face (12/2 – 12/10) also joining for select dates. The tour kicks off in November in Cleveland, OH, and makes stops throughout the United States and Canada before ending in the band's hometown of Albany, NY, in December.
"I'm particularly excited for the KOTNA Tour because of how much we as a band are focusing on the aesthetic and flow of the show," says vocalist Derek DiScanio. "This will be the first tour where it feels more like an experience rather than just a band on stage playing songs. The stage production is by far the most unique and badass it's ever been, and you bet the mixture of songs in our catalogue (new songs, old songs, and some surprises) will create a wild setlist. Best night ever."
Earlier this year, State Champs planted their flag firmly in pop-punk history with their fourth studio album, Kings Of The New Age, out now via Pure Noise Records. The album includes hit singles Eventually, Everybody But You (ft. Ben Barlow), Outta My Head, and Just Sound. These alongside seven all-new tracks featuring additional guest vocalists Chrissy Costanza, Mitchell Tenpenny, and Four Year Strong.
On the highly anticipated release, the band shares, "Kings of The New Age is our fourth album. It's the one that we spent the most time on and the one that makes the biggest statement. After writing over 30 songs, we narrowed it down to 11 that best represent our mission as a band and sonically, match the energy level we wanted to captivate heading into this new chapter."
Tickets are on sale HERE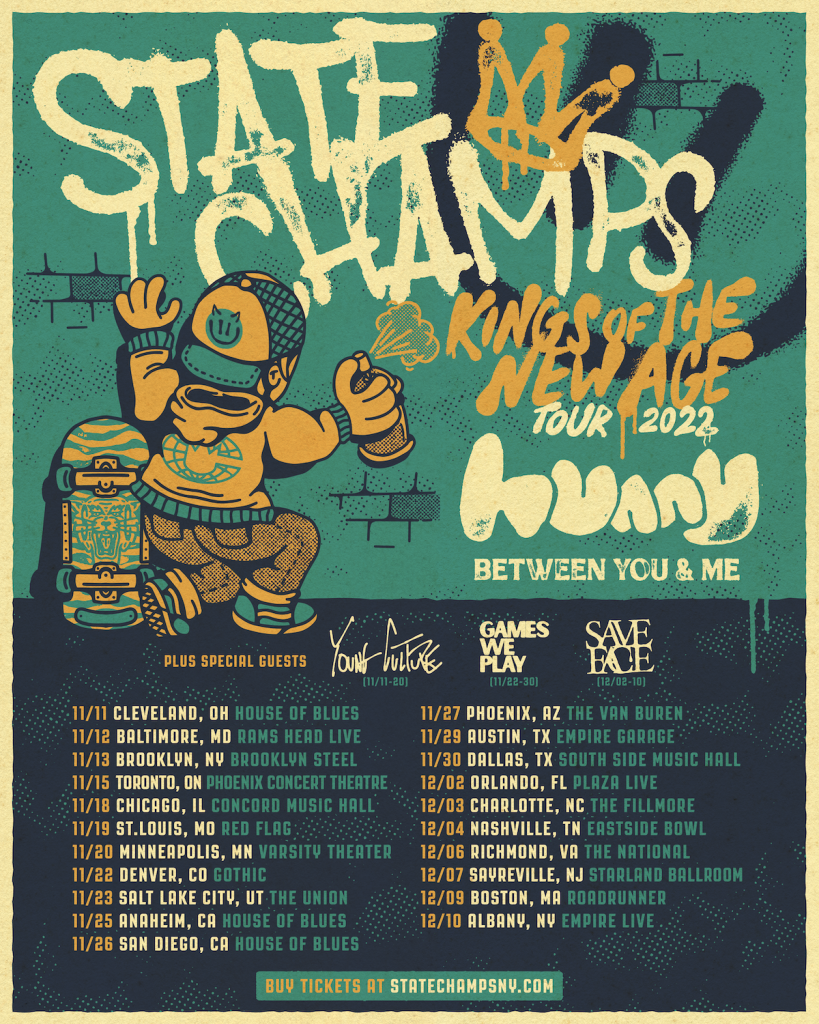 ---
Follow State Champs for more…
---
Check out more of the latest in punk
Punktuation Magazine For All Your Daily Punk News, Features, Interviews, Lifestyle and more!