They've been on the scene for ever – and now they are back with a new album!
Spear of Destiny, headed by Kirk Brandon, have been inspired by a comeback success to put some tracks on to wax.
'Ghost Population' is the frighteningly good title to their upcoming release which comes out on Hallowe'en.
It's been 15 years since their last album, 'Imperial Prototype', so 'Ghost Population' is well overdue! But legal issues and Kirk's health issues slowed down the band's production.
In 1985, after 'World Service' almost cracked the UK top ten, Kirk disbanded the existing line-up and Spear of Destiny vanished for two years.
After bouncing back with a completely new line-up, Spear finally achieved the success that had evaded them for so long, with 1987's 'Outland' spawning some of the band's biggest hits to date including 'Stranger In Our Town', 'Never Take Me Alive' and 'Was That You'. They also toured with U2, eventually playing Wembley Stadium with the band that summer.
But, on the eve of a slot at Reading Festival and with their first American tour on the horizon, tragedy struck when Brandon was diagnosed with Reiter's Syndrome. Over the following years Spear of Destiny struggled amidst Brandon's diagnosis and legal problems that meant they were prohibited from using their own band's name.
After finally reclaiming the Spear name in the late 1990s, Brandon and the band have worked consistently ever since.
Kirk has supervised a major reissue campaign of the band's back catalogue, playing sell-out shows at iconic venues including London's 100 Club and Manchester's Ritz, adorning festival lineups and relentlessly writing new music.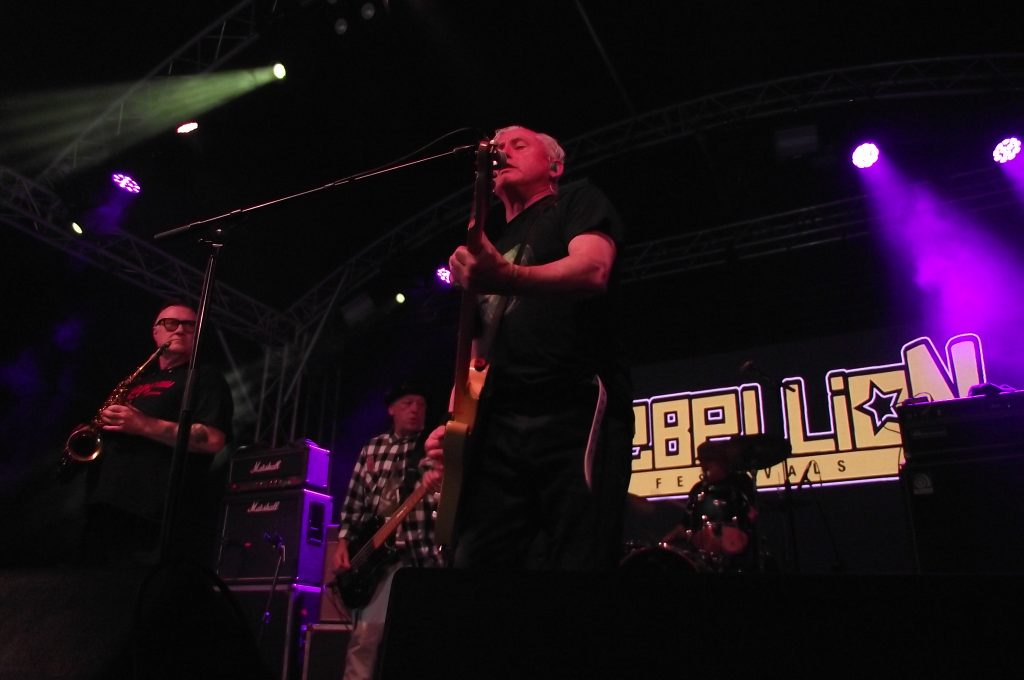 New album 'Ghost Population' sees the band take another solid step forwards, with tracks spanning everything from personal to political and past to present. Speaking of the LP, he says: "The album title came about because of a piece I read online where scientists were researching the available DNA samples from human history — Denisovans, Neanderthals etc. It became clear to them from fragments in the DNA that there was another race back then. They haven't found out who these people were as yet, but they nicknamed them a 'Ghost Population'.
"I applied this in my non-scientific way, and thought of how social engineering has marginalised so much of society, not acknowledging the disenfranchised and writing them out of existence. When someone is no longer talked about, eventually they no longer exist."
With some tracks written during lockdown, and others penned as far back as 1986, 'Ghost Population' is a journey through the evolution of society as much as it is the evolution of the band.
Traversing a broad range of themes, the album includes 'Ballad of the Dog', "a true story of a piratical burial at sea", 'Neolithic By Design', a track set "at the beginning of a relationship [when] both parties are in the maelstrom", and 'Pilgrim' one of the album's "few autobiographical songs" inspired by Brandon's mum merging together the tales of Jack and the Beanstalk and Dick Whittington when he was a child.
Spear of Destiny will also mark the album's release with an extensive UK tour this November and December. Kicking off in Leeds on 22 November, the 23-date live run will give audiences a chance to see the tracks of 'Ghost Population' performed live for the first time.
Featuring the band's longest serving lineup to date, including Adrian Portas (New Model Army/Sex Gang Children), Craig Adams (Sisters of Mercy/The Cult/The Mission) and Phil Martini (Jim Jones and the Righteous Mind), as well as Clive Osborne on saxophone and Steve Allen-Jones on keys, full dates and details of the tour are below. Grab tickets and get album information here.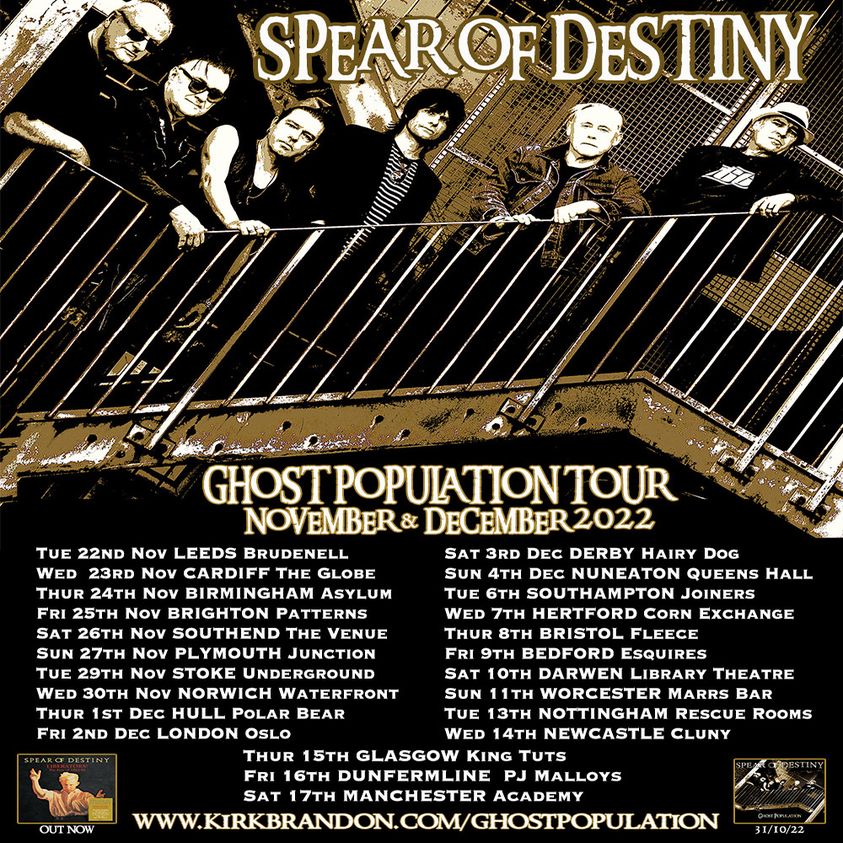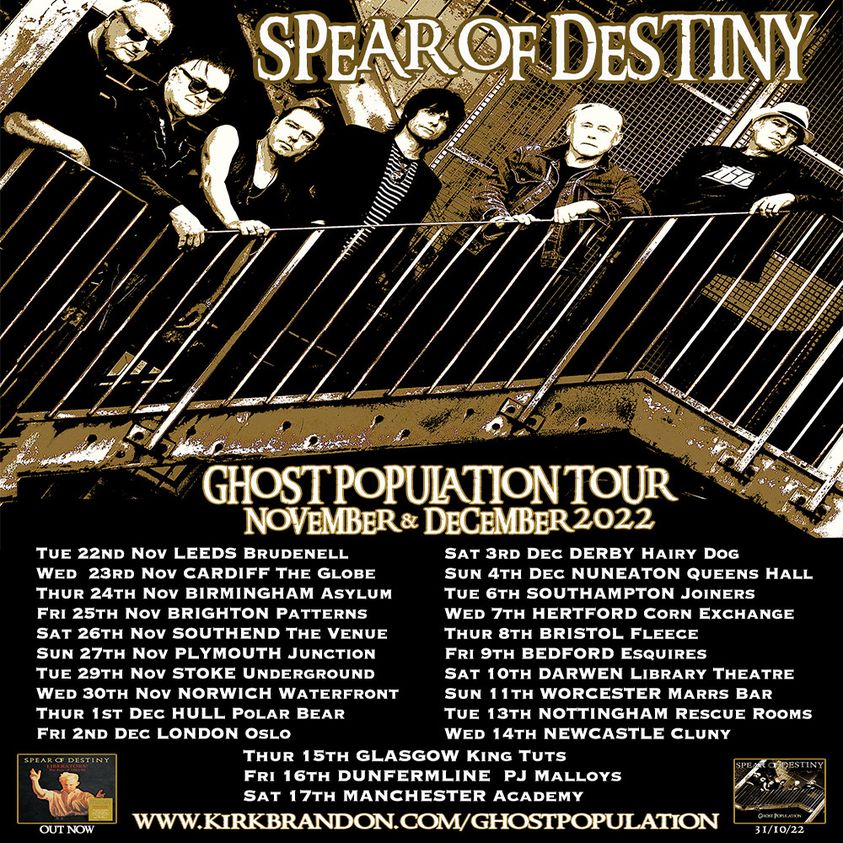 ---
Follow Spear of Destiny/Kirk Brandon on Socials
---
Need more punk?
Kai Cult Unleashes Merciless New Single
Rob Moss and Skin-Tight Skin release new album
Latin Bands Honour Green Day's Sophomore Album 30 Years On
Ruts DC announce highly anticipated new album
Skate punks Cigar return to visit
Monkey Mind release new video 'Black Clouds'
PARKER Return With Anthemic New Single 'Problems'
Floggy Molly Partner With Ukrainian Filmmakers For 'A Song Of Liberty' Video
HOODOO GURU'S Dave Faulkner and Brad Shepherd: My Punk Top Ten
Interview: Pennywise Guitarist Fletcher Dragge
The kids are alright as punk rocks The Horn at the Half Moon
I'm Roger Kasper, 55. A punk since October 77 when the Stranglers rocked Top of the Pops with No More Heroes. Journalist since 1983 with stints on national newspapers and magazines and editor of local papers. I'm Gravesend born and dragged up I keep poultry, garden, run and generally make a nuisance of myself!