After 18 years The Ska-Punk Band have called it quits due to the war in Ukraine.
Austrian Ska-Punk band Russkaja have announced that they are breaking up via a statement the band says that due to the ongoing war in Ukraine that was initiated by Russia it makes it impossible for them to continue with an image and style that make the satirical use of Soviet symbols and language.
Russkaja's statement reads:
Dear Fans,
The band RUSSKAJA has ultimately decided to quit with the band. This is after 18 years very sad news of course, but the ongoing war in Ukraine that was initiated by Russia on Feb 204th 2022 makes it impossible for us to continue with an image and style that is making satirical use of Soviet symbols and language. The band is called RUSSKAJA (transl. Russian) and based a lot on those attributes with a singer that was born in Russia and brought to Austria more than 30 years ago.
What once was fun in the band's music is nothing but bitter now and the band members cannot go on stage anymore without feeling that bitterness in every note played and every word sung. All the lyrics written have a totally different meaning now and none of the bandmembers wants to represent this since in these times it is only associated with war, death, crime and blood spilled.
The time has finally come to stop this. We tried to do statements, position ourselves publicly for what we stand and that's peace and unity. But we can feel that it's not enough and also it will not change anymore. We realized that this war will not stop soon and even if it would, the Soviet imagery and style is forever damaged now.
RUSSKAJA has also become a target in the web, there's shitstorms everyday and with every new single we release. People call us Russian terrorist and pro-Russian even if we are the exact opposite. Finally we also care about the safety of our crew and all people involved and we don't want to risk anything violent happening when we're on the road and playing shows.
To most of us RUSSKAJA was not only our band but it was also our existence. This decision is very very sad for all of us but after all that happened since Feb 24 2022 we don't see any other chance here.
We hope that all fans, promoters & partners can understand the hell we're going through taking our own baby to the grave after all these years. As a farewell gift we wanna give you our new album TURBO POLKA PARTY.
Peace
RUSSKAJA
Russkajawas founded in 2005 by former Stahlhammer vocalist Georgij Makazaria. in 2006 they signed to the independent Austrian label Chat Chapea until they signed over to Napalm Records in 2020.  Over their carrer they released 7 studio albums and 2 EP's  and a Tv show called Willkomme Osttereich.
Follow RUSSKAJA on Their Socials
Need more Punk In Your Life?
Punk News
"We were a punk band with Beatles melodies. We had no effects, barely any equipment, just loads of attitude, 12 cans of Red Stripe and
Read More »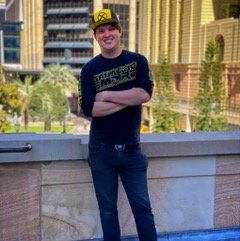 From the age of three, I've been a student of music trivia building up my knowledge of punk and Australian alternative music. (Thanks Mum). Punk has always played a big role in my life and inspired me to play the guitar. I work as a stagehand in the music and theatre industry and now run my own podcast, The Pixelated Popcorn Podcast.