Australian Indie punks Sick Visor have released a blast of indie punk sunshine with their latest track.
Making an impact with their infectious, fun-loving style of indie-punk, Melbourne duo, Sick Visor, return with another earworm in 'My Legs Feel Good In My Pants'.
Having already supported the likes of Bugs and TOWNS in their hometown, the band are also thrilled to announce a run of tour dates for November and December, in support of their debut EP due out November 24th.
Following the release of 'Shit For Brains', which scored its triple J debut on Home & Hosed, the band's follow up is a refreshing, light hearted slice of garage pop that is reminiscent of Ball Park Music and Dune Rats.
"My Legs Feel Good In My Pants'is an energetic reminder to bask in the joy of the little things and be there for the good times before they pass you by." says vocalist Alex Moses.
Produced and mixed by Alex, the band spent time between their home studio and an AirBnb in regional Victoria, piecing together their debut EP, which is all about embracing life and learning to be okay with being happy.
"Sick Visor's mission statement is to bring childlike joy back to being grown-ups. We don't feel like we're adults yet – when we're having the most fun, we're usually acting like stupid children."
Along with the new release, the band are also unveiling the music video for '…Pants', which could not sum them up any better. Shot by Shaun Kirkpatrick, the video sees band members Alex & Katie up to their necks in jelly beans, testing the limits of a jumping castle and truly embracing the carefree meaning of the song.
Listen to My Legs Feel Good In My Pants Now!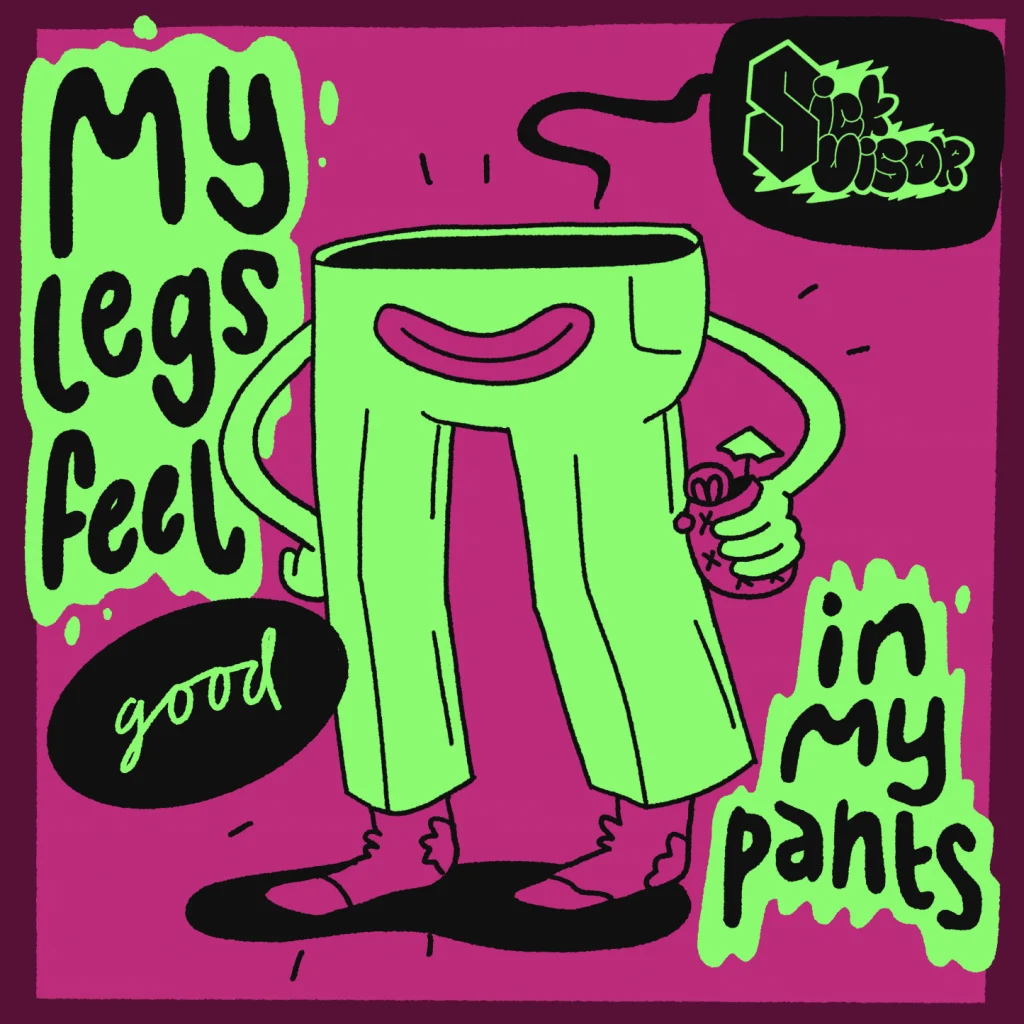 ---
Follow Sick Visor for more fun…
---
More of the latest from Punktuation:
Review: Meryl Streek releases debut album '796'
Squeeze release new track in aid of independent food banks
Dead Kennedys drummer D.H. Peligro dies in bathroom accident
Bar Stool Preachers announce new album and tour
Doki Doki release new single and video 'I Can't Fight This Crazy Anymore'
Exhibit A punk compilation to benefit Southern Poverty Law Center
Aussie rockers The Stripp accelerate ahead on new single 'Redline'
Swedish Skate Punks No Fun At All Release New LP 'Seventh Wave'
Book Launch: 'Punks Listen', OCCII, Amsterdam
New punk supergroup Wingmen to make their debut
Frank Carter & The Rattlesnakes Joins Forces with Golden Robot Records
Review: Girls In Synthesis release intense new album
Punktuation Magazine For All Your Daily Punk News, Features, Interviews, Lifestyle and more!