Punktuation's Roger Kasper is in the thick of it at Rebellion in Blackpool! He catches up with Charlie Harper, The Boys, Spizzenergi, Millie Manders and the Shutup, the Ramonas, Panic Shack and more!
Day 1
Ever get the feeling you've been overwhelmed? Just a few hours into Day 1 of the four-day Rebellion Festival and, well, I'm on my knees.
If the day before was all about the travelling, the excitement and the pre-event beers in the Blackpool bars, then this was when reality bit.
Armed with the line-up planner from the brilliant Clashfinder app, we had it all mapped out.
Best laid plans and all that.
As the queue snaked around the Winter Gardens and along Topping Street, we gave a sigh of relief that we'd listened to the tips and picked up our wristbands the night before.
Into the venue and a quick persuse of the first of many merch tables near the entrance gave a flavour of the days ahead.
Bumped into a lady in the line who showed us her tattoo beautifully inked onto her by Ken from Ferocious Dog. She couldn't speak more highly of him.
Sadly, circumstance meant we missed seeing their afternoon set on R-Fest but we were able to listen to it while gorging on fish and chips at the Harry Ramsden's over road from t'stage.
We'd kicked it all off by seeing Janus Stark in the Empress Ballroom. Check out Gizz Butt's Top 10 punk songs HERE (http://www.punktuationmag.com/gizz-butt-my-punk-top-ten/)
We were on our way!
Next it was the longer than expected trek to the beach for R-Fest and Millie Manders and the Shutup and then Beans on Toast.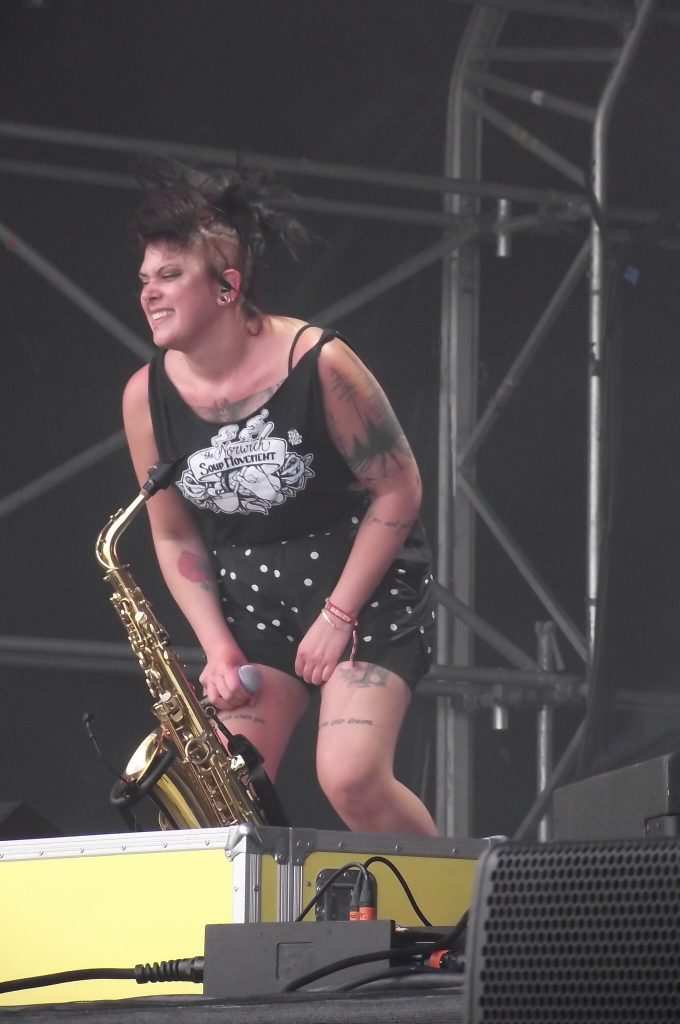 We'd heard good things about Millie and they didn't disappoint. She got the crowd going in the sunshine with the set highlight 'Not OK'.
Also enjoying it was Rebellion and punk legend Charlie Harper of the UK Subs. He's enjoying a beer in the sun, taking some selfies with fans so I grab the opportunity to picture him by the iconic Blackpool Tower.
'Make sure you send it to my wife,' he says, and I bump into her later in the Winter Gardens merch area – you could spend all day here and comfortably empty your wallet – to get her email details.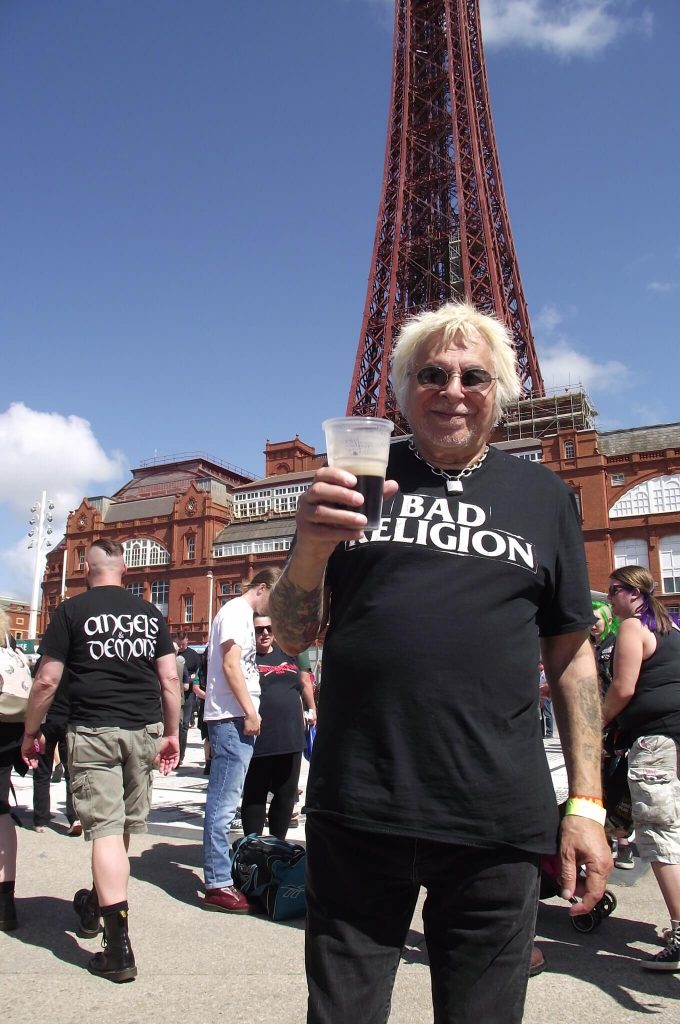 Next at R-Fest was Beans on Toast, about whom we hadn't heard great things from a fellow punk. Pleasant surprise alert! We loved him.
Backed by keyboardist Mike, he delivered jaunty pub songs with thought-provoking lyrics about the state of the world. Particularly loved the upbeat, 'Not Everybody Thinks We're Doomed' with the great lyric 'every day you survive you get a free sunset.'
Back into the Winter Gardens, and the flag has hit us. Time to recharge with a look at the Punk Art Exhibition upstairs where we bump into the Ramonas lead singer Lisa who has her product of lockdown in her arms – her lovely eight-month old baby daughter.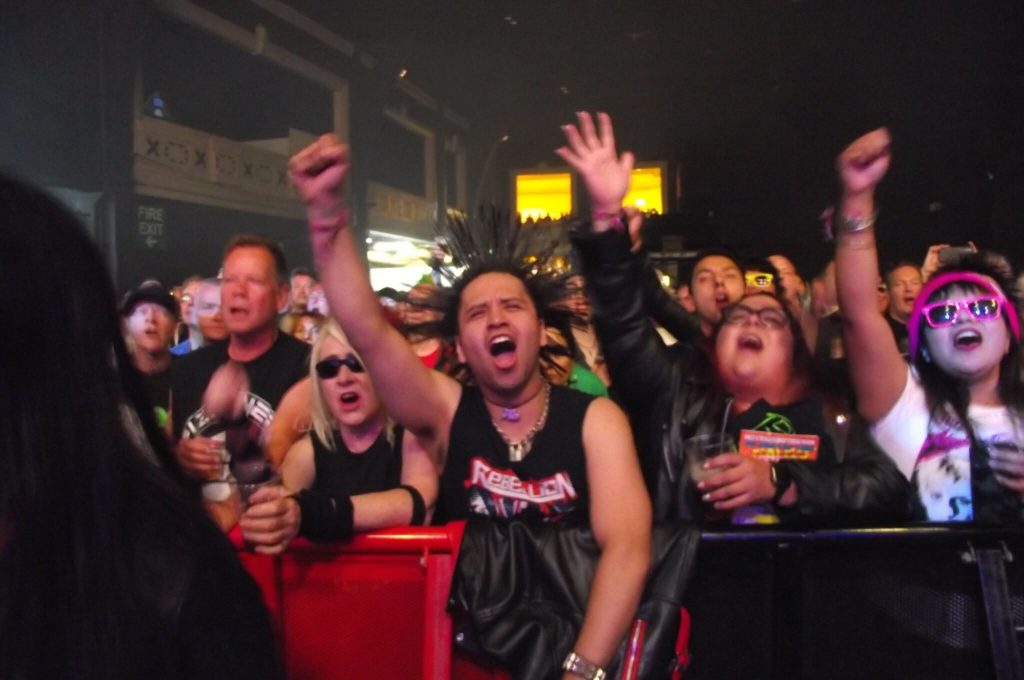 The band has had a little line-up shake up with drummer Camille joining another band and bassist Victoria stepping down for a few months – while she has her baby. They've been productive!
Into the literary festival and we hear from Hawkwind (bemoaning rip off record companies), Johnny Moped (bemoaning Hawkwind ripping them off and then giving away the secret of their set list) and lastly motormouth journalist John Robb who is a Blackpool lad and spoke wonderfully and rapidly about his life and times in punk. If you missed this, you missed a treat.
Having paced ourselves well, we needed a little light refreshment, so one beer in (lightweights!) and it's down to Club Casbah for the rest of the night.
When you see the venue names, you can imagine Empress Ballroom being huge (it is !) and Club Casbah being, well, club-sized. It's not. It's huge too.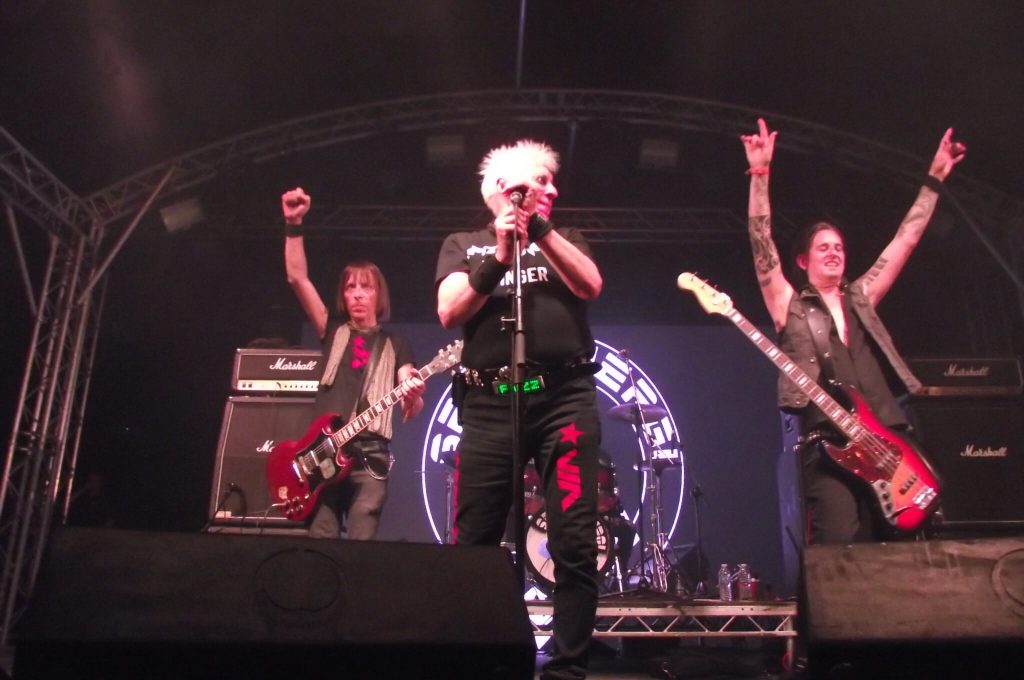 We catch the last number of Spizzenergi's set – 'Where's Captain Kirk'? – then The Boys, the awesome Bar Stool Preachers who absolutely rocked the place.
They've had a great week, signed a new two-album record deal with a major label so there was even more energy than usual.
Lead signer TJ McFaull, son of Cock Sparrer's Colin McFaull, knows how to work the crowd.
Hot and sweaty it's time to cool off with a visit to the Arena where we bump into Cardiff band Panic Shack.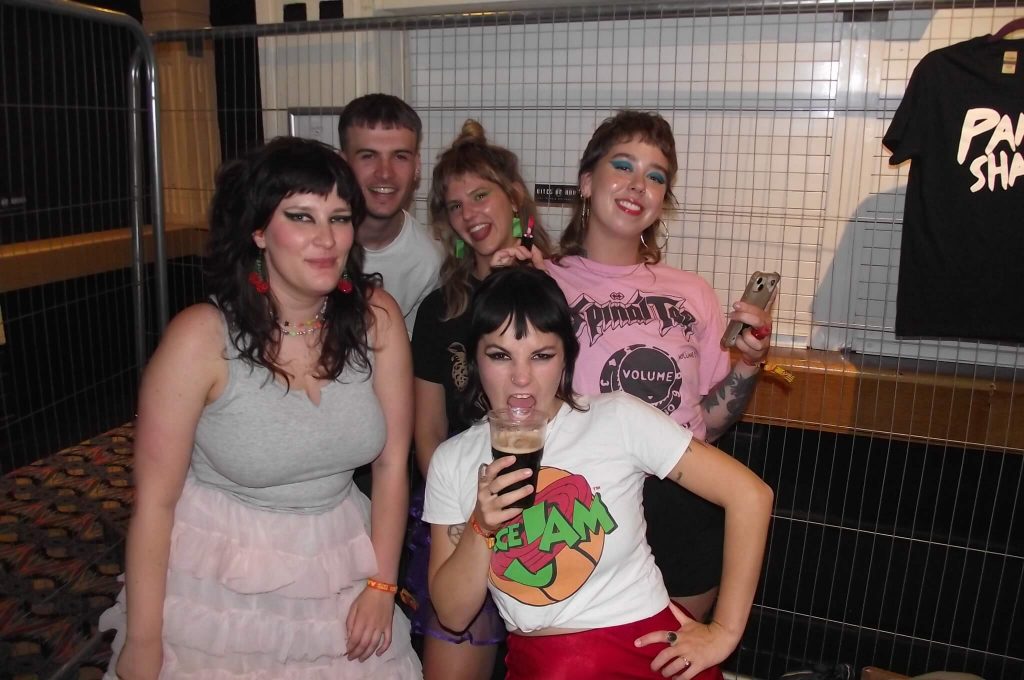 Lead singer Sarah tells me they've been going since just before COVID, are mates from school and work and are rocking their city's scene with tons of gigs.
And then they're on stage, with a brilliantly bassy beginning, mini-dance routines, and tough lyrics. It's gone 12.30am and the mosh pit is still alive from well-refreshed fellas causing mayhem.
Well, it is Rebellion.
Now onto Day 2 and with our landlord Franco's fantastic fried bread sustaining me, I'm diving headlong into the R-Fest for some classic '70s British punk and hopefully a chat with Paul Cook. Stay tuned!
---
Get Some Punk In Ya. Follow Rebellion
---
More of the latest in punk right here
I'm Roger Kasper, 55. A punk since October 77 when the Stranglers rocked Top of the Pops with No More Heroes. Journalist since 1983 with stints on national newspapers and magazines and editor of local papers. I'm Gravesend born and dragged up I keep poultry, garden, run and generally make a nuisance of myself!