Debut 15 track album 'Bit On The Side' from Norfolk street punks On The Huh hits the independent record store shelves on 24th February - and it will fly!
Norwich based rockers On The Huh describe their sound as "Glam and Brick wall Punk rock riffs with lashings of street punk attitude". The band formed in June 2021 in an unmanned studio during the height of the Covid pandemic. A little known rule meant that it was perfectly legal to rehearse together but not to visit each other's homes for tea and biscuits. Strange times indeed..
Comprised of singer Sloss (Braindance), guitarist Chris (Infa Riot), bassist Dave (Special Duties) and drummer Tom (Infa Riot), this band have taken the scene by storm, opening The Pavilion Stage at Rebellion Festival last August. Their first release, 4 track EP 'Peepshow', produced by Pat Collier (The Vibrators), came out on 7″ vinyl in December, and now we can look forward to a full album of their Punk 'n' Roll belters!
"Glory Days" – On The Huh
The band's name is taken from the slang term 'on the huh' meaning: Not straight or level; crooked or slanting. Heard primarily in Norfolk and Suffolk in the UK – "I thought I made sure the shelves were level when I hung them, but everything looks on the huh up there". "This is one of the oldest parts of the city, so a lot of the buildings around here are pretty on the huh".
There's nothing wonky about their catchy upbeat music though, and the band have recently played shows with the UK Subs, Booze and Glory, Cockney Rejects, Last Resort and The Drowns. With gigs and festival appearances lined up for this year and next, make sure you go to see them live!
A band for those who like their pub punk rock served up with a cheeky twist of fun, 'Bit On The Side' promises to be a great addition to your album collection!
You can get the digipak CD direct from the band or as a digital release via Bandcamp. There will also be a limited number of independent stockists.
Send On The Huh a pm via their Facebook page and they'll let you know how to order.
Main Photo Credit: EMMA ARNOLD
PEEPSHOW
RELIC
GLORY DAYS
YOUNG AT HEART
ONE WAY STREET
LIFE
FOR WHAT HE'S WORTH
DON'T WANNA GO
ALL TALK
PUT YOUR BOOTS AWAY
DON'T ROCK THE BOAT
GUNS OF ENGLAND
SECTION 24A
WE REMEMBER YOU
REBEL ROCK N ROLL
Get the latest from On The Huh from Their Socials
Need more Punk In Your Life?
Punk News
"We were a punk band with Beatles melodies. We had no effects, barely any equipment, just loads of attitude, 12 cans of Red Stripe and
Read More »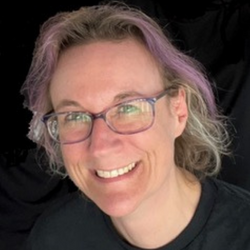 'Usually found jumping around down the front at gigs, I also relish taking photos and videos, singing, speaking with fellow music fans, and asking musicians the questions nobody else does  Writing about my favourite bands and connecting with people who love music too keeps me more-or-less sane  I've worked for over 25 years at a video production company, mainly filming live music events, therefore I have an additional backstage perspective!'