Emphatic, brash and brazen, WACO's new release is the ultimate punk album.
This album is like WACO themselves. It dodges descriptions. It cannot be categorised. This is a band who have lost everything before, and have nothing left to prove or fear.
Recorded at Monolith Studios, 'Rock Spirit Absolute Joy' is the next eclectic chapter in the story of cosmic punk-escapists and cathartic rockers WACO. Preaching their warped gospel of optimism, thrill and blaring fun, WACO have been true 'punkists' in their own right with two albums already to show off their accolades. Following the sudden death of their bassist, Chris, in 2018 they never thought they'd play again. However, after much despair and deliberation, the lads have decided to continue on their star-studded mission in Chris's honour.
Now here they are in 2022, constantly striving for greatness in their constellation by pushing the boundaries of what we see in the world of punk within the 21st Century. As with earlier records like we saw in 2020 with 'Hope Rituals', much of 'Rock Spirit Absolute Joy's lyrical material is drawn from the bands' interest in subjects of spirituality, identity, the unexplained, fringe movements and collectivism.
Stand-out single, the phenomenally-titled 'Barry Gibb Was My Landlord', is the band's ode to an icon. "Barry isn't just a great songwriter, he's a pretty good landlord, too," says guitarist James Robinson. "When I lived in Manchester, he made sure the rent on the old Bee Gees childhood home was affordable for skint musicians.
In a cruel, capitalist world that stifles any creativity it can't commercialise, it's hard for artists just to stay alive. Barry is one of the good guys. Cheers mate. We've put you on the guest list."
Strong unifying anthems lead the album in true punk rebellion as lead single 'Elevation' ruminates on trying to live a healthy life while trapped in a sick society while cathartic-choral 'The World' signifies a topsy-turvy life unsure of the next twists and turns it brings – but one thing we can be sure is just to keep on going.
"We are massive advocates for mindfulness in our band," says Hutchcraft, "and that has helped us be resilient in the face of adversity. When hardships happen we try not to react emotionally and in the moment, but to take a step back and decide what is the healthiest way to respond, move forward and learn from it."
'Better Place' is a true homage to past-punk as opposed to post-punk, while still keeping their elusive sound fresh and vibrant. While 'Better Place' embraces a more late post-punk alternative movement, follow-up 'The New Wave of British Denim' is a raw and fast cut of 'traditional' punk rock. Acoustic Libertines–esque 'Next Romance' is a fitting break from the hard and fast until we're swept into a flurry of trail-blazers shortly after with 'Hardships Will Happen' and 'Flips Forever'.
Liberating us of our woes and casting a positive, vibrant spin on life, this album carries the message that no matter how hard life tries to get you down; you've got the likes of WACO bringing you back to your best again.
10-track lister 'Rock Spirit Absolute Joy' was made for everyone. And that includes you.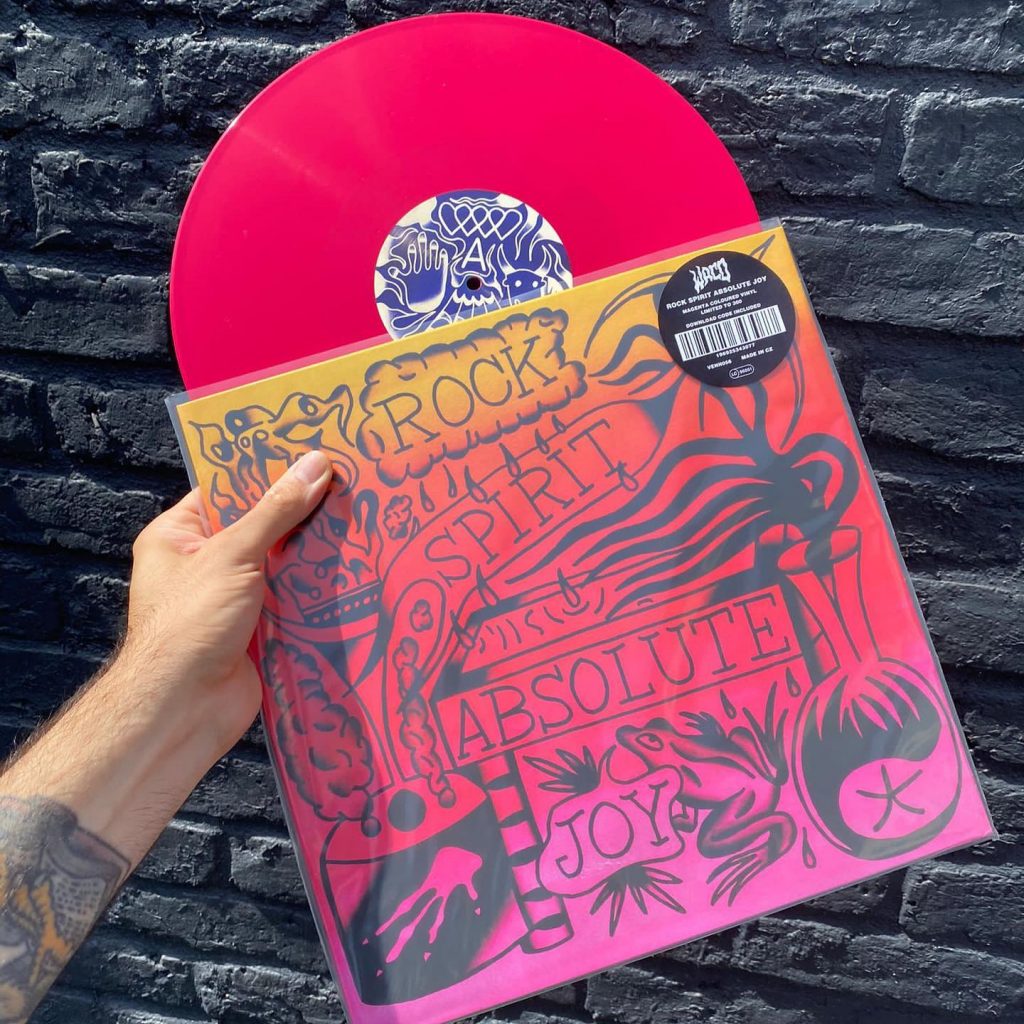 Rock Spirit Absolute Joy is out on 2nd September. Purchase or stream here.
WACO have UK tour dates throughout September. For information and tickets, click here.
---
Follow WACO on their socials…
---
Check out more of the latest in punk