The Leeds rockers get down and dirty with their new album which has all the riffs you need from a release this year.
A follow up to 2018's 'Scratching Circles on Dancefloor', 'Dance With The Devil' is 12 tracks of bluesy, punky, glam nuggets of rock 'n' roll. Released via TNS Records, the album has been held back by lockdowns and delays, but the wait has been worth it.
The three piece garage rock outfit have toured pretty much non-stop since 2014 and are known for their 'suited and booted' stage presence. In amongst a hectic touring schedule, they have managed to record an album that mixes the raw energy of punk with the fun and sleaze of good ol' rock 'n' roll.
This new offering wears a lot of the band's influences on its sleeve- there's a few decades worth of musical history showcased across the album's 12 tracks from aforementioned 50s rock 'n' roll, to 60s garage and proto punk, and a bit of 70s glam thrown in for good measure. Think Richard Hell mixed with The Stooges vibes, and the vocal charisma of a David Johansen.
Opening title track 'Dance With the Devil' is the newest single from the album and as far as album openers go, it has all the ingredients of a solid attention grabber- a high energy, sing-a-long vocal chorus, a tasty sparse riff alongside some throbbing drums. It is one of those songs that shows what you can do with bass, guitar and drums- the level of rock power you can achieve with the right combinations in the right place. It's not fussy and overblown, it captures the band's appeal very well.
Tracks like 'Let It Go' let the guitar take centre stage and for 'Live Die', the drums have an opportunity to really shape the song. There's no let up in impact, every track sounds like each member of the band is giving it their all and having a bloody good time in the process.
Nestled in the middle of the album, 'All I Know' has a bit of a different vibe, going in an 80s indie/power pop direction with crisp, clear vocals and real retro, melodic sensibilities. There's still some quintessential Nosebleed riffage in the chorus but with some added layers, it feels like a really well crafted song. It is a real standout- and my favourite- on the album.
That proves to be the only respite from the down and dirty you're likely to get- you're snapped out of that little interlude when it is back to more rawk (I'm doing the rock horns with my hands) on 'I Got A Feeling'.
The final three tracks are great fun. 'Round and Round' is a cool up tempo party track, 'Under The Knife' showcases those glam influences (there's that New York Dolls-esque feeling again). Album closer 'Make Up Your Mind' is reminiscent of the bluesy quality of 'I Put A Spell On You' , complete with gravelly vocals and femme fatale imagery in the lyrics. The most dramatic guitar solo of the album plays us out and that riff is still playing in my head and has been since I first heard it.
Nosebleed are Elliott Verity (guitar/vocals), Ben Hannah (bass/vocals) and Rich Myers (drums). Verity says of his process writing the album:
"Like a lot of the album, the single is about breakups. Between recording the music and the lyrics my life fell apart a little and I ended up re-writing the words to a lot of the songs. This one's about that post breakup feeling of being torn about everything and wanting to give up and go feral, making some bad decisions for a little bit. We still wanted people to be able to dance to it though, despite what it was written about."
This album is great fun, and demonstrates a real appreciation for (and mastery of) everything that makes all genres of alternative music so musically engaging and head-bangingly awesome.
'Dance With Devil' is out on 11th November via TNS Records. You can order HERE.
The band are playing some live dates throughout November and December so make sure you catch them live!
17TH NOV – THE CROFTERS RIGHTS – BRISTOL
18TH NOV – THE OSTRICH INN PETERBOROUGH
19TH NOV – TAPESTRY ARTS – BRADFORD
20TH NOV – LITTLE BUILDINGS – NEWCASTLE
10TH DEC – THE ESCAPE BAR – SHEPHERDS BUSH
16TH DEC – THE FULFORD ARMS – YORK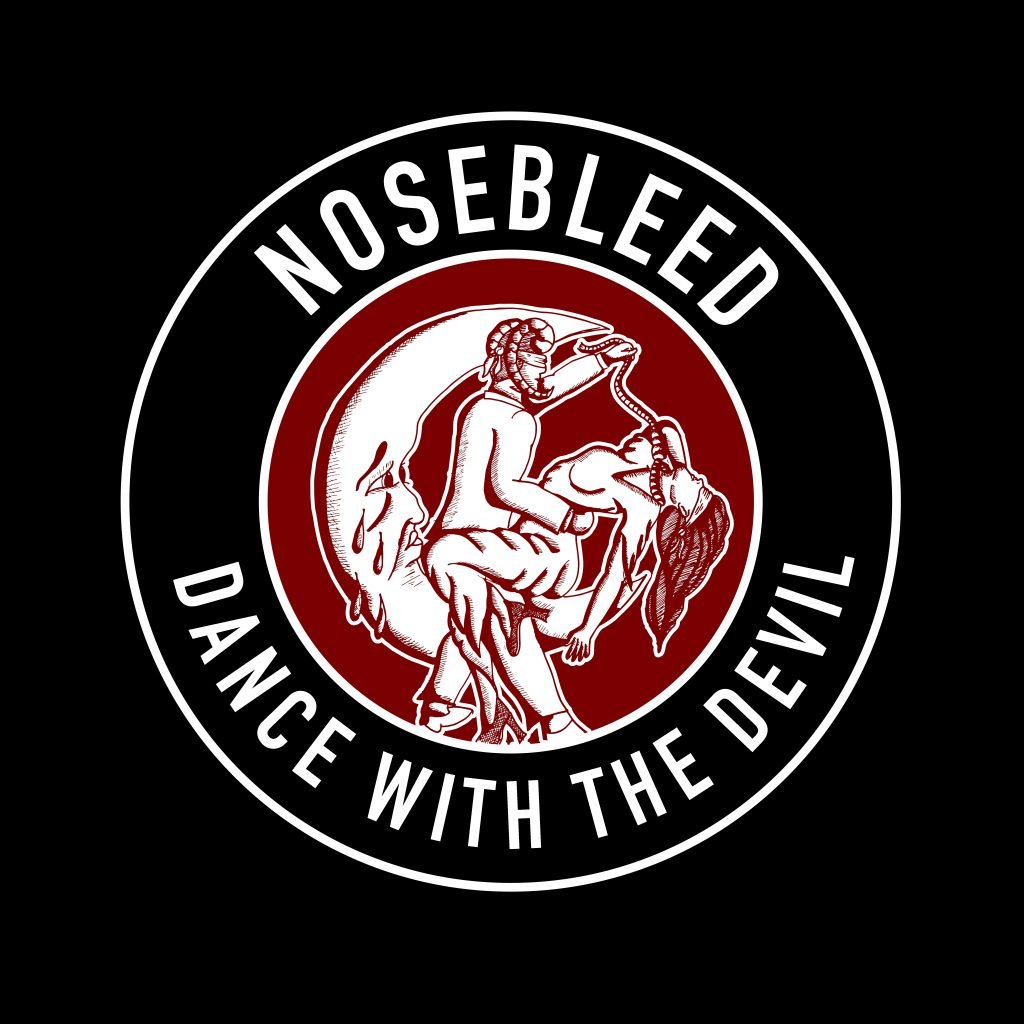 ---
Follow Nosebleed on their socials…
---
More of the latest from Punktuation: