Punktuation's Roger Kasper is on his last day with his mates in Blackpool. They're tired, but secretly they don't want the UK's biggest punk festival to end!
It's the last day – let's make the most of it.
Straight to the outdoor R Fest for the brilliant Altered Images with Clare Grogan still engaging men of a certain age! She says she suffered from a panic attack before hitting the stage, but she's amongst friends here.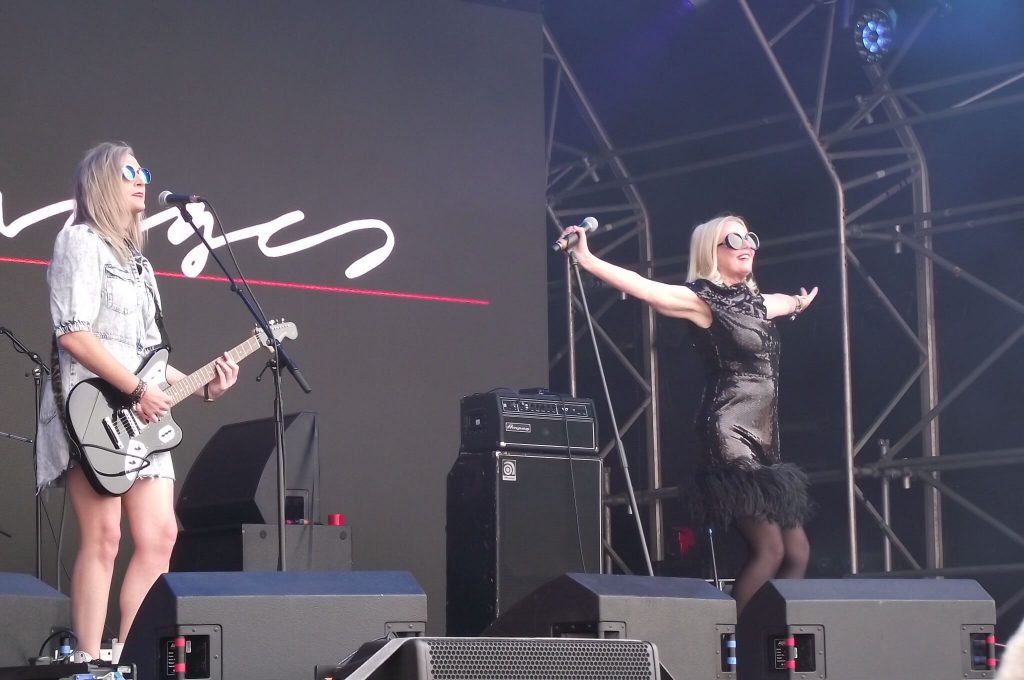 I've missed opening act I, Doris, but catch them at the merch table where I grab a piccie, and they tell me about their next gig on 2-3 September at the Amersham Arms in New Cross south-east London.
Steve Diggle-led Buzzcocks are next and don't leave such a mark on the place – familiar hit songs are followed by newbies, which leave part of the crowd cold. They're not the hit we hoped they might be.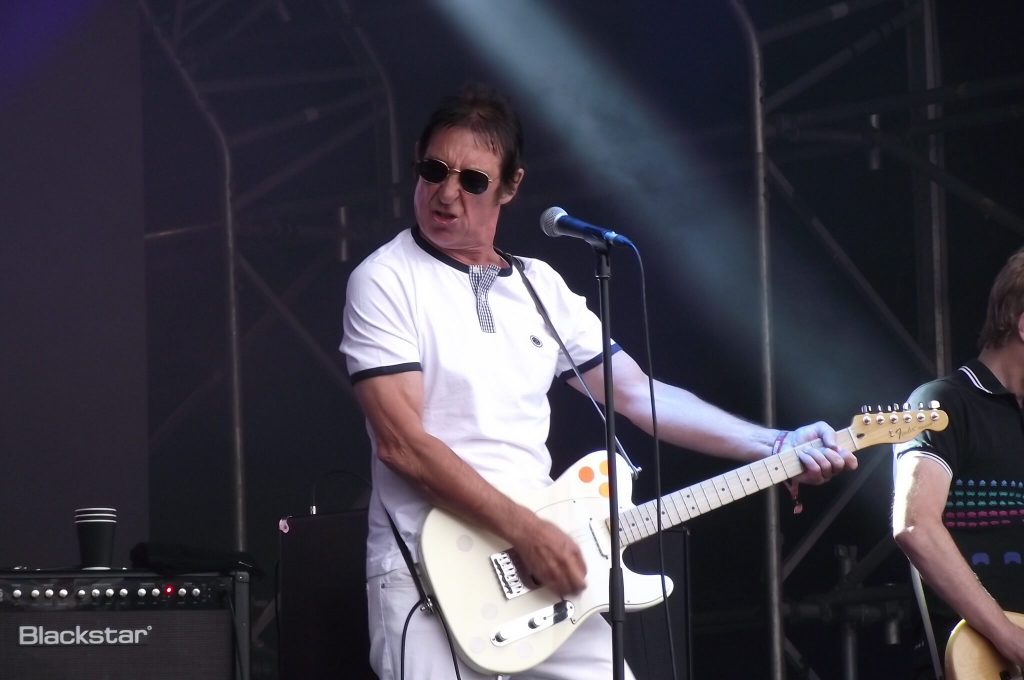 The cafes in Blackpool close early on Sunday (the fools, there are plenty of hungry punks out there!), with some having run dry of food. Great to see punk boosting the economy.
Time to head inside for a peruse of the Winter Gardens, catching [Spunge] at Club Casbah, then parking our bums in the literary room for a triple treat of Steve Diggle, Stuart Pearce and then Tom Robinson in conversation.
Diggle talks Shelley, keeping the Buzzcocks flame alive and the new album, Sonics In the Soul.
Psycho Stuart Pearce is superb. Discussing his love of the Stranglers, starring in their video to 'This Song', catching the Sex Pistols at Finsbury Park during Euro 96, Gazza, Cloughie and trying to learn the drums during the lockdown and forming a band, Catapult. He could have gone on for another hour and kept everyone in the room captivated.
Tom Robinson discusses his suicide attempt as a kid, 'Glad to Be Gay', the 'wanker' that is Ray Davies and gives a big thumbs up to Benefits who is playing the Arena later. We quickly catch Kirk Brandon and Theatre of Hate before we head down on Tom's recommendation to catch Benefits.
Ten minutes later, we're out of there (!) to see the last act of the weekend, the John Robb-led Membranes. They're hot and sweaty and the perfect end for us to a perfect weekend. We're broken, and my pink mohawk feels as faded as me. But it's been fabulous. Next year? Maybe!
Fellow Stranglers nut and friend Ruth Rae is also at the festival – our paths didn't cross on Sunday, but this is what she got up to:
First stop for me on Sunday was the echoey Pavilion stage for London band The DeRellas – good rock 'n' roll punk, (although they call it glam punk) fronted by their bass player, so you can probably guess what most of their song lyrics were about.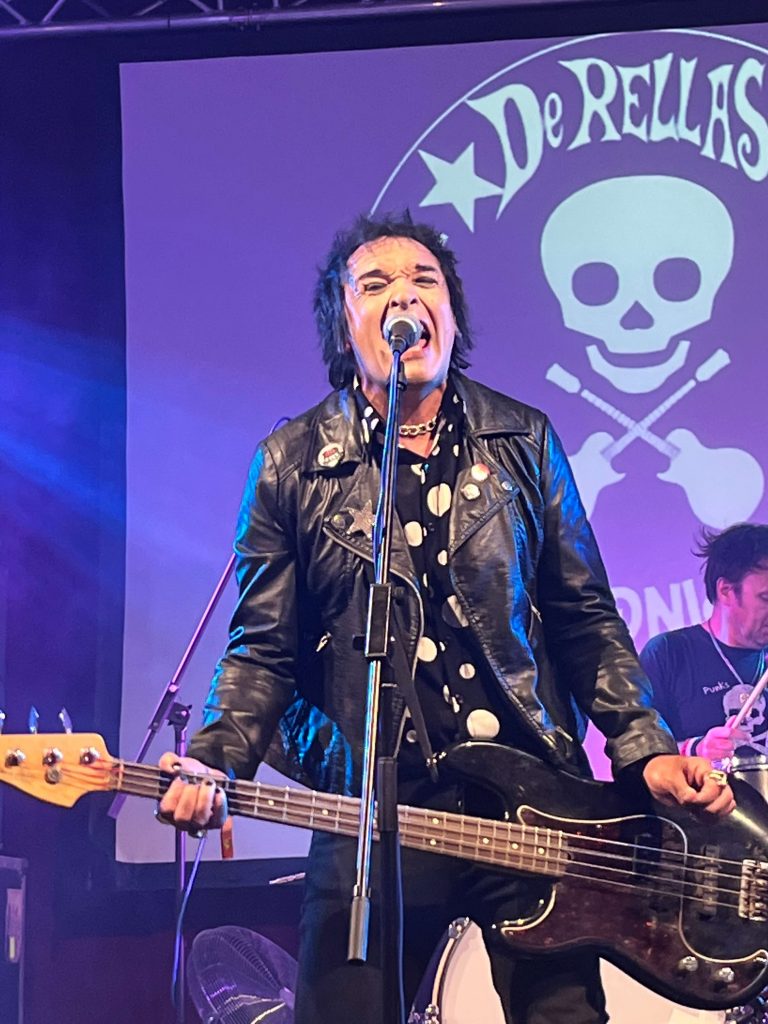 Next, someone I'd been looking forward to seeing – Mr Billy Bragg, being interviewed on the Literary stage. He talked about the origins of punk "It all comes from Skiffle you know!" (He wrote a book about this in 2018 – Roots, Radicals and Rockers: How Skiffle Changed the World), then went on to describe his time at the legendary Bearshanks Lodge recording studio with his band Riff Raff, which happened to overlap with The Stranglers time there recording their third album 'Black and White'.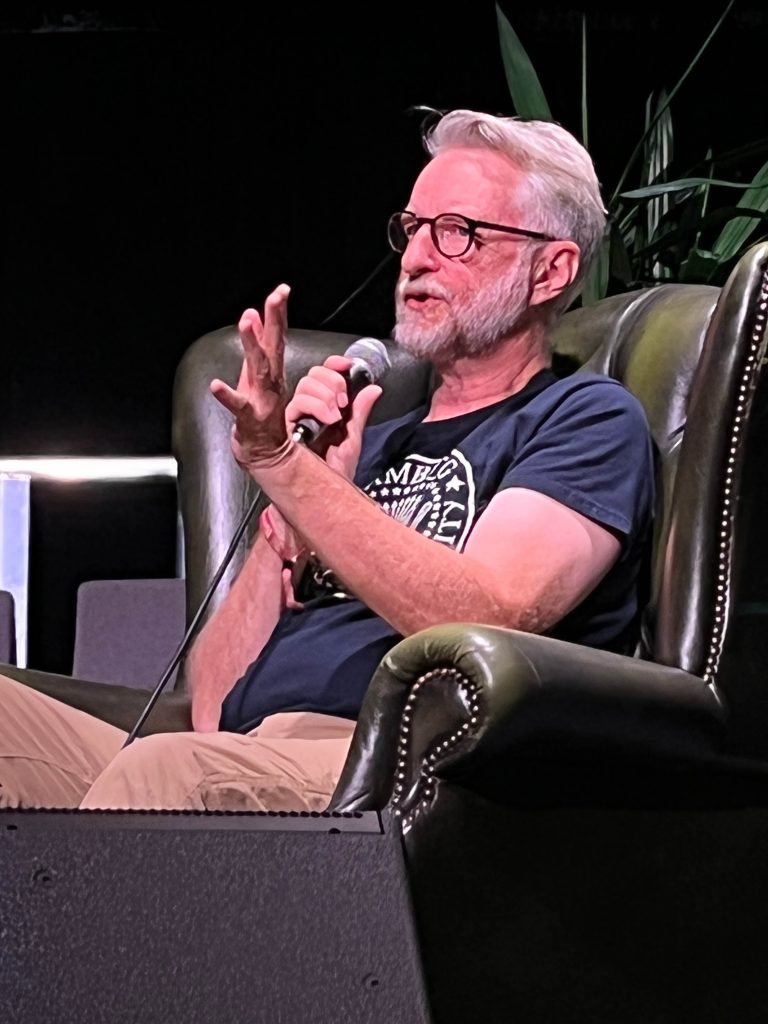 "They kicked us out of the farm, into a nearby cottage. Fortunately, we were offered a residency at the local gay pub, and Jean-Jacques came down to play once.
"Jet was like their mum – he sent Hugh and JJ shopping with £20, and they came back with £20 worth of Wagon Wheel biscuits!" Hmmm.. no wonder Jet ended up diabetic.
Charlie Harper had given me some advice, when I said I would be seeing the UK Subs later – "Get there early!". Therefore, I arrived in the Empress Ballroom just before their preceding act, Peat & Diesel, began their set. A unique take on the folk sound, these three lads from Stornoway in the Western Isles (who had a lot of fans in the audience) soon had the floor bouncing.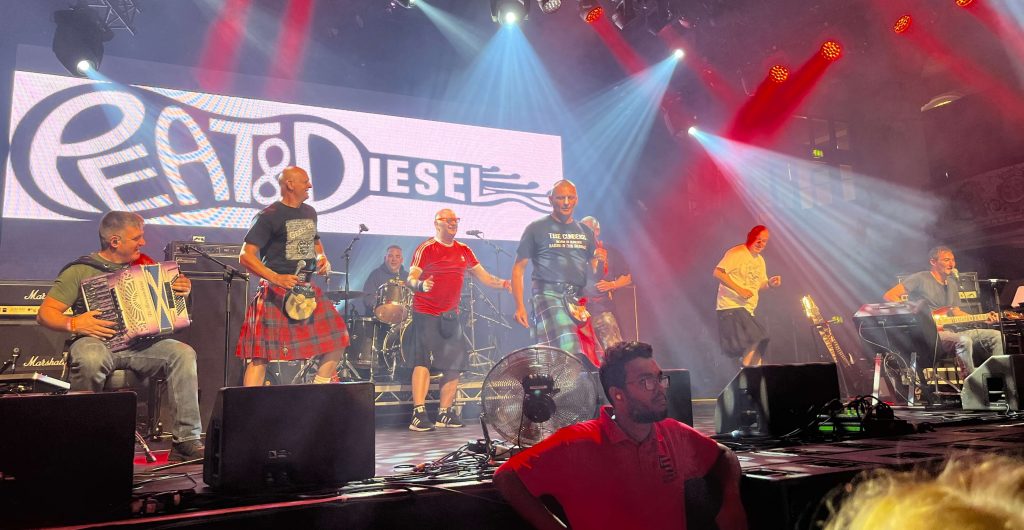 They were joined by fellow Scots The Cundeez (from Dundee) for a kilt swinging, stomping final twa (two in Scottish!) numbers.
The folk fans dispersed as the UK Subs fans made a rush for the barrier, and I secured a safe spot out of the mosh pit zone to the left of the stage. Of course, the hall was packed, including the VIP gallery where those in other bands could safely watch, and the Subs were just brilliant.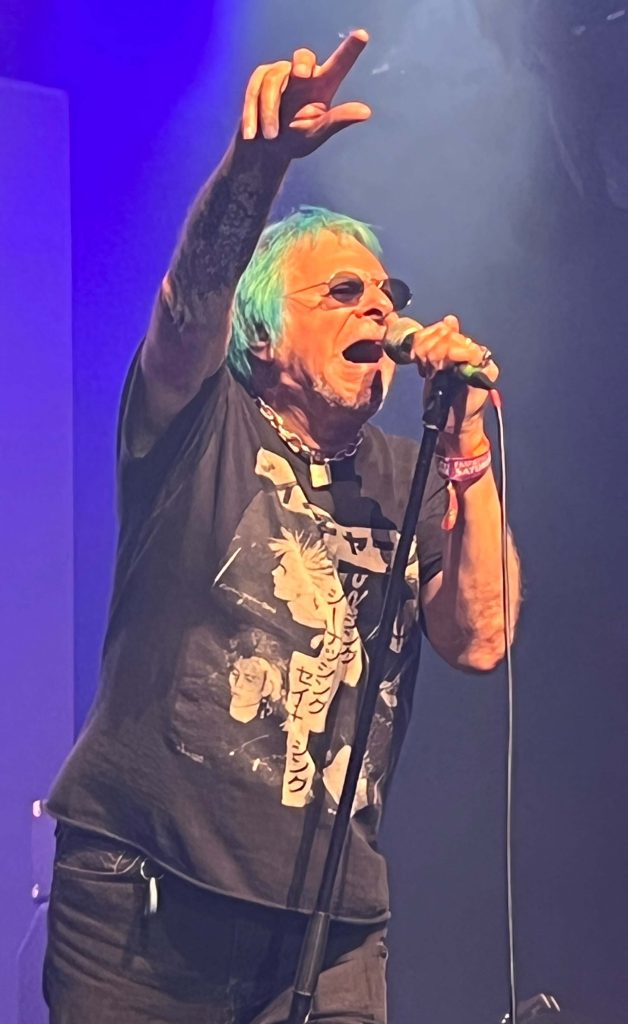 Charlie Harper at 78 is living proof that punk rock keeps you young – he has energy and drive and he can still jump around on the stage – huge respect. He also remembered me from earlier and it was just lovely to get a smile from him – even more respect to the man. Alvin Gibbs is one cool bass player, I really enjoyed watching him from just a few feet away.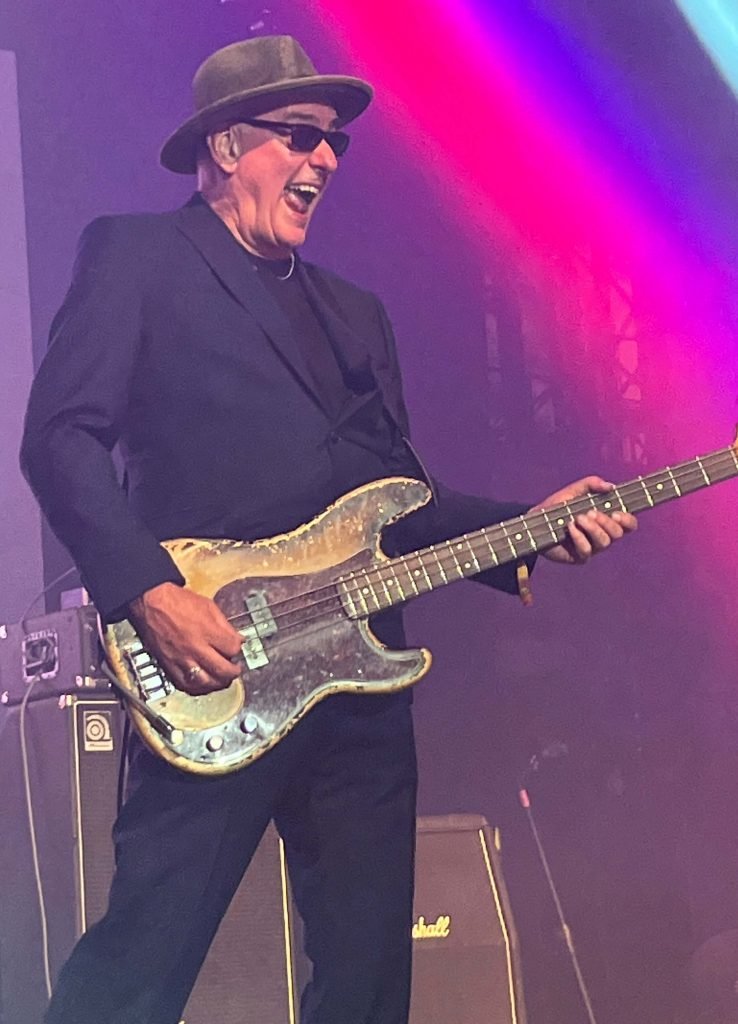 A band going from strength to strength – Ruts DC have just completed their new album 'Counterculture?' (it'll be out in time for their UK tour in November), and we were lucky enough to hear three songs from it; two of which had their electric premiere tonight! 'Born Innocent' has been in the set list for a few months now – a heartfelt song about how you don't need religion to be a decent human being – and is already a crowd favourite. 'Faces In The Sky' (the opener) and 'Counterculture' went down extremely well with the audience too, and the band were very happy with the reaction. Leigh Heggarty's guitar sound was just outstanding, although he later told me they are still working out how to best play these tracks live.. I'd say they've pretty much nailed it!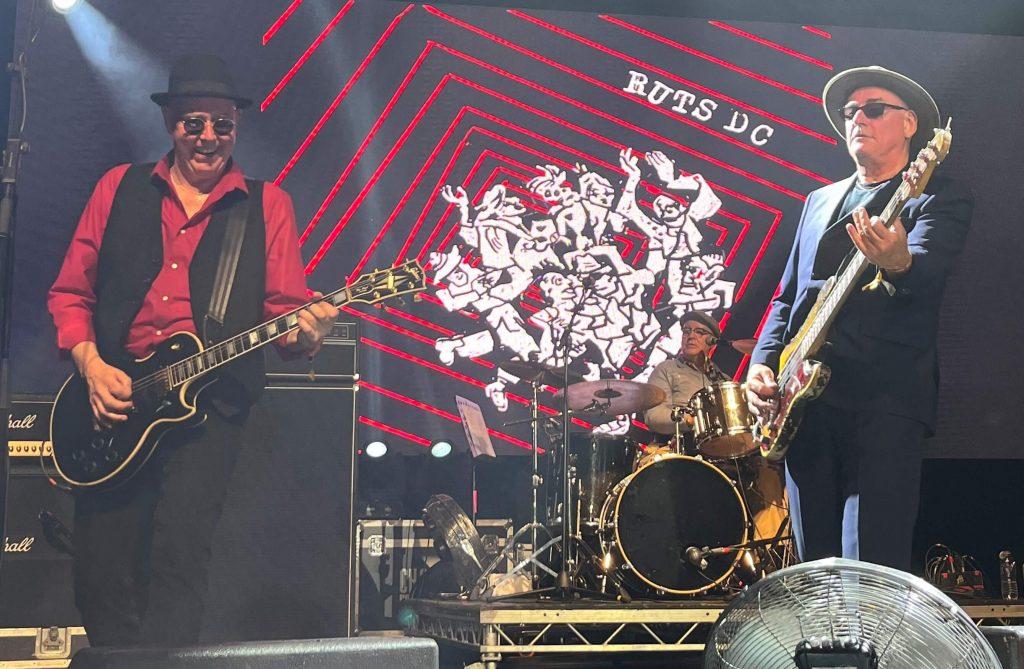 We were all treated to the old (and newer) favourites too, 'Jah War', 'In A Rut', 'Kill The Pain' etc. and the crowd (including me!) went wild! Fabulous drumming from the now 70-year-old Dave Ruffy (you wouldn't think it when you see him behind the kit) and Segs with his faithful old bass (the same one he's played for over 40 years!) was having a brilliant evening.
And now it's on to the last leg. Day four. The legs are weary, but the heart is swelling.
---
Get Some Punk In Ya. Follow Rebellion
---
More of the latest in punk right here
I'm Roger Kasper, 55. A punk since October 77 when the Stranglers rocked Top of the Pops with No More Heroes. Journalist since 1983 with stints on national newspapers and magazines and editor of local papers. I'm Gravesend born and dragged up I keep poultry, garden, run and generally make a nuisance of myself!