The Filth City foursome recently released 'Badlands' an album full of punk fury and sneering rock 'n' roll.
Baltimore punks Ravagers have been ripping up a dust storm of debauchery for nearly a decade. Dressed in leather and denim, the Filth City foursome may look like menaces to society, but rest assured, their ferocious blend of punk fury and sneering rock 'n' roll nonchalance make them a threat to not just the laws of man, but the laws of nature.
It's easy to think of Ravagers as a group of rebel-rousing shit stirrers. Their songs evoke an attitude of manifest malfeasance. Lyrics often paint perilous, black landscapes akin to a Danzig wet dream. But at its core, Ravagers are here for a good time, and the brevity of their songs, influenced no doubt by late '70s punk and early '80s hardcore, means they won't be here for long. No tomorrow? No problem! Rather than extinguish the rising flames of hell, these guys prefer to throw a Molotov cocktail and raise a Natty Bo.
A brief history lesson for the squares: 2014 brought about their premier EP Livin' In Oblivion (Cricket Cemetery Records) with subsequent touring slashed across the U.S. and Canada. Fans lucky enough to have caught a glimpse certainly have the scars to prove it.
Their 2015 follow-up EP 'Natural Instinct' (Rock & Rule Records) not only continued the momentum but proved the gang to be the new east coast champs in the contemporary rock circuit. The group soon found themselves scorching stages as warmup acts for legends like The Damned, Fear, and The Adicts, and featured on festivals like Las Vegas' Punk Rock Bowling.
Ravagers' ascension was not without its mishaps and misfortunes. Finding a second guitarist was a challenge, set back by life's little hurdles (girlfriends, suicide, etc.) until a long-time friend and former Biters guitarist Matt Gabs filled the void. Together, he and bandleader/lyricist/vocalist Alex Hagen carved out the sadistic, sardonic and supremely catchy 'Drowning in Blood' single in 2018, b/w 'Suzi (Has an Uzi).'
This brief tease of new material baited fans throughout their blitzkrieg of gigs, all the while singing songs of recklessness and apocalyptic pop until Covid-19 turned the world into exactly that.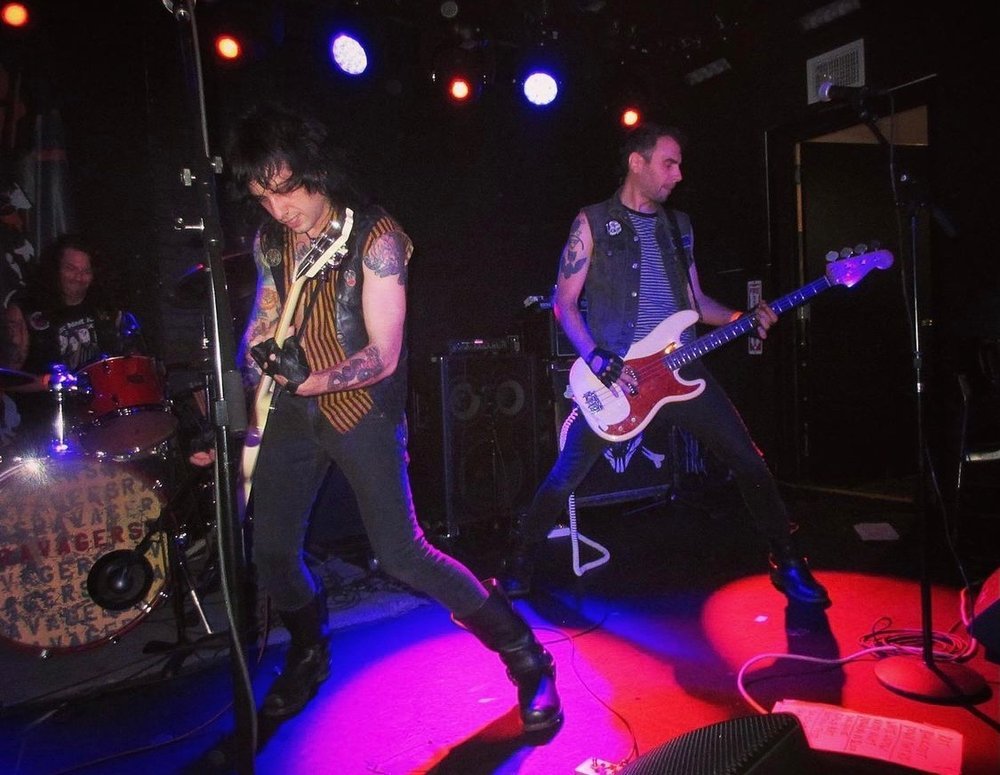 Making the most of a shit situation, the band headed south to write and record their first full-length LP, 'Badlands' The result is ten of the group's strongest tracks yet, an auditory onslaught of filth and fun, of catchiness and catastrophe.
Badlands is an amplified example of what the band has always encompassed: grim situations, high tension, and one hell of a good time. At 28 minutes, it begs to be played again and again until the neighbours call the cops… Fuck 'em! 
As a premier long-player, Ravagers have set the bar dangerously high, but then again, these dudes leave "playing it safe" to the wuss-rock vermin they vow to exterminate.
Spaghetty Town Records has partnered with Germany's Wanda Records to bring you "Badlands". "Badlands" and is available on vinyl and on all major download and streaming sites.
Catch Ravagers on tour with Suzi Moon this April!

4/14 – Boston, MA – Obrien's Pub
4/15 – Philadelphia, PA – The Fire
4/16 – Brooklyn, NY – Sovereign Smokehouse
4/19 – Pittsburgh, PA – The Funhouse at Mr. Smalls
4/20 – Cleveland , OH – Beachland Tavern
4/21 – Detroit, MI – Sanctuary
4/22 – Newport, KY -Southgate House
4/23 – Indianapolis, IN – Melody Inn
4/24 – Chicago, IL – Reggie's
4/26 – Milwaukee, WI – X-Ray Arcade
4/27 – Minneapolis, MN – 7th Street Entry
4/28 – Des Moines, IA – Gas Lamp
4/29 – Omaha, NE – Reverb Lounge
4/30 – Kansas City, MO – Record Bar
5/1 – Denver, CO – Hi Dive
5/3 – Salt Lake City, UT – Urban Lounge
5/4 – Las Vegas, NV – Evel Pie
5/5 – Reno, NV – Shea's Tavern
5/6 – San Francisco, CA – Thee Parkside
5/7 – Los Angeles, CA – The Redwood
5/8 – Tempe, AZ – Yucca Tap Room
5/10 – Austin, TX – Hotel Vegas
5/11 – Dallas, TX – Deep Ellum Art Co
5/12 – Nashville, TN – Springwater
5/13 – Atlanta, GA – Star Bar
5/14 – Wilmington, NC – Reggie's 42nd Street Tavern
5/15 – Baltimore, MD – Metro Gallery
---
Follow Ravagers
---
Need more punk in your life?
Punktuation Magazine For All Your Daily Punk News, Features, Interviews, Lifestyle and more!