Journalist, John Ingham was there from day one. As well as conducting the very first interview with the Pistols, he partied with the band and even bailed Sid Vicious out of jail! Ingham's book, Spirit of 76: London Punk Eyewitness (just re-published in hardback) is a fly-on-the-wall eyewitness collection of photography and reportage. This book is the closest you'll get to actually being at the birth of punk!
Bored 'shitless' with the music scene at the time and the total lack of anything even slightly musically interesting on the horizon, Sounds music journalist John Ingham was looking for something new. He found what he was looking for when he saw The Sex Pistols playing in a strip club in London in April 1976. Soon after, he conducted their first-ever interview and introduced Johnny Rotten to a very frightened world.
Convinced that he had just seen the future of music, Ingham decided to promote their cause in weekly bulletins from the 'frontline' where he also witnessed the beginnings of The Damned, Buzzcocks, Siouxie and the Banshees, and The Clash. These early days of punk he felt were imperative to document.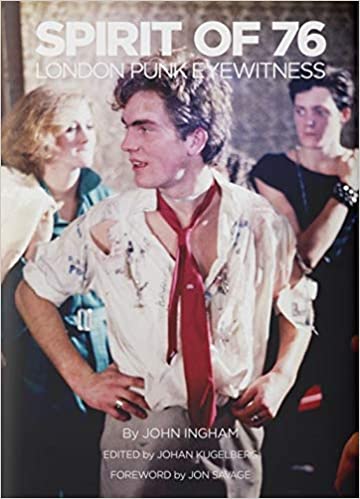 His rare images, of what was punk's birth, have been gathered in the book Spirit of 76: London Punk Eyewitness – which was republished as a hardback edition this month.
The photographs span from The Damned playing in tiny clubs to the Sex Pistols being taped for TV to the only colour images of The Clash's early appearances – all accompanied by Ingham's own intimate reportage showcasing punk's blistering beginnings.
This is the story 1976 as it happened. A year lived with excitement and the belief that you could make the future whatever you wanted it to be!
Audience at the Sex Pistols Notre Dame de France -15 November 1976 wearing bin liners and handcuffs

Johnny Rotten at Notre Dame de France -15 November 1976

Sex Pistols – Notre Dame de France -15 November 1976.

Paul Simonon the Roxy 1 January 1977 with notes written on the neck of his bass

Ray Burns aka Captain Sensible of The Damned. at Notre Dame de France -15 November 1976

Subway Sect singer Vic Godard right at A Night of Treason – Royal College of Art -5 November 1976

The Clash at the Royal College of Art – 5 November 1976.

The-Damned opened 1977 at the Hope Anchor pub in Islington that could comfortably hold about 100 people -there were double that number. Sweat was running down the Walls. -2-January 1977

The Damned Captain Sensible – left. Dave Vanian – right

Viv Albertine, Steve Severin, Kenny Morris, Sarah Hall and Siouxsie Sioux at The Sex Pistols gig, Notre Dame de France -15 November-1976
---
Punktuation Magazine For All Your Daily Punk News, Features, Interviews, Lifestyle and more!