A new book from the Hope Collective compiles an impressive listening list for all you melomaniacs, and it is for a great cause!
It's a classic topic of conversation between friends and a question that can perhaps tell you more about a person than any other….what's the soundtrack to your life? If you had to pick the most significant record or gig, the one that is an integral part of the story of you, what would be on that list?
If you have an insatiable curiosity as to how other people may answer that question (or perhaps you're looking for some inspiration for your own selection) then 'Punks Listen' is an essential and fascinating read. And if it is all to raise money for a great cause, then what could be better?
'Punks Listen' is the third in a series of 'benefit books' from the Hope Collective, Dublin's punk/Do-It-Yourself group. Their first book release in 2017 raised €5,000 for the Red Cross Syrian Refugee appeal.
This was followed up in 2020 by a book to assist the NHS workers and patients during the Covid-19 pandemic. Again, thanks to the writers and the buyers, they were able to donate €10,000 to the NHS Charities Together Covid-19 appeal.
The new book is a collection of essays from musicians, writers, actors and music fans and is designed to raise funds for the Red Cross Ukraine Refugee appeal.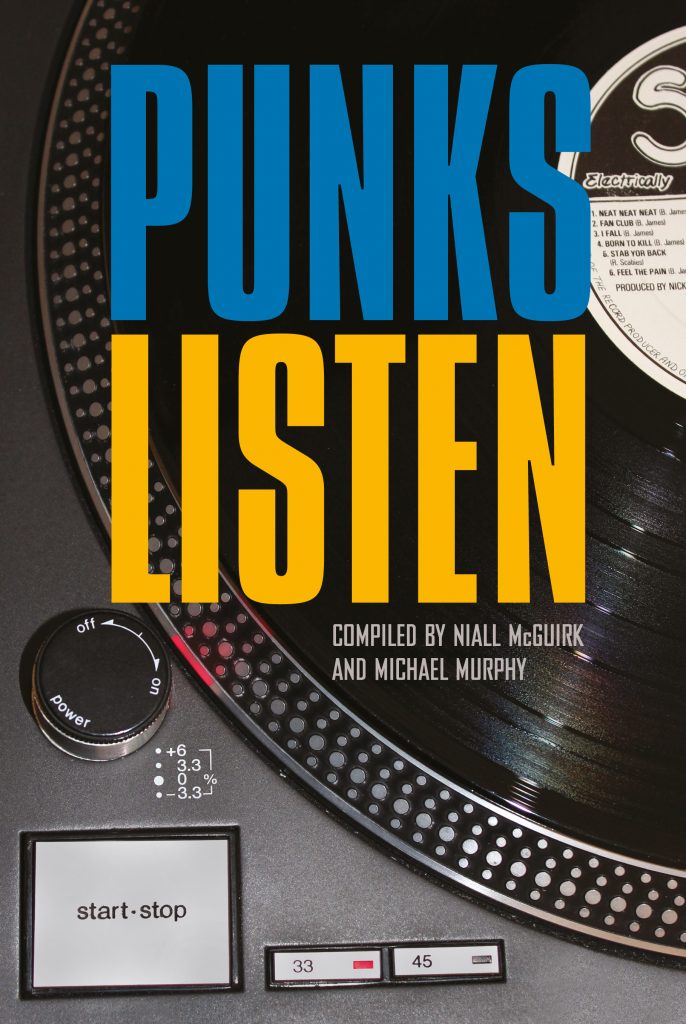 Over 200 contributors were asked to write about a record (or a gig) that was significant to them. Hear what The Weakerthans 'Left and Leaving' means to Larry Livermore from Lookout Records; who rates Nico's 'Chelsea Girl' and how many people chose The Clash!
The list of contributors is impressive and includes:
Andy Cairns (Therapy?); Suggs (Madness); Gaye Black (The Adverts); Henry Rollins and Mike Watt (Minutemen) amongst many others.
Compiled by friends Niall McGuirk and Michael Murphy, this project shows the power of community, compassion and determination. Murphy says:
"It's been a really difficult and stressful few years for just about everybody. Sometimes we felt like it was all too much. What could people like us do to make a difference? What could we do to help the Ukrainian refugees?
We did a small thing – we contacted some of our favourite authors, musicians and music people. They did something that really mattered to us – they took time and wrote really moving pieces about their favourite records and gigs. When you put all of them together it's a really meaningful collection. It proves that you can find help in surprising places when you reach out."
'Punks Listen' is now available for pre-order from the Hope Collective and will be released on 9th October.
---
Follow Dublin Hope Collective on Socials
---
Need more punk?
Kai Cult Unleashes Merciless New Single
Rob Moss and Skin-Tight Skin release new album
Latin Bands Honour Green Day's Sophomore Album 30 Years On
Ruts DC announce highly anticipated new album
Skate punks Cigar return to visit
Monkey Mind release new video 'Black Clouds'
PARKER Return With Anthemic New Single 'Problems'
Floggy Molly Partner With Ukrainian Filmmakers For 'A Song Of Liberty' Video
HOODOO GURU'S Dave Faulkner and Brad Shepherd: My Punk Top Ten
Interview: Pennywise Guitarist Fletcher Dragge
The kids are alright as punk rocks The Horn at the Half Moon