Patti Smith, who celebrated her 74th birthday yesterday (30th December), was preparing to ring in 2021 with a free London performance. However, the show that was planned to be aired on screens at Piccadilly Circus in London has been cancelled following the advice of the Metropolitan Police and the evolution of Tier 4 restrictions in London.
CIRCA, a new digital art platform that puts out monthly 2-minute art shows on digital advertising sites, made a statement a couple of hours ago that said: "The health and safety of our audience is our first priority. As planned, the work will still be broadcast online for viewers to watch at home in London and all over the world via the www.circa.art website and official Circa YouTube channel between 23:45 – 00:15 GMT.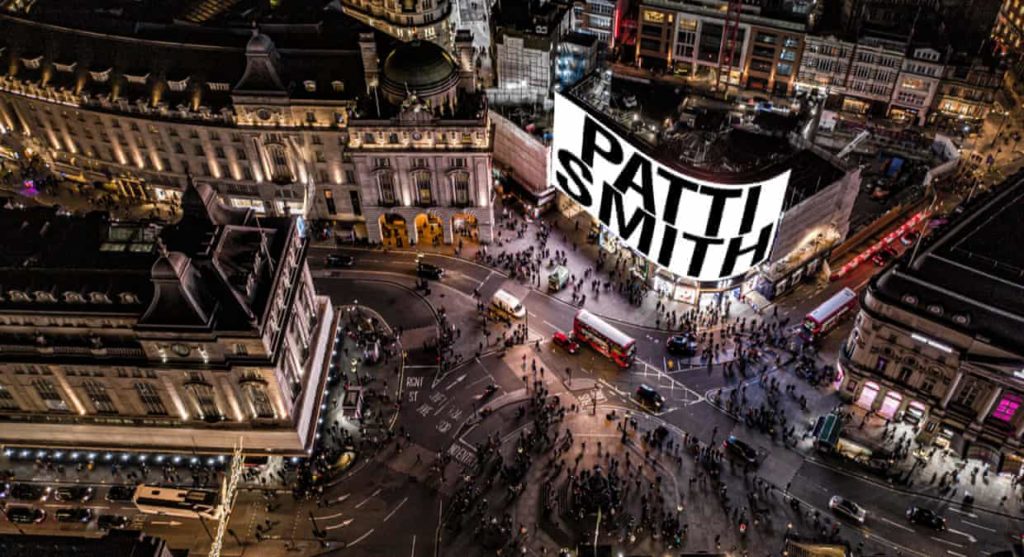 Smith's 10-minute gig, which will now be an online-only performance also includes a new poem dedicated to climate change activist Greta Thunberg.
CIRCA is the brainchild of the artist Josef O'Connor, who first approached the Piccadilly Circus site's owners Landsec with a tweet proposing an art project.
"We want to use this platform for a purpose," O'Connor says. "We know we're at a crossroads in the world today and we want to use these two minutes to pause commercialism and to make people stop, think and engage with new ideas in the public space."
As well as communicating directly to a live audience in Piccadilly Circus, CIRCA is also accompanied by an online platform, CIRCA.ART, which will now stream the Smith's show instead.
Patti Smith is said to be upset at the cancellation but understands the decision completely. In a recent interview with The Guardian, Smith said her personal experience of the pandemic has been difficult, as she suffers from a lifelong bronchial condition.
"To be in limbo almost 10 months, for a person like me who doesn't like sitting in the same place, it's been very challenging," she said.
Check Out Patti Smith's New Year's performance tonight on YouTube from 11.45pm GMT and on www.circa.art
---
Need More Patti Smith?
---
If ya liked this news story check these out…
Punktuation Magazine For All Your Daily Punk News, Features, Interviews, Lifestyle and more!