Quebec City Punk DJ, Émilie Plamondon chats to Punktuation about her love for punk and her huge collection of band tees.
"It would be nice to turn on the radio and hear something that didn't make you feel like smashing up the kitchen and strangling the cat," Joe Strummer famously once said. Shame he never got to hear Quebec City's college radio host, Émilie Plamondon's show Punk Détente on CHYZ 94.3 FM
French Canadian Émilie has been hosting her punk show for sixteen years and before our interview admits she's worried that her English isn't going to be good enough to conduct a full interview – but it's perfect – her passion for all things punk is obvious.
Émilie started her Université Lavel in Quebec City radio show when she was 20 (oops, sorry Émilie, we've given your age away) and at the time she says she was fairly new to punk .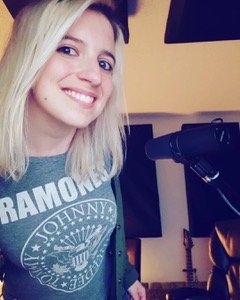 "I didn't know many bands, to be honest. I knew Californian bands like Lagwagon, Bad Religion, NOFX, Blink 18, Green Day and The Offspring. But besides that, not a lot of others," Émilie admits.
Creative freedom is synonymous with punk which is why independent and college radio stations are amongst the best outlets for spreading the music. There are minimal if any, commercial restrictions and those presenting shows can choose what they and their fans want to hear.
"When I started to host the show people were calling me and asking to play The Vandals and Guttermouth and I didn't know much about these bands. I took notes, got home and burned CD's for the next week because back then we didn't have internet for the radio stuff. I brought back these CD's for the next week and played the requests."
If you follow Émilie on her social media platforms one of the first things you will notice is that she isn't short of the odd punk t-shirt or two! Her collection is impressive – around 120 t-shirts in total – and she says every one has a story;
"They're either from a band that came into the station or I bought it at a show or if I played a song on the show the band would send me a shirt to say thank you. For me, it's a way to represent punk rock."
A lot has changed in the world of radio over 16 years, possibly one of the biggest changes has been social media and the ability to spread the word beyond local music fans.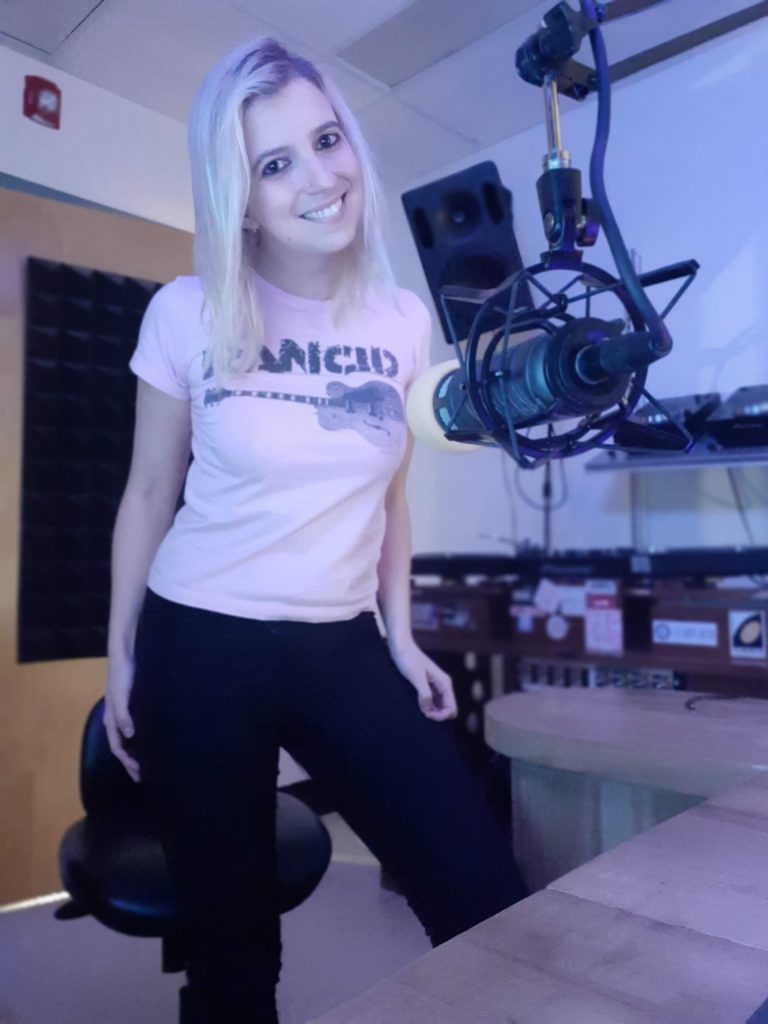 "Three years ago I started doing Facebook Live and it was a total game-changer. It meant it wasn't only people in Quebec City who could enjoy the show – people were watching live from all over the world. I was like 'oh…. Now I have to speak English on my radio show', my show is (mostly) in French."
The language barrier hasn't deterred her – if anything it has given her a new challenge to keep it fun. "I try to adapt myself to the languages because I want to spread punk rock as much as possible."
Her social media presence has also helped her connect with bands from all over the world. "I discover bands from a lot of scenes. For example, I didn't know the scene in Ecuador, South America was so powerful there. Discovering new music keeps me really interested."
The current pandemic hasn't stopped Émilie spreading her passion for punk either and she never considered stopping – she just adapted to keep things rolling.
"I've had to start doing the show from home, so I'm learning a lot of skills like how to record and mix. It's always stimulating. I need this. I wouldn't have lasted this long if it wasn't about constant stimulation."
Beyond her radio show, Émilie has a covers band called 50 Shades of Punk Rock.
"When Tony Sly (lead singer with US punk band No Use for a Name) died, we wanted to do one show for a tribute so we started then. Then we're like, 'that was a lot of fun let's do three more shows.' So we prepared about 20 songs and did the three shows, then we were asked to do some shows around Quebec Provence."
With the pandemic closing down live music, Émilie has kept busy pushing herself to find new and fun ways to keep the music flowing and has been collaborating with other punk musicians including a cover of Canadian punk rock band Propagandhi's Tomorrow Empire's, Tomorrows Ashes with friend Ian aka 'The Punk Cellist': "He's one of the best musicians I have ever seen in my life," she says.
With a regular day job paying the bills, she keeps sane by spending her free hours filling her soul with punk music. All of this desire and passion for punk comes straight from the heart. Like so many in the music media world today Émilie runs her show driven by her devotion to music and her desire to constantly learn.
Émilie says her show Punk Détente promises you the best of music from yesterday to today, from here and elsewhere.
"The show is full of music, interviews, punk news and most importantly – your requests!"
Tune in every Tuesday from 6:30 p.m. to 8 p.m. EST on CHYZ 94.3 FM or at www.chyz.ca in podcast anytime at www.chyz.cz/punk-detente and live on Facebook every Sunday at 6:30 a.m EST
---
Follow Émilie Plamondon on her socials now!
Everyone should have a soundtrack playing loudly in the background of their life. I was born moshing to my own beat and have never swayed from my love of music. Spreading my passion through the written word is my soul's purpose. My punk heart beats loudly with the rhythm of my rock soul. I plan to continue to mosh like no one gives a shit.
Click on Tracey's photo for more of her articles!