Feather Trade's new single 'Just Like Film' promises an upcoming album filled with raw, passionate honesty. Catch them on tour this Spring in the UK!
Transatlantic band Feather Trade based in Manchester, UK via Athens, Georgia, got off to a promising start with a successful UK tour in 2019, supporting Spear of Destiny, then announcing their first tour album 'The Sound Of Broken Worlds'. After this, as the world came to a standstill, activity continued – travel restrictions forced an innovative, cross continental concert, where the band members played live with projections of one another in multiple countries. This concert can be seen in the recent DVD release 'Live and Transatlantic' or as an original live-stream concert. 
Having already supported bands such as The Soft Moon, Deerhoof, Daniel Johnston, Florence and the Machine, and The Maccabees, Feather Trade also found themselves, during 2021, in demand for the legendary Leeds Futurama Festival, playing alongside bands such as The Blinders and Peter Hook and The Light. 2022 concluded with a successful tour of UK venues, delighting fans, and gaining a notable new following wherever they played.
The band – Natalie Gazaway (Bass), João Vaz (Percussion) and Chisolm Thompson (Vocals / Guitar) are delighted to announce their new single 'Just Like Film', releaesd 03/03/2023, which is now available on all streaming platforms.
Staying true to their principles and providing 'rallying calls to the disenfranchised, the politically and sexually marginalised, to anyone watching in dismay as the commodification of society, and art in particular, gathers pace', the new single is brimming with Nirvana-esque angst and biting guitars. 
Feather Trade are recording their debut album with US producer Matt Yelton (Pixies, Frank Black and the Catholics), as well as planning the release of further singles with UK producer Steve Whitfield (The Cure, The Mission). The band's first official single 'Dead Boy' received much airplay, and reviews both in the UK and across Europe, praising the songs sharp, focussed melody and heart-melting anger and honesty. 
The band have a full tour already planned for the UK in March 2023, which will take in a number of cities, including London, and see the band returning for long awaited shows in Scotland.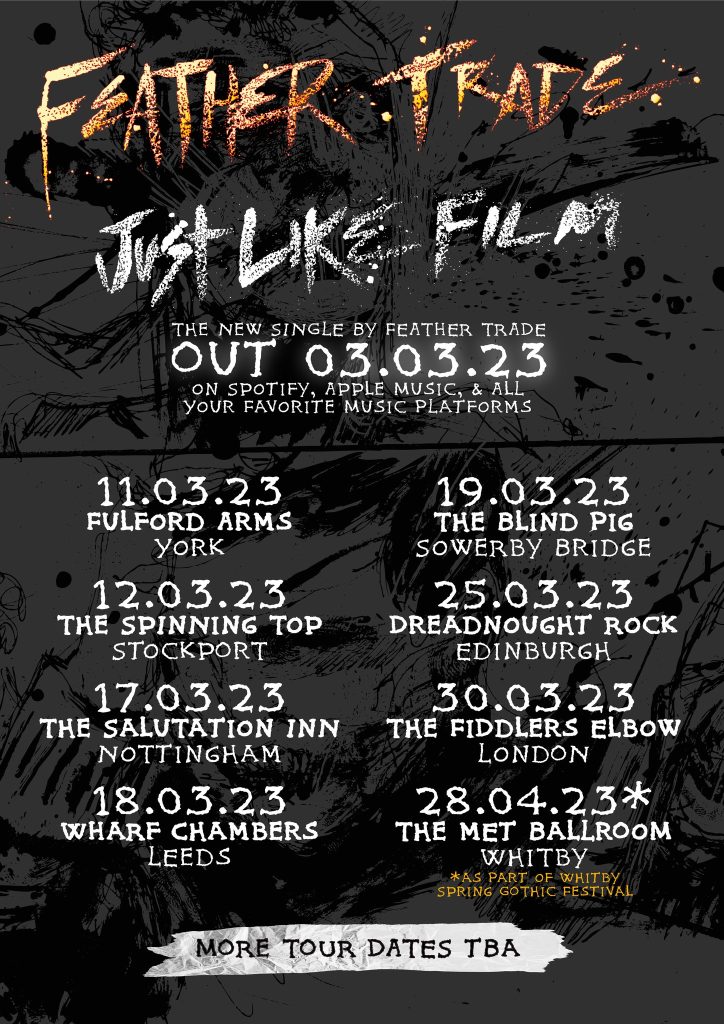 Main Photo Credit: WILL NORBURY
Stay up to date with Feather Trade on Their Socials:
Need more Punk In Your Life?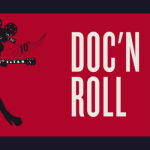 Punk News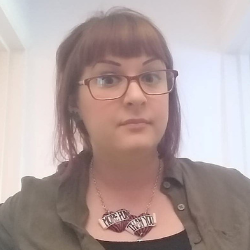 In it's 10th year, the Doc'N Roll Film Festival is celebrating a decade of inspiring, entertaining and vital films about the musicians we love.
Read More »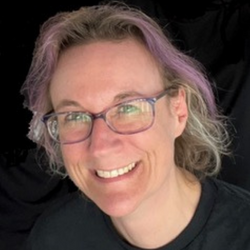 'Usually found jumping around down the front at gigs, I also relish taking photos and videos, singing, speaking with fellow music fans, and asking musicians the questions nobody else does  Writing about my favourite bands and connecting with people who love music too keeps me more-or-less sane  I've worked for over 25 years at a video production company, mainly filming live music events, therefore I have an additional backstage perspective!'