Legendary Californian skate-punks will return to Australian shores announcing tour dates for 2022.
Pennywise have announced they will be performing seven shows across Victoria, NSW, QLD, South Australia and Western Australia. The band will be taking fellow punk stalwarts Circle Jerks along for the tour.
Pennywise guitarist Fletcher Dragge has shared his excitement about returning to Australia in a press release.
"Finally Pennywise gets to come back to our home away from home, Australia!," the statement began.
It continued: "Where the beer flows nonstop, along with the chaos. Never a dull moment on a Pennywise tour down under… only one thing could make it better than usual, and that would be coming to town with our mentors and long-time friends THE CIRCLE JERKS!!! They are back with a vengeance!
"This is gonna be an off the fucking hook nonstop party! And we can't wait! Get your tix, get on the booze, and get in the pit, we're coming for you fuckers!!!!!"
Pennywise have just finished a run of sold-out shows in the US with the band performing their first five albums in full, spread out over 5 nights. The final shows of the tour ended with songs from each of the 5 albums, as chosen entirely by the fans.
Pennywise Australia Tour 2022

Pennywise Australia Tour 2022

with special guests Circle Jerks

Saturday, September 17th 2022

Chelsea Heights Hotel, Victoria

Sunday, September 18th 2022

Forum, Melbourne, Victoria

Tuesday, September 20th 2022

Unia Bar, Wollongong, NSW

Friday, September 23rd 2022

Enmore Theatre, Sydney, NSW

Saturday, September 24th 2022

Fortitude Music Hall, Brisbane, Queensland

Sunday, September 25th 2022

Hindley St. Music Hall, Adelaide, South Australia

Tuesday, September 27th 2022

Metropolis, Fremantle, Western Australia
The band last toured Australian in 2018 for their '20th Anniversary Straight Ahead' tour playing many sold-out shows across the country.
Tickets are on sale from 11am Thursday March 31st via Live Nation.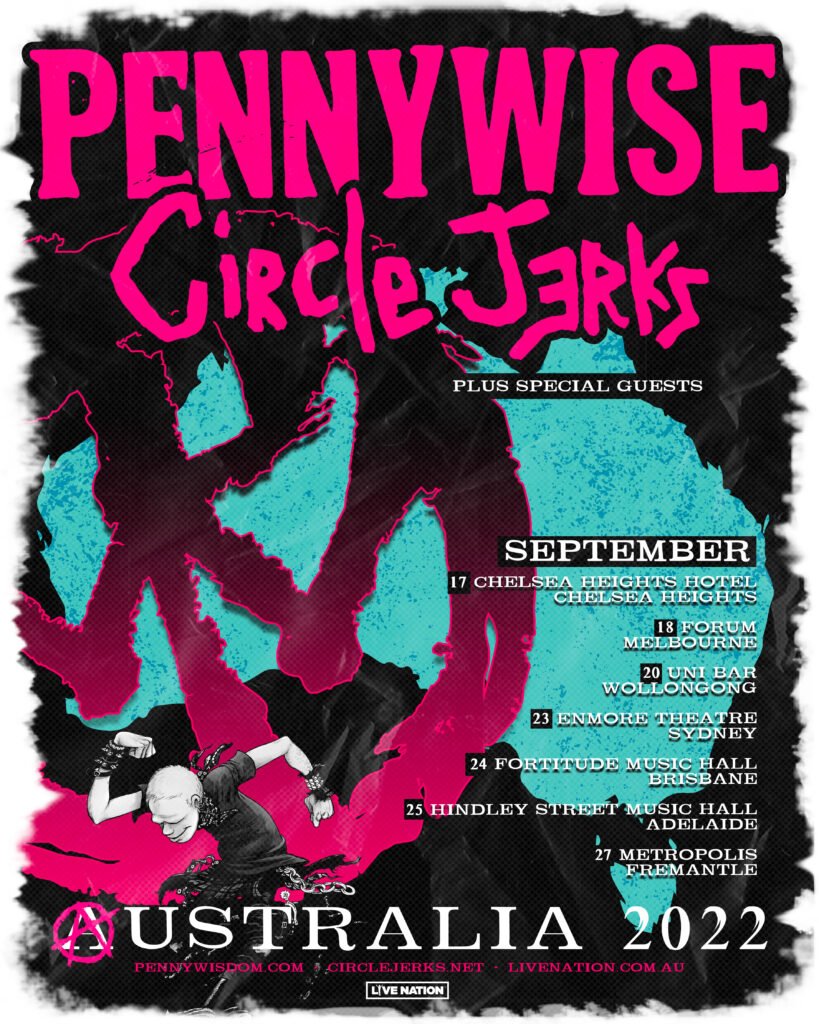 ---
Follow Pennywise On Socials
---
For More Great Stories, Check These Out…
Everyone should have a soundtrack playing loudly in the background of their life. I was born moshing to my own beat and have never swayed from my love of music. Spreading my passion through the written word is my soul's purpose. My punk heart beats loudly with the rhythm of my rock soul. I plan to continue to mosh like no one gives a shit.
Click on Tracey's photo for more of her articles!