The Aussie pop-punks have revealed an exhilarating new track, 'Asteroids! And Where To Find Them'.
Following on from the release of Tracks, Melbourne-based pop-punk band PAPERWEIGHT has returned with their boisterous new offering, Asteroids! And Where To Find Them.
The latest track is produced by Stevie Knight (Stand Atlantic, Yours Truly, The Dead Love) and mixed by James Paul Wisner (Paramore, Underoath).
Beginning with ukulele and the distinct vocals of frontman Haris Dillinger, Asteroids! And Where To Find Them, crescendos into a rousing chorus complete with the quintessential qualities of pop-punk; stratums of guitars soar while the drums sway between half time and double time. A swinging bridge diverts the song's trajectory before launching towards its cathartic finale.
"When it comes down to it, this song is about not taking yourself too seriously," says the band. "We can get so caught up in a sense of security instead of living in the now. So push for the things you want and enjoy the ride while it lasts."
Alongside the release is the entertaining accompanying video. Directed and edited by Haris Dillinger, the video features the band performing the song in front of green screen sets while paying homage to classic films such as Back To The Future, Ghostbusters and The Wizard of Oz, shining a light on their light-hearted and comical side.
"Haris came up with the concept while listening to the swing-style bridge in 'Asteroids!'," the band explained. "He was reminded of The Blues Brothers (Minnie the Moocher scene), which he thought would be a cool scene to parody… that idea spiralled into choosing a bunch of different movies to parody! It was so hard to pick just five. Haris learnt VFX and how to 3D model (to make the sets) just for this video clip! We hired costumes, painted faces; Luana's grandma even makes an appearance in one of the scenes!"
In April, the band will be headlining AM//PM Emo Night at Inflation to support the release. In the live arena, PAPERWEIGHT sold out their debut headline show at Stay Gold (300 tickets). The band recently appeared at the inaugural Knight and Day Festival alongside Parkway Drive, Polaris, Trophy Eyes and Alex Lahey.
Asteroids! And Where To Find Them is available worldwide now.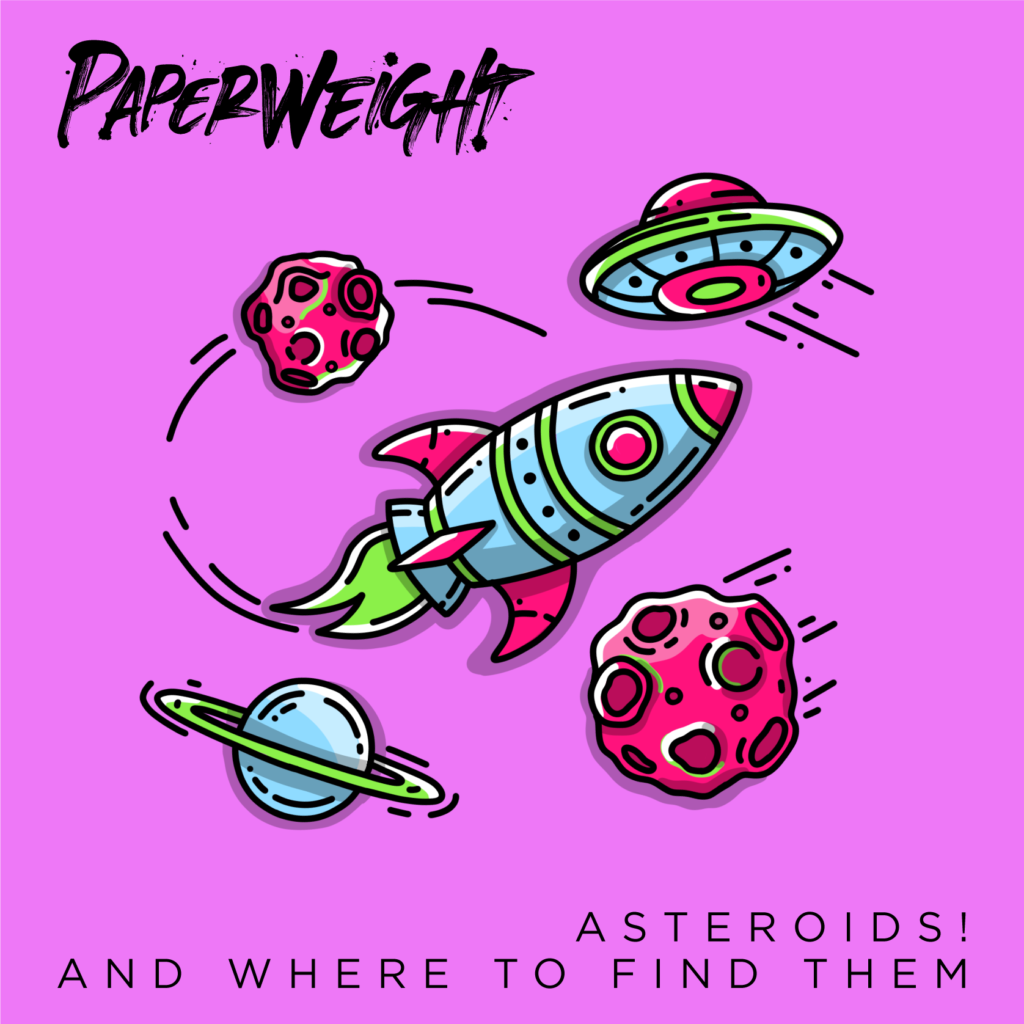 ---
Follow Paperweight for more…
---
For More Great Stories, Check These Out…
Punktuation Magazine For All Your Daily Punk News, Features, Interviews, Lifestyle and more!