'ForeverMoore; The Angelo Project' is an endearing and inspirational portrait of the man considered to be one of the greatest frontmen in music and the godfather of Afropunk.
There are so many terms to apply to Angelo Moore and all the roads his creativity have led him down- musician, poet, frontman, singer, social commentator. In fact, there are so many projects and outlets that Moore is involved in, it started to feel like he could have his own 10-part series and we would still be nowhere close to fitting in all that the man does. As it happens, we don't have a 10-part series, but we do have an intriguing, sincere and timely documentary on the life of the man who one contributor called as good a rock frontman as Jagger.
Moore is perhaps best known for being the lead singer and saxophonist for 80s LA punk band Fishbone. Fishbone were a groundbreaking and hugely influential band, Black American forerunners in the early 1980s American punk scene. Their fusion style of punk- incorporating ska, funk, reggae and soul-  has gone on to influence bands such as No Doubt, Sublime and Red Hot Chili Peppers. Moore himself has collaborated with an extensive (and eclectic) list of musicians over the years including Primus, Alice in Chains, Prince and Donny Osmond (yes you read that right, apparently Donny is a Fishbone convert).
Fishbone became known for their electrifying and exciting live shows and Angelo Moore – as their flamboyant frontman- was a huge part of that.
Now fast forward to present day and Moore has lost none of the vigour, passion and frenetic energy that he had all those years ago, blazing a trail for generations of young black girls and boys who didn't conform and didn't want to sacrifice their own creative integrity or authentic identity.
The documentary follows Moore as he goes about his business pretty much creating around-the-clock with various side projects which become dizzying to keep track of. There's The Brand New Step; Madd Vibe and the Missin Link; the Celebrating Bowie Tour (where he showcases impressive vocal chops on tracks such 'Suffragette City' and 'Quicksand'); Ska Du Ska Don't (translating Japanese big band tunes)…..and this is on top of his spoken word output which is nicely weaved throughout the fabric of the film, showing his remarkable dexterity with words.
There's some exploration of the context in which Angelo has operated all these years- he and some of the other contributors to the film (including Garrett Shider from Parliament Funkadelic; John Norwood Fisher from Fishbone and members of Moore's family) talk about the context of racism in the US which Moore has consistently addressed in his work; and the stereotypes surrounding alternative music that meant rock bands of colour were pretty much pushing at a closed door.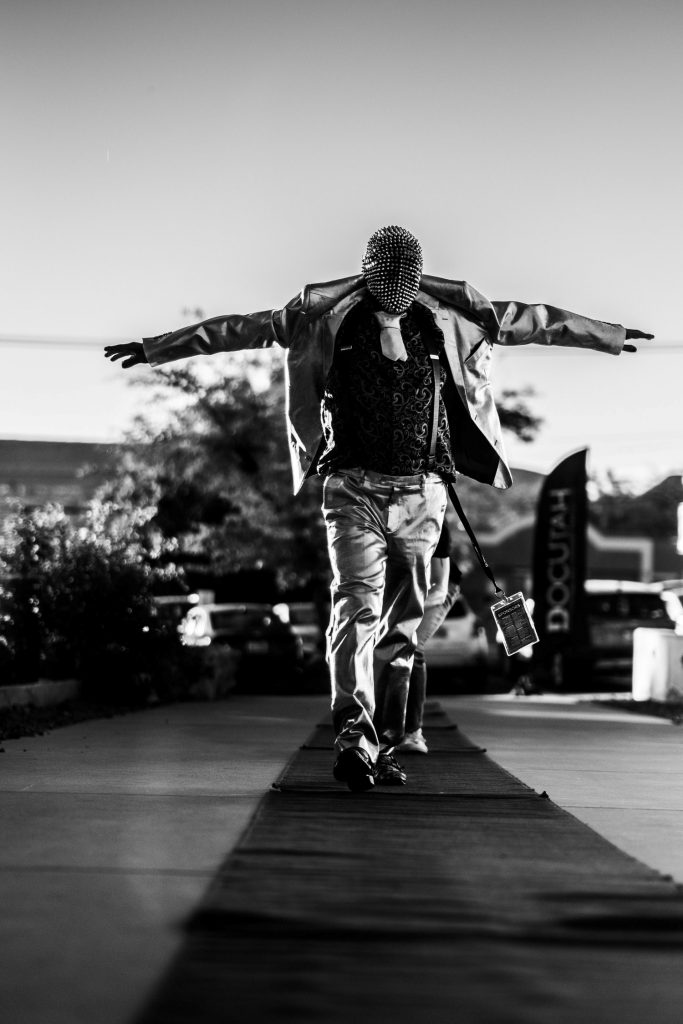 Now Moore is spreading himself across various musical and artistic endeavours, indulging his creative impulses and still putting on an impressive show- whether he is performing to dozens, hundreds or thousands of enthusiastic gig goers. Footage of him curating his show, rehearsing with his musical ensemble, meeting people and hearing their stories (including one young man for whom seeing Moore perform is his first live gig) leaves the viewer with the impression that this is a man with so much still to give, he is going to go on forever, powered by sheer lust for life.
The overwhelming emotion of the piece is one of joy and of finding beauty and inspiration in whatever you have around you. Moore's belief in the healing and affirming nature of creativity, self-expression, love and community are inspirational to watch and you will feel exhausted on his behalf by the end of the 72-minute run time. And it is also a testament to the power of punk music to give an outlet and a platform to those who may not have gotten one otherwise- those who were drawn to its unrestrained and non-conformist message. And how poorer the world would be without that and figures like Moore and his 'positivity is the power' message.
'ForeverMoore; The Angelo Project' , a film by Tisa Zito, is currently streaming on various platforms including Amazon, iTunes, Apple TV and many more. Find out more on the film's website HERE.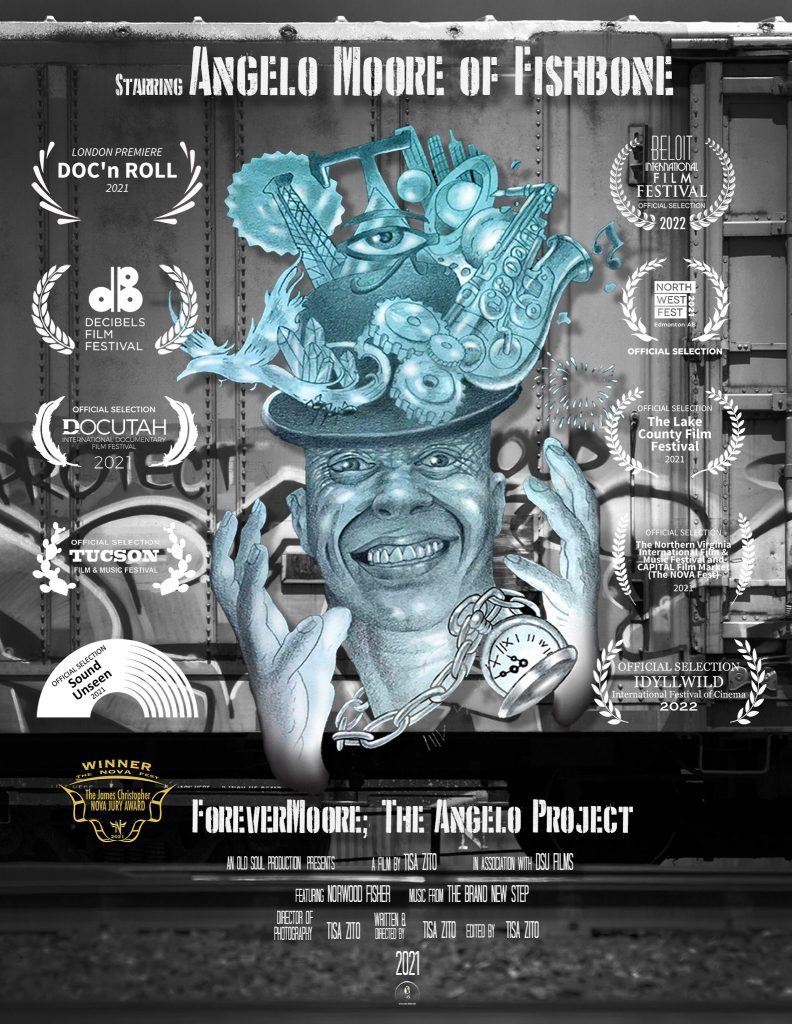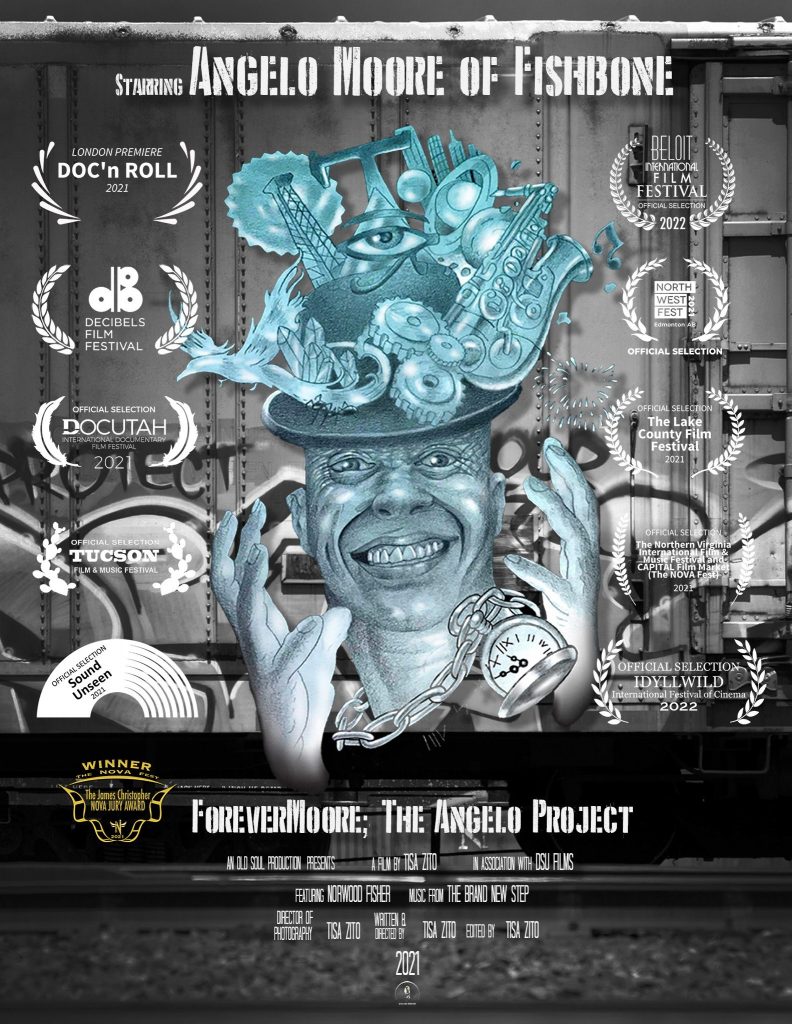 ---
Keep up with news of the film on socials…
---
For more punk news check these out…