Indie Author Willy Mitchell has just released his latest novel, Northern ECHO; Boys Don't Cry set in the north of England during the punk revolution of the late '70s and the '80s.
In this, his latest book Willy Mitchell tells the ultimately heartwrenching tale of two friends caught up in the frenzy of such transformative social times. The friend in the tale are Tiny and author Willy Mitchell. Growing up they were best of mates, but as so often is the case in life they slowly drifted apart over the years. They eventually reconnect and agree to meet again. However, Willy knew in his heart that something wasn't right.
Turns out Tiny has terminal cancer and he makes Willy promise to one day tell their story. Northern ECHO; Boys Don't Cry is that story. A tale of friendship but also a social commentary of the musical, political, and social revolution of the punk era.
Willy Mitchell was born in Glasgow, Scotland. While spending time in bars around the world he has heard many stories—some true and some fictional. Mitchell now resides in California where he enjoys bringing those stories to life on the page as an Indie Author, writer, and storyteller. 
This is Mitchell's fourth book following the political thriller sequels Operation ARGUS and Bikini BRAVO, and his third book Cold COURAGE that tells the epic tale of Sir. Ernest Shackleton's 1914 Antarctic Expedition.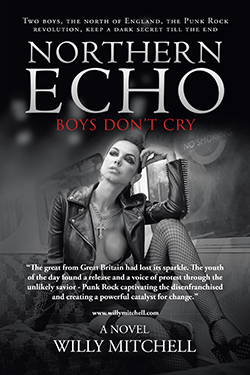 For more about Willy and his writing, visit: 
Northern ECHO, Boys Don't Cry is available at most major online retailers including Amazon in hardback, paperback, and in e-book formats.
Punktuation Magazine For All Your Daily Punk News, Features, Interviews, Lifestyle and more!