Punk Photographer Pat Blashill's photobook "Texas Is the Reason" captures the energy and anarchy of Austin's burgeoning scene between 1979 and 1987.
Over the last seven months, American life has cautiously adjusted to the strictures of quarantine. We eat in the street, pull up to drive-in theaters and watch live music via our laptops.
Best intentions aside, the tactile experience of a concert — the sweat, the volume, the beer that guy just spilt on you — can't be replaced by anything but the real thing, which may remain impossible until well into 2021. So it's with some wistful irony that the writer and photographer Pat Blashill released "Texas Is the Reason," a photo book telling the story of the 1980s Austin, Texas, punk rock scene, in February, less than a month before the country locked down.
In over 200 pages of black-and-white photography, Blashill vividly captures the wild fury of native bands like the Butthole Surfers, Poison 13, Scratch Acid, the Dicks and many more who made their state an unexpected stronghold of the American independent underground. Beyond the music, he lavishes just as much attention on the patrons and locations who made up the scene, presenting them as though they were stars, too.
Big Boys and Glenn Danzig, Liberty Lunch (Sept. 23, 1984)
Though the singer Glenn Danzig (pictured in the background) would become generationally revered for his pioneering style of gothic punk, his band Samhain played an unexpected role during this 1984 night at Liberty Lunch: second billing.
Brett Bradford and David Yow, Scratch Acid, Voltaire's Basement (July 1984)
Nearly all of the venues from this era are gone, but one that Blashill didn't particularly mourn is Voltaire's, which he called "the worst kind of a fire trap" — a basement underneath a warehouse with one set of metal stairs leading downstairs.
Butthole Surfers (June 1984)
In a scene filled with discordant, noisy freaks, the Butthole Surfers managed to stick out with their experimental sound and the way they exemplified their home state's rebellious ethos by subverting outside stereotypes.
The Dicks, Voltaire's Basement (April 1984)
If Big Boys were the scene's heart and soul, the Dicks were its clenched fist. Fronted by the openly gay singer Gary Floyd, they brought an ardently political edge with anti-police anthems like "Dicks Hate Police" and "Pigs Run Wild," and cultivated an inclusive crowd that transcended the macho energy punk often attracted.
The Replacements, Liberty Lunch (January 1985)
The Replacements, hailing from Minnesota, brought an outsized reputation as an alternately transcendent and chaotic band. Blashill only experienced the good side: "I never saw the sloppy, drunk, messed-up Replacements," he said. "There was no problem finishing songs; they were just really on."
---
More about Punk Photographer Pat Blashill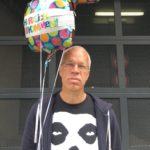 ---
This article is an extract from a feature originally published in the New York Times By Jeremy Gordon – The full version can be read here