In the latest instalment of her tour through musical influences that helped shape seminal punk albums, Molly Tie examines the legendary Californian band's 1985 masterpiece.
Minutemen was a trio from San Pedro, California, who, in a short space of time, managed to create a body of work that has been regarded with immense affection by punk fans for decades.
Of their output, which includes four studio albums and numerous E.P.s, their most beloved and critically acclaimed work is their 1984 album 'Double Nickels on the Dime.' Experimental, heartfelt, hard-hitting and original; this work is Schrödinger's punk album due to the fact that it is punk and isn't punk at the same time.
It is perhaps because of this very paradox'Double Nickels On The Dime' is, to this day, still regarded as one of the most influential records of the American Hardcore scene, or indeed any punk scene before or after.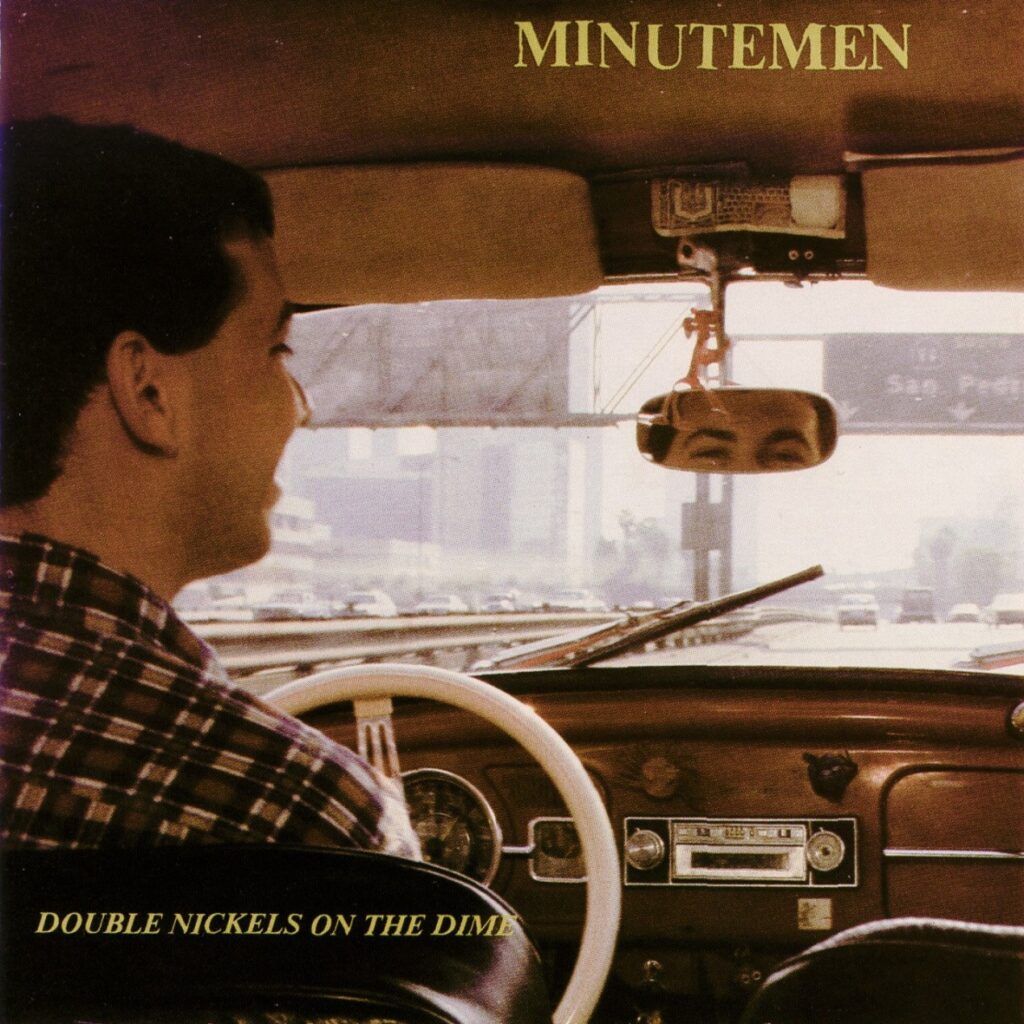 MINUTEMEN TRIVIA
The album was named Double Nickels on the Dime as a reaction to the Sammy Hagar song "I Can't Drive 55," a protest against the 55 mile an hour speed limit on U.S. highways. Minutemen decided that driving fast "wasn't terribly defiant," so Watt said they decided to "make crazy music." The cover of Double Nickels on the Dime depicts Watt driving his Volkswagen Beetle at exactly 55 miles per hour ("double nickels" in trucker slang) travelling southbound down Interstate 10 ("The Dime" in trucker slang).
The 1980s was a fertile time for punk in America, with bands such as Black Flag, Dead Kennedys, Bad Brains and Minor Threat all starting their careers and spreading their various messages and music across the U.S. This cohort of bands formed a cache of work that is considered up there with the most influential works that punk has to offer.
It is no mean feat to stand out amongst such punk icons. Nevertheless, nestled in amongst these contemporaries is a band that, in their five short years together, weaved their way into the hearts of punk fans across the generations with their bold and novel approach to songwriting and composition, as well as their authentic and earnest disposition and ethos.
The beginnings of the Minutemen go back to 1973 when D. Boon (the singer and guitarist) and Mike Watt (bassist) had just turned teens and decided to start a band. They went through several incarnations and styles (Bright Orange Band, Starstruck, The Reactionaries), then finally formed The Minutemen in 1980 with Frank Tonche as the original drummer, later replaced by George Hurley.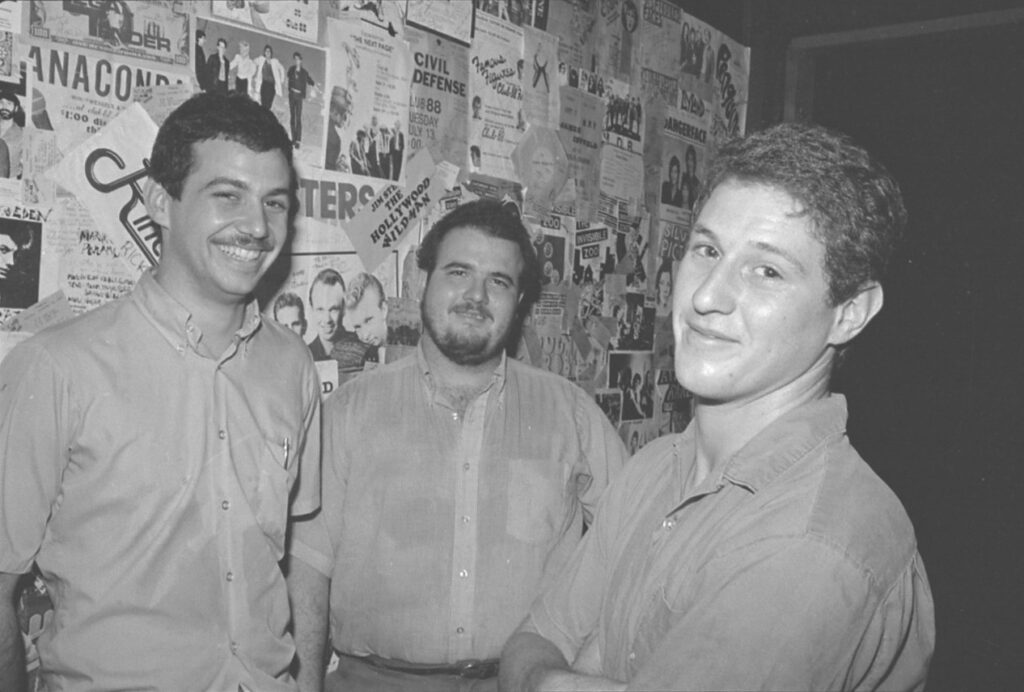 As punk pedigree goes, their first gig was opening for Black Flag (who they would go on to support in their European tour), and after that pretty impressive start they swiftly began releasing E.P.s such as 1980s Paranoid Time (produced Black Flag's Gregg Ginn) and Joy (1981) as well as their first album The Punch Line which was released in 1981.
But it is their third album – 1984's Double Nickels on the Dime – that has prevailed throughout punk history as a standout example of something that is undoubtedly and quintessentially punk whilst being incredibly eclectic and sprawling in terms of sound and concept.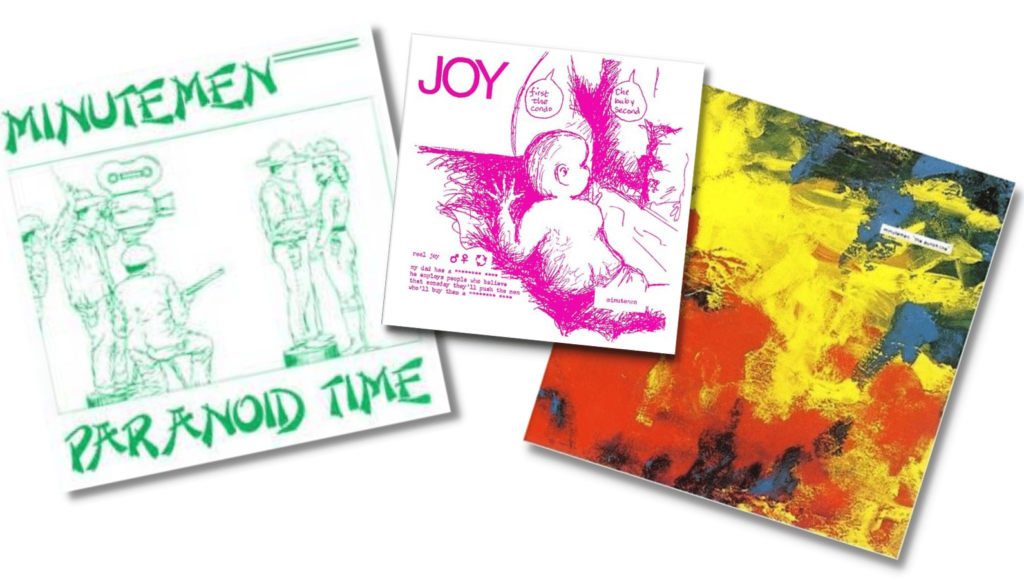 By all standards, Double Nickels… is an album that stands on its own. Most songs were less than a minute long, so despite having over 40 tracks, the running time is a swift 81 minutes. The songs don't have a traditional structure, and although the songs had the fast pace and the subject matter of a lot of punk rock, their fusion of other genres was unique for the time and place.
The group members were from working-class backgrounds and held down day jobs throughout their time in the band- balancing a hectic touring schedule, studio recording sessions, songwriting and rehearsals alongside work needed to pay their bills.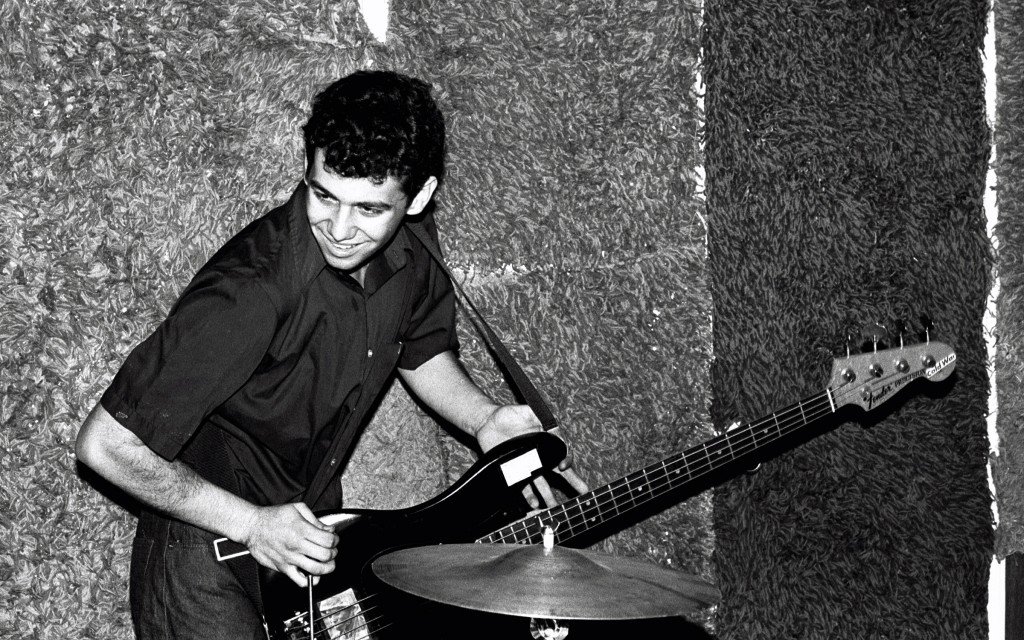 They had their own slang, including terms like 'econo' meaning inexpensive (economical)- such as booking graveyard shifts at the studio, doing their own tech at shows, recording songs in the order they would go on an album, so they didn't have to edit.
The band took their inspiration from the everyday things they saw around them (Watt wrote a song that incorporated lyrics from a note left by a friend's landlady) as well as their political views and observations on life in America during a politically turbulent and polarised time.
They were in good company with their views critical of Ronald Reagan and capitalist orthodoxy – a lot of hardcore output of the time was – but they looked beyond just the Presidential policies and into how this affected the lives and minds of their peers and their community.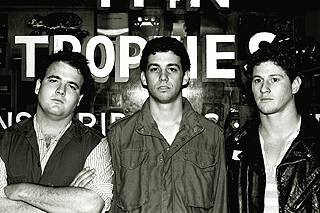 'Community' is a word that comes up a lot when looking at the career of The Minutemen – they were undoubtedly a vital part of the hardcore scene at the time, and it meant a lot to them to be inclusive, particularly of their peers in the San Pedro area.
During the writing and recording process of Double Nickels on the Dime, friends and associates were invited to contribute lyrics or songs to the band. The album featured tracks penned with other contemporaries of a thriving scene – Henry Rollins from Black Flag, Chuck Dukowski (Black Flag, SWA) and Joe Baiza (Saccharine Trust and October Faction).
Raymond Pettibon – an SST affiliated artist – provided drawings that were in the jacket for the Double Nickels album… a true hallmark of hardcore acceptance! In many ways, it is a community album – 'for them, made with them, inspired by them.'
In true punk fashion, the band covered social issues of the day. Songs like 'This Aint No Picnic' demonstrate the spiritual toll on the working class, working for people they do not share values with, struggling with the sense of sacrificing ideals in order to meet the very real needs of eating and putting a roof over your head.
D. Boon wrote the song following an issue with his boss, who wouldn't let him listen to music on the radio made by black people (the manager used a racial slur when expressing his disdain). Like The Clash's London Calling track Clampdown, the song doesn't shy away from identifying the soul-destroying impact of the mundane.
The song also became their first music video – the band performing amongst the ruins of a barren, bombed-out building seemingly being blown to bits by a smiling Reagan flying overhead dropping missiles. It was an excellent visual representation of the damage that many felt was being done by Reaganism on a generation of young people – the hawkish foreign policy, the Social Conservatism and the ever-present threat of nuclear war.
The band's collaborative ethic didn't just involve the external – they were also keen to support each other to express their creative visions. Each album side (at least on vinyl) opens and closes with a band member's car starting and motoring away- identifying the side as the one that has their respective creative direction.
Each member has a solo turn and the most writing credits on their side. The band member's cars were a unifying theme of the album, and the sound of them starting and leaving signifies their arrival to present you their offerings and then drive away and allow their band member to drive up and take their place.
Like a drive-thru punk experience, their bond was wholesome and earnest- no egos clashing, no fight for ideological supremacy- they had their own slang and in-jokes, many of which were featured on the album and a respect for what each other brought to the process.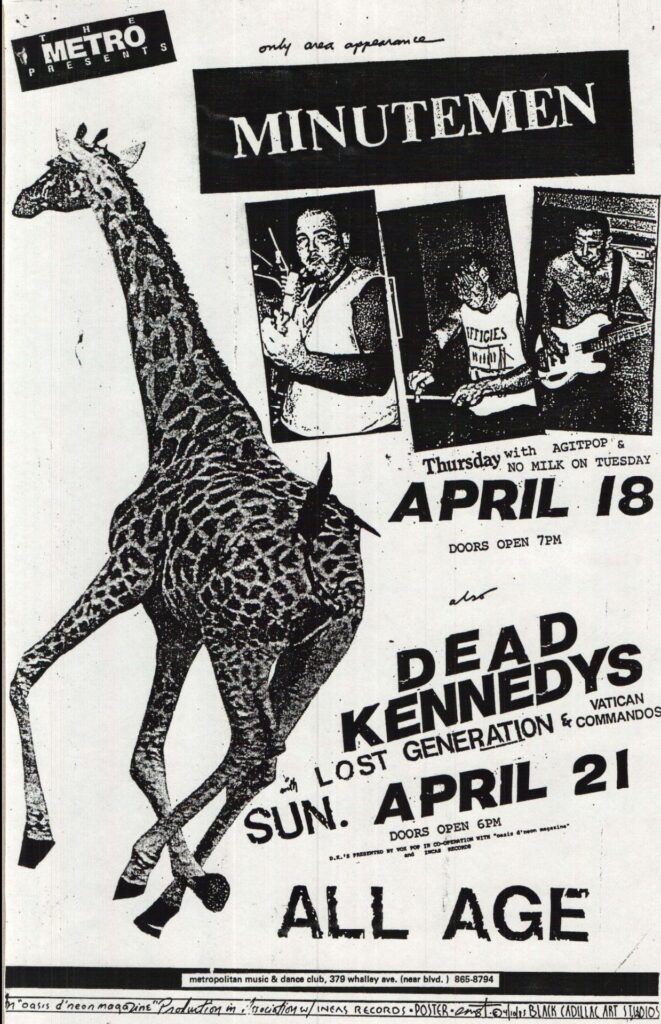 All punk from the '70s and '80s had a certain 'year zero' mentality- the feeling that whatever had gone before was becoming too commercialised, too sure of itself, too complacent. The punks of the 1970s certainly thought it, and so too did the punks of the 1980s.
Hardcore took its own path to punk-dom, but like many a social scene before it, some would accuse it of becoming too hung up on its own self-imposed rules and criteria. The Minutemen could certainly not be accused of sounding the same as some of their cohorts, and even now, their sound is experimental and, at times, jarring.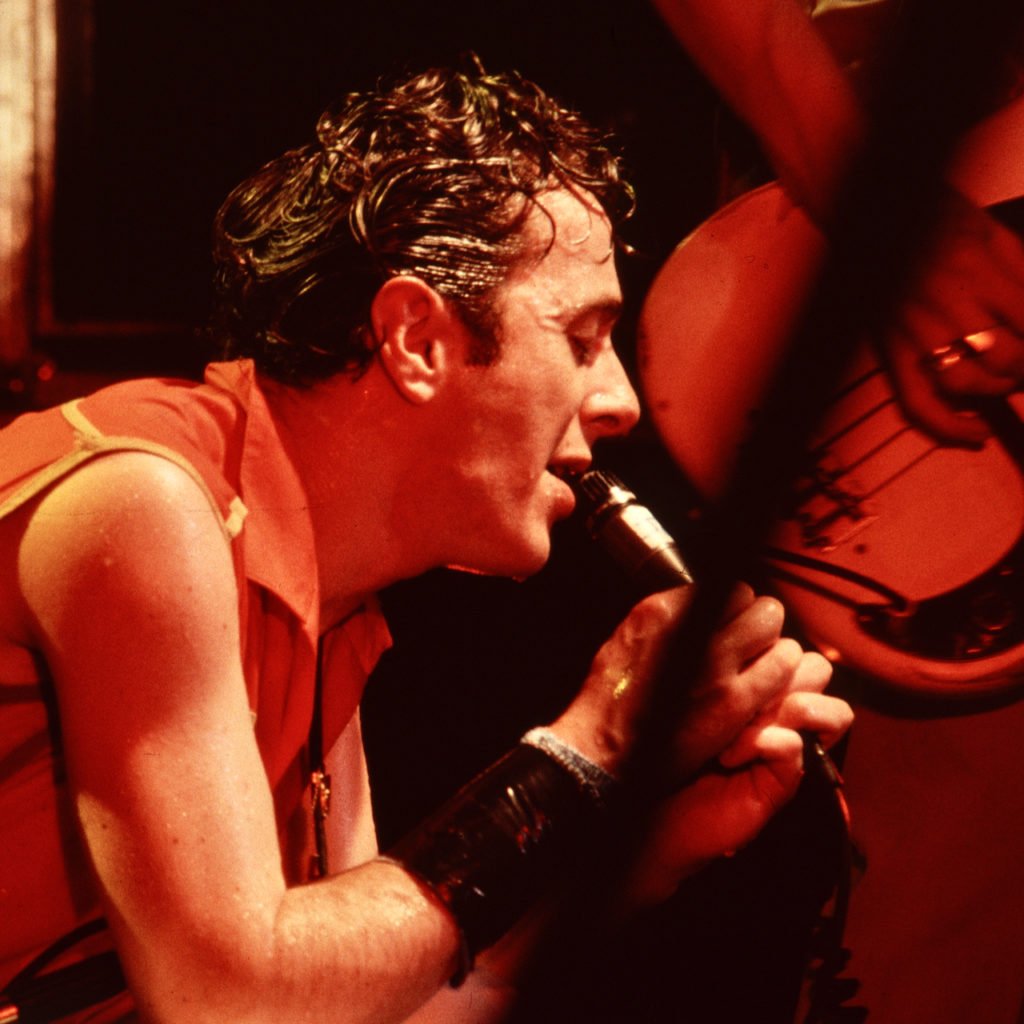 MINUTEMEN TRIVIA
Joe Strummer listed Minutemen as one of the ultimate punk bands along with Ramones, Television Personalities, and Buzzcocks.
In the early 2000s, the instrumental portions of the Minutemen song "Corona" was the main theme song of the MTV reality stunt show Jackass.
Joe Strummer 18/10/81 (photo by Steve Rapport)
It was eclectic and nuanced but still with a simplicity- an approach to making music echoed in their recording habits, touring demands, and lifestyle. The songs are short, but the sound is not. If punk is doing whatever the hell you want to do as long as your heart and values are in the right place, then The Minutemen were more punk than anything else.
"On History Lesson Part II" D Boon states that for him and Watt "punk rock changed our lives," and you absolutely believe it. For many of the bands in 1980s America, there was a palpable sense that punk rock values held the key to a better future and a fairer culture for all if only people would start embodying those values.
Side One is Boon- showcasing guitar chops and clever, poetic lyrics in songs like Anxious Mo-Fo, Cohesion, and Theatre Is The Life of You. Watts' turn offers Political Song for Michael Jackson to Sing (it was reportedly offered to him, but he turned it down!), The Glory of Man and History Lesson Part II.
Hurley's side Mr Robot's Holy Orders and You Need the Glory. Every instrument is demonstrated to the best of its ability- a fully present and correct bass that plays an integral part of the songs; skilled and intricate drums managing to command time structures that defy convention, deftly keeping the whole thing going.
There's a flamenco influence in songs like Cohesion. The mariachi inspired sounds of Corona pay homage to the location that inspired the song- a band trip to Mexico that saw a local woman collecting empty bottles of Corona to make a bit of money.
Related Stories
New York Dolls: The Album That Launched Punk?
The Roots of the Radicals: Rancid …And Out Come the Wolves
Muck, music and mayhem: The making of The Slits debut L.P. Cut.
Green Day: The Musical Influences That Helped Create Dookie
A Clash of Cultures
All thoughts and feelings, riffs and offcuts, bits and bobs in a showcase with some loose themes and motifs keeping it all together. The side labelled 'Chaff' indicates they wanted to embrace all aspects of their process and experimentation, even those that didn't neatly fit anywhere else.
There are slow moments, trippy and easy-going guitar twangs that seem to bridge a gap between bands like The Velvet Underground and later college rock bands like Violent Femmes. They didn't always have to resort to turning up the volume or the speed to make an impact- their use of decrescendo (making things quieter) was strategically used to keep the audience on their toes.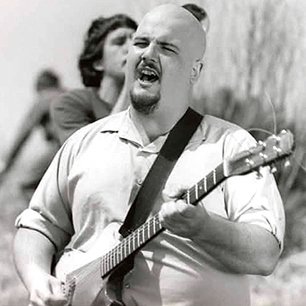 MINUTEMEN TRIVIA
On December 22, 1985, D Boon was killed in a van accident, putting an end to Minutemen. Boon was 27. After his friend's death, Watt fell into a deep depression but was convinced to continue performing by Sonic Youth. In fact, the Ciccone Youth project was conceived in an effort to get Watt making music again.
After its SST Records release in July 1984, the band embarked on an extensive and exhausting touring schedule to promote the record, reportedly playing 57 dates in 63 days. It is their best-selling album and, for Mike Watt, their strongest record.
After Double Nickels, they released a more commercial sounding record with Project: Mersh 1985, but the sound was not as well-received amongst their fans. Their last tour was with REM (who were big fans of the band), and their final concert took place on December 13 1985, just nine days before D. Boon's untimely death.
Over the years, George Hurley and Mike Watt have occasionally performed Minutemen songs during reunion sets. The songs are performed with only bass and drums and Hurley and Watt are never billed as the Minutemen.
The legendary band may be no more, but its intense, thought-provoking and witty back catalogue lives on and continues to inspire respect and awe.
As Mike Watt states at the beginning of 'History Less Part 2', "Our band could be your life."
Double Nickels on the Dime Tracklisting

Tracklist

Side D.
Anxious Mo-Fo
1:15
Theatre Is The Life Of You
1:28
Viet Nam
1:27
Cohesion
1:57
It's Expected I'm Gone
2:07
#1 Hit Song
1:52
Two Beads At The End
1:50
Do You Want New Wave Or Do You Want The Truth?
1:46
Don't Look Now
1:40
Shit From An Old Notebook
1:33
Nature Without Man
1:43
One Reporter's Opinion
1:47
Side Mike
Political Song For Michael Jackson To Sing
1:29
Maybe Partying Will Help
1:57
Toadies
1:38
Retreat
1:55
The Big Foist
1:27
God Bows To Math
1:18
Corona
2:29
The Glory Of Man
2:52
Take 5, D.
1:41
My Heart And The Real World
1:03
History Lesson – Part II
2:12
Side George
You Need The Glory
2:00
The Roar Of The Masses Could Be Farts
1:21
Mr. Robot's Holy Orders
3:00
West Germany
1:49
The Politics Of Time
1:08
Themselves
1:18
Please Don't Be Gentle With Me
0:46
Nothing Indeed
1:20
No Exchange
1:54
There Ain't Shit On TV Tonight
1:35
This Ain't No Picnic
1:54
Spillage
1:48
Side Chaff
Untitled Song For Latin America
2:02
Jesus And Tequila
2:56
June 16th
1:47
Storm In My House
2:02
Martin's Story
0:51
Ain't Talkin' 'Bout Love
0:38
Doctor Wu
1:41
Little Man With A Gun In His Hand
2:53
The World According To Nouns
2:02
Love Dance
2:03
---
Need more of the latest in Punk?