Måneskin and Tom Morello combine on super-charged new track 'Gossip'
The Italian band is making friends in high places – punk godfather Iggy Pop is a champion of the Eurovision winners, and now Rage Against The Machine's Tom Morello plays on their new single.
'Gossip'  is a banger of a track, a feast of punk energy that flaunts a punk attitude from the first note to the last.
Taken from their soon-to-be-released album 'Rush' (out on January 20) 'Gossip is a full-on earworm.
Måneskin's Damiano comments: "Tom Morello's enormous experience allowed us to take cues on how to work on tracks without overthinking. We can't thank him enough for joining us on this track. It's an honour for the whole band!"
Tom Morello goes on to say…
"When I heard that there was a rock and roll band from Italy that was blowing up around the world I was like "Really? Come on". Then when I saw them play live I was blown away. They are unapologetically loud, unapologetically sexy, and unapologetically ROCKING and deserve to be one of the standard bearers for rock and roll for a younger generation.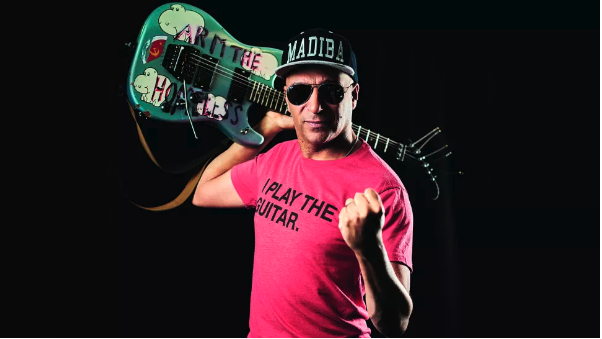 "I got to jam with them at their studio in Hollywood, it's a great band, they all play great, they write great songs, they connect with their audience in a deep and meaningful way, and if you've seen them play live the crowd goes OFF! It looks a lot like some of the big bands of the '90s."
Tom Morello Photo Credit: Joby Sessionq
Follow Maneskin on Their Socials
Need more Punk In Your Life?
New Releases
Grammy-nominated pop punk legends Sum 41 make a boisterous return with 'Landmines', their newest single and first release on Rise Records.
Read More »
I'm a London born and bred music journalist, a mediocre bass player and the occasional strummer of the guitar. In the '80s I worked in recording studios and made a few records you'd probably recognise. I have written a couple of books and made the odd media appearance as a music commentator. I now call Brisbane home.