Punktuation caught up with vocalist and bassist Natalie Wardle to discuss the Manchester music scene, filming videos in a pandemic and Shania Twain…..
Spare a thought for bands that got together in 2019, as the world blindly went about it's business, oblivious to what was to come. It can't be easy getting a band together, gaining some momentum, playing gigs, writing songs and then….not being able to even leave your house, let alone attend band practice and take to the stage. This is exactly the predicament that Manchester punk band Loose Articles found themselves in, having not long got together as a band and just as things were really starting to cement for them.
"We got together in 2019 we played our first proper show in May 2019, but we had been writing for about a year before that. We were just straight away playing gigs and people seemed to like us. Then Covid struck, and there was this long period of time when we weren't gigging. During first proper lockdown we couldn't even rehearse or anything like that. We were trying to keep things going but we couldn't do much without all being there. It was a bit like we had just started to get going and then we stopped."
But where there's a will there's a way and the band- comprised of Natalie and mates Erin Caine (guitar), Tree Nah (guitar and vocals) and Louise Rivett (drums)- took any opportunities (restrictions permitting) to keep the wheels moving, whether that was filming videos in the park or getting some tracks laid down in a recording studio.
"There was a period when you could meet outdoors up to 6 people. So, to keep momentum going we filmed a music video on a camera phone for 'Snake', of us just hanging around in the park. As soon as we could get back into a practice room we kept on going. We did manage to record in Brighton and recorded two singles- 'Buses' and 'Up the Disco'. And then at last, we could start gigging again. First gig back was Manchester International Festival- big gig , outdoors, loads of fun so we came back with a bang!"
The band have certainly been able to keep the momentum going since we have all emerged from our Covid cocoon- as I speak to Natalie, the band have a Summer of festivals ahead of them and a new EP due in the Autumn. The Loose Articles ethos is to have fun- to enjoy the music, enjoy time spent with mates in and around the music scene and see how far this journey can take them. But there's also a serious side, albeit one that is delivered with smiles and humour, of having something to say. Songs like their recently released footie anthem 'Kick Like A Girl' is demonstrative of the Loose Articles blend of raucous riffs, pulsing bass and acerbic vocals. It covers the sexist attitudes still faced by women in sport and there are a lot of parallels with women in music.
"I see punk as opinionated music and with a point and a lot of our tracks are opinionated and the punk ethos is definitely there."
The tangible sense of camaraderie that comes through the band's music and videos is a result of a genuine friendship that goes back years. But it was a chance disclosure by Louise about her drumming ability that put the idea in their heads that they too could be in a band, just like a lot of their mates in the Manchester music scene.
"We have all known each other for absolutely ages, working as flyering for club nights. Tree said once 'we can all play guitar and bass and we can start a band. All our mates are lads in bands so why can't we do one?' It happened from that. All of a sudden we found out Louise can play drums! We didn't know that! We all did a practice together and straight away we all got each other. We went in with no expectations, no proper knowledge of the music industry but we had good support around us and lots of encouragement."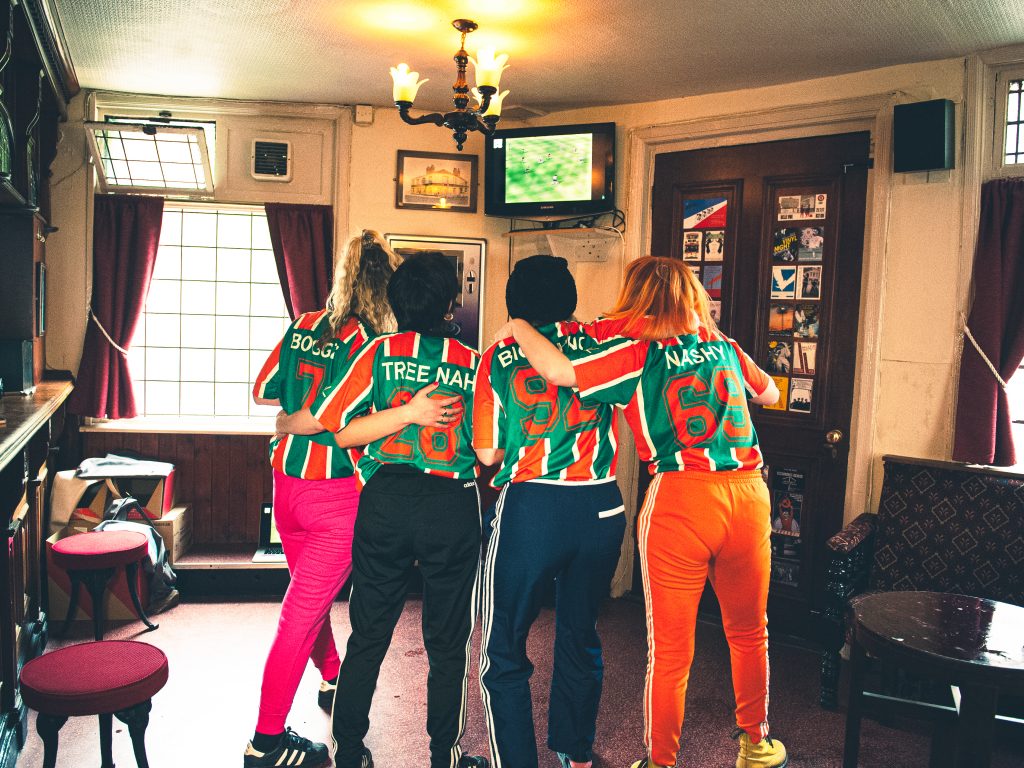 And perhaps it is this shared starting point and common experiences that have enabled the girls to find their own sound and control their own destiny.
"It means we are not going by the book and just do what we think sounds right and what we like to play. From when we first started, we have now really gelled as musicians, but we all knew what we wanted to sound like from the start. We all listen to so many different things. Tree is obsessed with Shania Twain– it is her karaoke go to! I DJ a lot and collect a lot of records, particularly world music. I am a bit obsessed with Bollywood music and stuff like African funk. It is not incorporated into our sound at the moment but never say never!"
These working class heroes are on the up with lots of exciting plans on the horizon (not least of which, a baby Article as drummer Louise is currently preggers). They are playing at Cumbria's Krankenhaus Festival on the August Bank Holiday weekend and Foxy Fest and Manchester Psych Fest in September. We can expect a new EP 'Chaos' at the end of September too on Alcopop Records which will feature 'Kick Like A Girl' as well as some other recent favourites from the band.
"At the end of the day we want it to be fun. We're not signed to a major label so the main thing is we love doing it. And we want everyone else to have fun with us!"
We definitely are!
The new EP 'Chaos' will be released late September 2022.
You can stream the band's first EP 'Orchid Lounge' and their latest singles here:
---
Follow Loose Articles for more…
---

Need more of the latest in punk?