Just time for one more live punk review before Christmas? Go on then…..
A pre-Christmas punk knees-up in good old London town? Count me in! Human Punk finally got to put on a show that they've been trying to run since 2019, and the faithful flocked to celebrate at The 100 Club, an iconic basement venue hidden away beneath the hordes of shoppers on Oxford Street.

Undeterred by the frosty conditions and the lack of trains, many of us arrived in time to see the opening band, The London Sewage Company. Formed back in 2013 at The 12 Bar Club, Denmark street's pungent drains gave the band their name. Playing what can only be described as good solid punk underpinned by rock 'n' roll, they warmed the crowd up nicely with several favourite songs from their 2016 album 'The Flusher', plus some newer numbers 'Pink Hair' and 'You're Not Better Than Me'.

This gig had attracted many musicians. Amongst the audience you couldn't miss Spizz Energi, sporting his usual Spizz jacket, seasonally adorned with Christmas lights! I had the pleasure of speaking with Gaye Black (The Adverts), a lovely lady who is very supportive of the modern punk scene. Blues diva (and friend of David Bowie!) Dana Gillespie was also in attendance.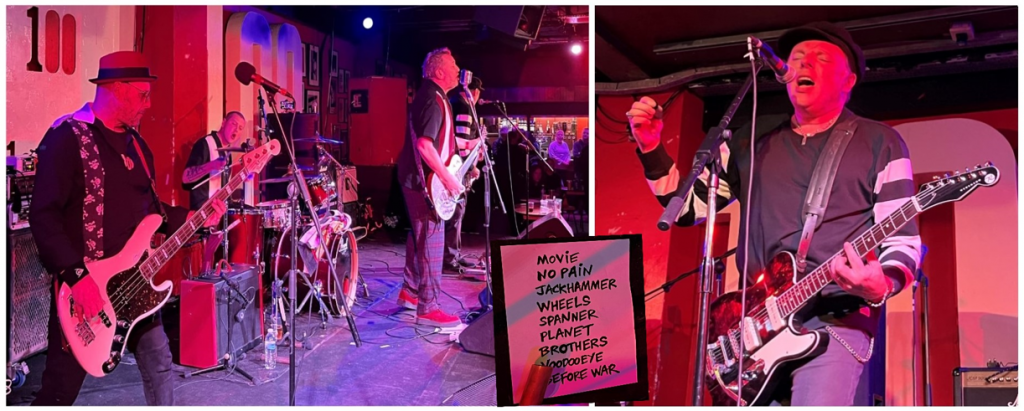 The next band on were the WitchDoktors, who I'd heard great things about but had yet to see live. Just before they came on, Johnny Moped drummer Marty Love told me they are one of his favourites (so highly recommended) and they absolutely didn't disappoint! WitchDoktors describe their music as 'dirty rock'n'roll with a skank'. A fusion of punk and rockabilly, with the guitar energy of The Hives, you could not stand still while they played! A cracking set, and I've included a photo of their set list because I love the font they use!
Our third band for the evening was The Price (formed in the mid 1980s), making one of their rare live appearances! Considering they hadn't played an electric set since 2019, or together in the same room since launching their album 'No Justice?' last March, or even had time to fit a rehearsal in (!) they performed a lively, rousing set which went down extremely well with the crowd.
Bass player Huggy told me earlier they'd all been practising at home, although singer Malcolm forgot he wasn't 30 years younger, and hurt his leg jumping around on stage early on. After appealing to the audience for a physiotherapist (there wasn't one!) he put on a brave face, drank some beer, and carried on – good man! Guitarist Leigh Heggarty had no such problems – having recently been jumping around on various stages with Ruts DC, he was match fit, and very obviously enjoying being back with his old bandmates again!
What does a band which has had two drummers do? Put them both on, of course! Mick and Paul each took a turn behind the kit, and the nine song set flowed seamlessly between them. There were many cries of "More!" from the crowd, but The Price had to make way for headliners Johnny Moped, so we will have to wait for them to rock out another day – hopefully not for as long!
I was lucky enough to catch Johnny Moped at Rebellion, so I knew their set would be good. An original 1977 punk band (straight outta Croydon), the Mopeds still have that late 70s punk attitude and sound – and plenty of fans! Musically they are immense, very creative, and every cell of your body reverberates with their sound. We were treated to a career-spanning set, from earlier songs such as 'Incendiary Device' and 'Darling, Let's Have Another Baby' to the more recently written 'Catatonic' and 'Hey Belinda!' from their 2019 album 'Lurrigate Your Mind'.

The crowd went wild to each and every song, the band went wilder, and a bloody good time was had by all! The Mopeds always make for a fun night out, and are very welcoming of their fans. Nobody got upset at me sitting on the edge of the stage for a while to take photos, as everyone (including me) was there for the love of the music.
All in all, an excellent evening – Merry Punkmas!
---
Keep up to date with Johnny Moped on their socials…..
---
Read more of the latest in punk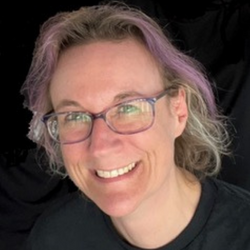 'Usually found jumping around down the front at gigs, I also relish taking photos and videos, singing, speaking with fellow music fans, and asking musicians the questions nobody else does  Writing about my favourite bands and connecting with people who love music too keeps me more-or-less sane  I've worked for over 25 years at a video production company, mainly filming live music events, therefore I have an additional backstage perspective!'