Punk rock legends Lagwagon release a captivating live video for 'Heartbreaking Music,' showcasing their electrifying performance .
Lagwagon, the highly-acclaimed punk rock band, has recently unveiled a captivating live video for their song "Heartbreaking Music." This exciting video captures the band's electrifying performance and showcases their undeniable talent. Raw Cut Media and Imagine 360, the creative forces behind the video, have collaborated with a team of skilled videographers, including Landyn McIntosh, Jason Duchene, Chris LeBlanc, Linus Yang, Cath Brunet, and Dan Grozdanov, to bring this fantastic piece of art to life.
The video captures the essence of Lagwagon's live performance, filmed during their September 14 show at the prestigious MTelus in Montreal, Quebec. The venue is well-known for hosting some of the most prominent artists and bands worldwide, and Lagwagon's performance was no exception. The energetic crowd, the vibrant stage lighting, and the band's incredible stage presence make this video a must-watch for any punk rock fan.
"Heartbreaking Music" is a track from Lagwagon's seventh studio album, Resolve, released in 2005. The album was dedicated to the memory of the band's late drummer, Derrick Plourde, and received critical acclaim for its emotional depth and powerful lyrics. The song itself is a perfect example of Lagwagon's distinctive sound, blending catchy melodies with raw punk rock energy.
Lagwagon is not new to the music scene, having been formed in 1989 in Goleta, California. Over the past three decades, they have built a loyal fan base and have been praised for their exceptional live performances. Their recent live video release is a testament to their dedication to providing fans with high-quality content and memorable experiences.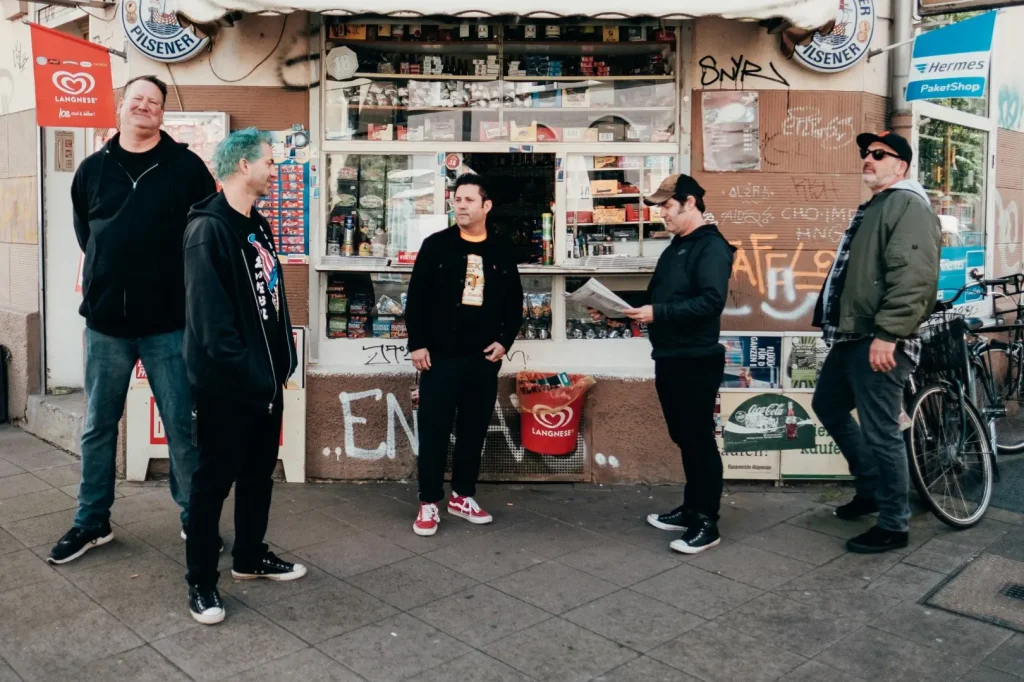 In addition to the release of the live video, Lagwagon has also announced an upcoming tour across Canada. They will be hitting the road starting at the end of May, giving fans across the country the chance to witness their electrifying live show firsthand. The band's tour comes on the heels of their ninth studio album, Railer, which was released in 2019. Railer has been praised for its raw, energetic sound and has been hailed as a return to the band's earlier punk rock roots.
Railer, released under the Fat Wreck Chords label, features 12 tracks that take listeners on a journey through the band's signature sound. Standout tracks like 'Bubble,' 'Dangerous Animal', and 'Pray for Them' showcase the band's ability to create catchy melodies and thought-provoking lyrics. The album serves as a reminder of Lagwagon's lasting impact on the punk rock scene and their unwavering commitment to producing quality music.
Lagwagon's live video for "Heartbreaking Music" is a perfect example of the band's dedication to their craft and their fans. The video captures the energy and emotion of a live Lagwagon show and showcases the incredible talents of the band members and the creative team behind the video.
Don't miss the opportunity to experience their unforgettable live show – check out the full tour dates below.
MAY 22
MON

Lagwagon at Trix (support: Two and A Half Girl) @ 7:00pm
MAY 23 TUE
Lagwagon at Skaters Palace (support: MARCH) @ 7:00pm
Münster, Germany
MAY 24 WED
Lagwagon at Melkweg (support: MARCH) @ 7:00pm
Amsterdam, Netherlands
NOFX FINAL TOUR – Leeds (UK) @ Temple Newsam @ 7:00pm
NOFX
Less Than Jake
Comeback Kid
Codefendants
The Meffs
Leeds, United Kingdom
MAY 28 SUN
NOFX FINAL TOUR – Hatfield (UK) @ Hatfield Park @ 7:00pm
NOFX
Anti-Flag
Comeback Kid
Get Dead
The Meffs
Hatfield, United Kingdom
Lagwagon at Union Hall @ 7:00pm
Edmonton, AB, Canada
JUN 1 THU
Lagwagon at Bo's Bar & Stage @ 7:00pm
Chixdiggit
REST EASY
Red Deer, AB, Canada
Lagwagon at The Palace Theatre @ 7:00pm
Calgary, AB, Canada
JUN 4 SUN
Lagwagon at Louis' @ 7:00pm
Saskatoon, SK, Canada
JUN 5 MON
**SOLD OUT** Lagwagon at Park Theatre @ 7:00pm
JUN 8 THU
Lagwagon at Lee's Palace @ 7:00pm
JUN 9 FRI
Festival au Lac 2023 @ 12:00pm
Mad Caddies
Catch 22
Belvedere
Bad Cop/Bad Cop
Granby, Quebec, Canada
JUN 10 SAT
Red Bridge Fest 2023 @ 12:00pm
Pont-rouge, Quebec, Canada
Punk In Drublic 2023 @ 12:00pm
NOFX
Circle Jerks
Codefendants
$wingin' Utter$
Get Dead
The Bombpops
urethane
Daly City, CA, United States
Follow Lagwagon on Their Socials
Need more Punk In Your Life?
New Releases
Grammy-nominated pop punk legends Sum 41 make a boisterous return with 'Landmines', their newest single and first release on Rise Records.
Read More »