Prolific American performer K. Kilfeather adds to his impressive list of releases with a brand new single, King Creep, and a with new album, Island of Forgotten Toys, to follow later in the year.
The Las Vegas based guitarist-singer/songwriter, who fronts a power trio of psych garage punks under the single name Kilfeather, released their single on July 27 through Golden Robot Global Entertainment's punk imprint Riot Records.
Check out the rising guitar assault and Danzig-esque vocal of King Creep here:
Active in the West Coast scene since 2006, Kilfeather has played shows with a multitude of acts, including The Vibrators, Supersuckers, Voodoo Glow Skulls and members of Tool, Bad Brains and the MC5. His music is an eclectic mix of all that's good at the harder end of the scale – from metal and garage rock, through pyschobilly and punk with a little dash of pop.
King Creep is available now through Google Play, iTunes and Amazon Music (or stream on Spotify or Apple Music).
More Kilfeather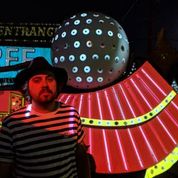 I'm a queer-punk writer from Melbourne, Australia whose stories, poetry and more have appeared in many local and international markets. My debut novel, 'By the Currawong's Call', set in 1890s Australia is available through harpercollins.com.au I also won the Romance category at the 2018 Bisexual Book Awards in New York, I support Richmond F.C. and I like funny shit, animals and railing at the world!