Montreal-based seven-piece Japanese punk-psych-rock band Teke::Teke has returned with a frenetic, high-energy single and lyric video for 'Barbara'
Taken from debut LP Shirushi (out May 7 via Kill Rock Stars), the video for 'Barbara' like others was animated by the group's guitarist Serge Nakauchi-Pelletier and vocalist/visual artist Maya Kuroki.
The music unfolds like a wild parade – every instrument a strange character, the lyrics revealing a twisted take on Zashiki-Warashi, spirit-like beings who like to perform pranks and bring good fortune to people who see them.
"The initial inspiration for this song is a true story that happened to me,'' says rhythm guitarist Hidetaka Yoneyama. "I was randomly mistaken for an old lady by this stranger on the street who came up to me screaming Barbara? Barbara?! It's you?! Barbara?! Maya, (TEKE::TEKE's vocalist) then had the idea of taking the story to another level by turning it into this psychedelic tale of 'Yokai' ('ghost' or 'spirit') that escapes a house and goes on doing all sorts of pranks on people, that spirit being Barbara."
The single follows the band's much-hyped previous singles from earlier this year, the ferocious "Meikyu" and otherworldly "Yoru Ni."
 "Barbara" brilliantly captures TEKE::TEKE's near-mythic live energy as it was recorded in a single take with the whole band in the same room.
Drummer Ian Lettre explains, "I remember it being pretty late at night in the studio, everybody was perhaps feeling a bit edgy from a long day of recording and after having a chat about Brazilian band Os Mutantes, somehow we just thought 'you know what? How about we all get in that room together and play 'Barbara' like there's no tomorrow?! That ended up being the cut that's on the album, haha…"
The band finds a mystic cohesion across all of Shirushi ("sign of big changes to come"), as it was inspired by the Japanese practice of kintsugi — the art of mending broken pottery by fusing the pieces back together with seams of gold, silver, or platinum lacquer. "There's always something hopeful that comes after destruction," Nakauchi-Pelletier says. "Next comes rebirth, and we get to learn again." The album glues classic Japanese balladry, surf rock, psychedelia, and more together into a set of songs that play like soundtracks to a wildly eccentric epic film saga. The band incorporates traditional instruments, influences from '60's/70s Japanese soundtracks, and the sentimental balladry of Japanese enka – yet Shirushi manages to sound as if it comes from some distant future.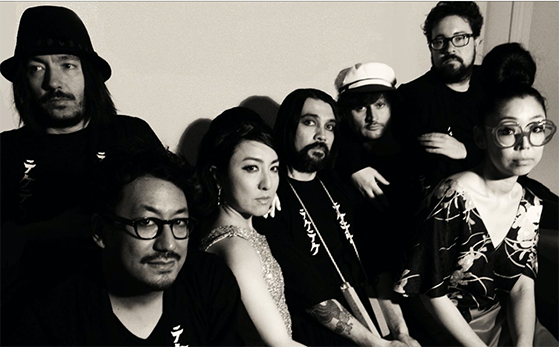 Lead single "Kala Kala" perfectly encapsulates this refusal to be contained, building from an expansive ambience to an elephantine instrumental hook, Kuroki's voice darting over the top. "The Japanese language allows for visual, colorful poetry, and the lyrics tell a story with a lot of different colors, strong vibes, and emotional themes," Kuroki says. In that way, each individual track plays out like a lost classic soundtrack with its own genre and storyline, even for those who may not have the benefit of the literal translation of Kuroki's lyrics. A trained actor and visual artist, Kuroki's place at the front of the stage for TEKE::TEKE masterfully amplifies their already dramatic arrangements. 
 
After initially forming as a tribute band for Japanese guitar legend Takeshi Terauchi, TEKE::TEKE learned that they had to tear up their surf-tinged covers and build something new. Since then, the Montreal-based seven-piece have expanded their already wide scope into a dazzling journey through classic Japanese balladry and Brazillian psychedelia alike. Fusing everything from traditional Japanese instrumentation to punk guitar, TEKE::TEKE have created their own musical universe – one that's continuously expanding.
---
---
Follow Teke::Teke on their Socials
---
Enjoyed this? Check these…
Punktuation Magazine For All Your Daily Punk News, Features, Interviews, Lifestyle and more!