Australia's festival scene is amping it up with the announcement of Inverted Festival hitting the Gold Coast in 2021.
There is nothing more symbiotic than punk, rock and high energy action sports. The announcement of Inverted Festival already has hearts thumping with the promise of a weekend of pure adrenaline hitting Australia's Gold Coast May 1st 2021.
This brand new 'All Ages' music festival is set to deliver the perfect mash up of Aussie punk and pub rock combined with Skate, BMX and FMX. Inverted is two events in one, But…… you only need to buy the one ticket!
Some of Australia's most adored punk and rock bands have already been announced with Skegss, Spiderbait, The Chats, Trophy Eyes, WAAX, Stand Atlantic and FANGZ on the line-up. These high energy bands will be performing alongside world-class action sports athletes competing in Skate Street, BMX Park, BMX Best Trick and Freestyle Motocross
"Inverted Festival seems like it will be the first of its kind in Australia, and we're stoked to be on the line-up next to our best homegrown Aussie talent." Ben Reed, Skeggs

Tweet
Covering the high energy side of the festival, six-time X Games Best Trick motocross gold medallist, Jackson Strong, added, "The competition at Inverted Festival is going to be fierce, with the world's best action sports athletes going head-to-head and I can't wait to get out to be a part of it."
Inverted is just one of the many events that sees the return of standing festivals in Australia in 2021, with over 20,000 expected to turn out for the weekend.
Don't miss out on the fun. For information on bands, athletes and tickets, follow the links at Invertedfestival.com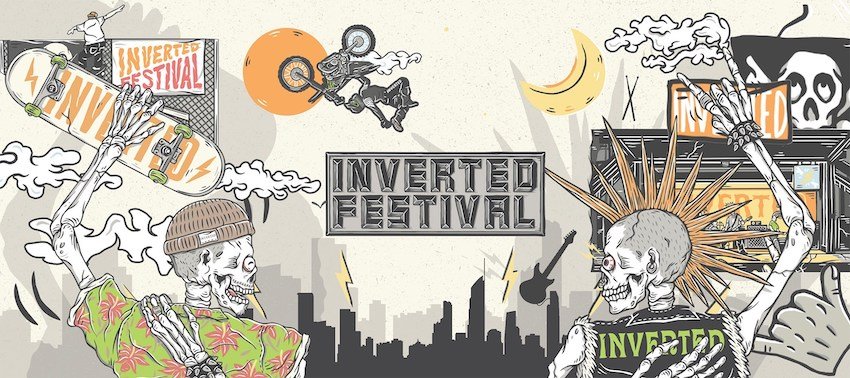 ---
Keep Up With Inverted Festival Updates
Everyone should have a soundtrack playing loudly in the background of their life. I was born moshing to my own beat and have never swayed from my love of music. Spreading my passion through the written word is my soul's purpose. My punk heart beats loudly with the rhythm of my rock soul. I plan to continue to mosh like no one gives a shit.
Click on Tracey's photo for more of her articles!