New York pop-punks State Champs chat to Punktuation Mag about taking their latest music to Australian fans.
Following the release of their fourth studio album Kings Of The New Age in May, State Champs have embarked on a major tour taking the US by storm. The band will take a month to recharge before taking the long flight to Australia for a co-headlining tour with Arizona rockers The Maine.
Not their first jaunt down under, the popular pop-punks will set out to soak up as much southern hemisphere spring as they can. State Champs' definitely aren't strangers to the Aussie beaches and sunshine but due to travel restrictions haven't seen their fans since 2019 Unify Gathering.
Punktuation's Tracey Moyle had a chance to catch up with State Champs bassist Ryan Scott Graham getting insights into their latest tracks and what Aussie fans can expect this spring.
With today's ever-evolving pop-punk palate upcoming young artists are putting their own colourful twist on the genre. Kings Of The New Age is a homage to the genre's origins capturing the heart and soul of pop-punk, catapulting fans back to where it all began.
" We started it before the pandemic and then recorded during and then kind of sat on it for about a year before it felt really right to put it out, " says Ryan."When we were making the record, that new mainstream of pop punk hadn't really happened yet. The resurgence or whatever you want to call it. But it was a conscious effort when we were writing the record to just have fun. We thought let's do what we do best. And let's make it the best pop punk record that we've done. The fact that people are responding to it is, is really the cherry on top."
The album has eleven energetic tracks, four of which are collaborations giving the album's tracks a unique twist. The four collaborating artists, Ben Barlow (Neck Deep) Chrissy Costanza (Against The Current), Four Year Strong and Mitchell Tenpenny. Each brings something different to their tracks. "We did Sundress and there was a part at the end, a little breakdown part and it was like a homage to Four Year Strong," says Ryan. "We hadn't done a proper pop-punk breakdown maybe ever or since the first record at least. So when we got to that part, we couldn't really figure out how to put a vocal over it. " So the band came up with the idea, "why don't we just ask Four Year Strong to do it." The bands were friends and share a label so it made perfect sense. "They were down," said Ryan.
Their track Act Like That went through a progressing evolution before it became the hit we hear today. "We wrote that and we joked, you know, this could be a country song if we took the guitars out of it," recalled Ryan. The songs you hear on an album don't always start off the way they end up when they're belting through your speakers. This was definitely the case with Act Like That. "We write the song and sometimes it would start a completely different way. We do a thing, we call it, 'champsifying' something. When we first started writing Act Like That it was a lot more of an 80s synth-sounding song. We brought in some acoustic guitar when we wrote the melody and were like, 'oh, this now has a bit of a country vibe'." 
The band then added in some "electric guitars and ballzy drums". The more they listened to the track the more Ryan said that country vibe seemed to stick. "We thought, you know, it might be nice to have a country voice on this." As things always seem to fall into place, turned out their producer Drew Fulk (Lil Wayne, A Day To Remember, Ice Nine Kills) was a personal friend of country artist Mitchell Tenpenny. Lead guitarist Tyler Szalkowski is a big fan. So Fulk got the wheels turning. "He said, 'I'll reach out to him. I know he's a fan of your band, and I'm sure that he's down'. So all it took right there was a text message," recalled Ryan. "He sent that the part and we liked it and I don't even think we tweaked it. It was perfect the way that it was," laughed Ryan. "
Currently, on tour in the U.S., the band will be doing the long haul down to treat Australian fans to their first dose of State Champs since 2019's Unify Gathering. They will be co-headlining with alternative rockers The Maine and bringing UK punks Hot Milk and Aussie locals Paperweight along for the ride. "I'm actually excited about the prospect of touring with The Maine," says Ryan. "We run in the same circle, we've played Warped Tour together and we've done their Festival 8123 and we have a lot of mutual friends, but we're not two bands that have ever played together. It was just one of those serendipitous things, that was just like, 'hey, we're trying to make a tour happen in this place, at this time' – 'and so are we'.
Taking KOTNA live to Aussie fans is something both the band and audience are keen to hear. So we asked Ryan how a band with so many circle pit and anthemic numbers finds the right mix of old and new?
"Well there's definitely some headbutting that goes on when we talk about setlists", he laughs. "We're on Sad Summer Fest right now and our set list is only 35 minutes long. So we've actively thought, let's change up the set list every day. Let's have a couple of mainstays, but swap out five or six different songs just to keep it kind of fresh."
But things are a little different when you're on a headlining tour. "On something like a headliner, it's not easy," confirms Ryan. "We've always been a band that does a lot less talking than some other bands, because we want to just play as much music as possible. When it comes to picking what songs, I guess it's a combination of our personal favourites and obviously we have a new record out." The band plan to play as many new songs as possible while still keeping the loyal fans happy with all the old mainstays. "We're like what haven't we played in a while or what is streaming well. "
On 2017's Punk Goes Pop Vol. 7, State Champs covered mainstream pop hit Stitches. "I mean, we did a headliner in the fall and our cover of Shawn Mendes Stitches is our highest streaming song like every month. And we're like, 'we've never played this song live let's do it on this headlining tour. So we did it and now we can say to everyone who's been asking us to play it – we've played it. I don't know if you'll ever hear it again." the bassist laughs. "But yeah, it's a pain every time trying to figure it out, because there's just so much time and effort that goes into picking setlists."
Regardless of what tracks State Champs choose to bring to fans on their Australian tour it is pretty much guaranteed the audience is in for a night of pure high-energy, heart-on-your-sleeve pop-punk from one of the modern-day masters of this treasured genre.
STATE CHAMPS
AUSTRALIAN TOUR
Tickets HERE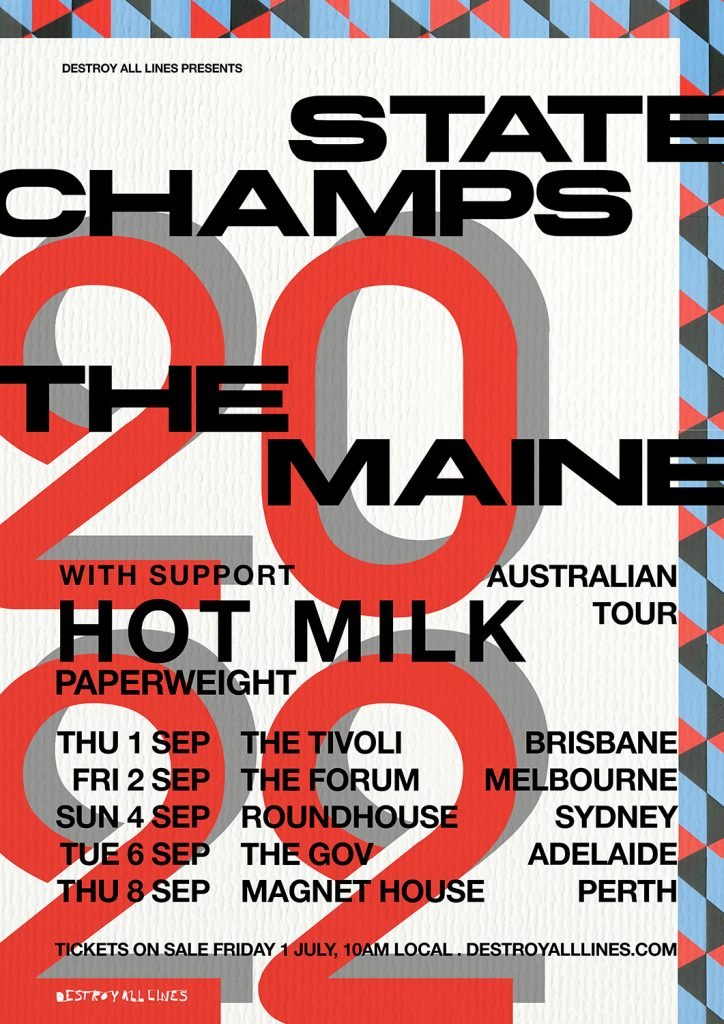 ---
Follow State Champs On Socials
---
Need some more punk in your life?



Everyone should have a soundtrack playing loudly in the background of their life. I was born moshing to my own beat and have never swayed from my love of music. Spreading my passion through the written word is my soul's purpose. My punk heart beats loudly with the rhythm of my rock soul. I plan to continue to mosh like no one gives a shit.
Click on Tracey's photo for more of her articles!