Californian punk legends are taking their tour 'Down Under' this month, hitting their 'home away from home' with full force.
Aussie punk fans are in for a treat. With touring life getting back to a semi-normal pace, Hermosa Beach skate punk favourites Pennywise are touring Australian soil for the umpteenth time. This time they are bringing their idols, fellow punk legends Circle Jerks.
Although Pennywise has graced the sunburnt Aussie shores more times than anyone can remember, this will be the first run for Circle Jerks. Punktuation Magazine's Tracey Moyle spoke to Pennywise guitarist Fletcher Dragge about the upcoming shows and why Australia is a favourite touring location.
These Californian skate punks are no strangers to the 'sunburnt country'. Touring constantly since the '90s, you may wonder why Pennywise constantly have Australia on their tour schedule.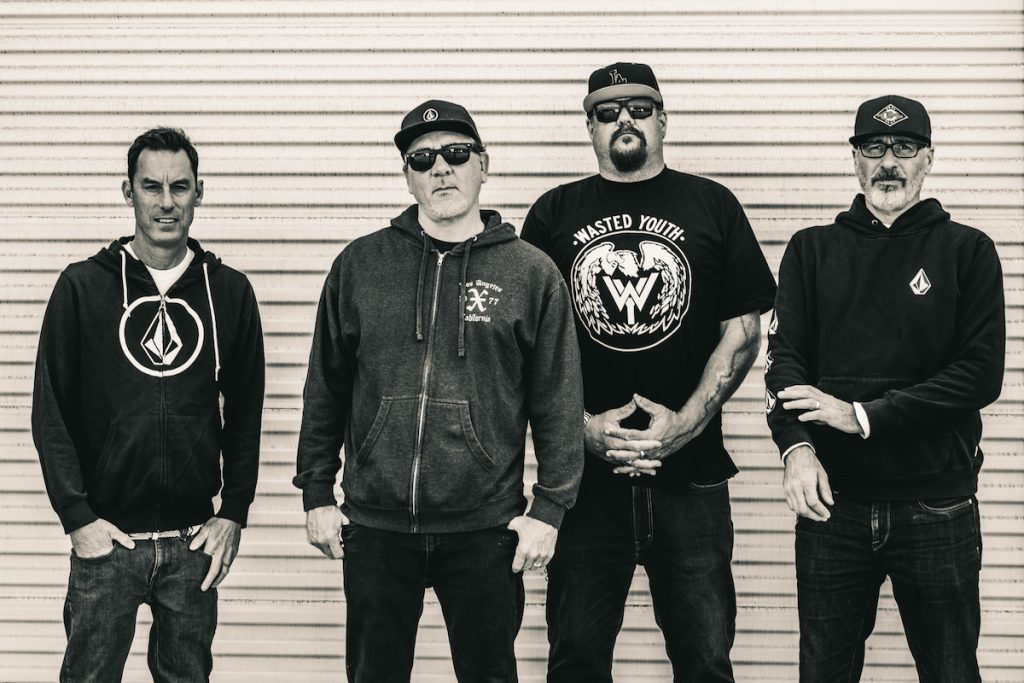 "There are many reasons," says Dragge. "The fans are crazy loyal, hardcore devoted. They have been for a long time. You know, we have been going there since 95, right? So that's a lot of years to be coming back and playing sold-out shows then having crazy audiences.
"We play shows in America, Canada, Japan and Australia and Europe and South America and Australia is like definitely like top three."
There has always been mutual respect between Pennywise and its fans. Their followers are as hardcore as the band themselves. "We actually have a hardcore drinking fanbase. We will play a venue, and they'll say, 'that's the most alcohol we've ever sold in 30 years.' We break all kinds of records, and Aussies are not scared of a couple of cocktails or beers. That always helps 'cause we like to just have a big party."
Combine that dedicated fanbase with the country itself, and it's a definite win for the band, as Fletcher says: "That combined with the fact that there's a lot of coastal towns which we're used to because we live at the beach. It reminds us of California back in the good days. California now is just inundated with rich people that have attitudes and think they're better than you. They've gone around and bought up all of the beach property and driven up the prices.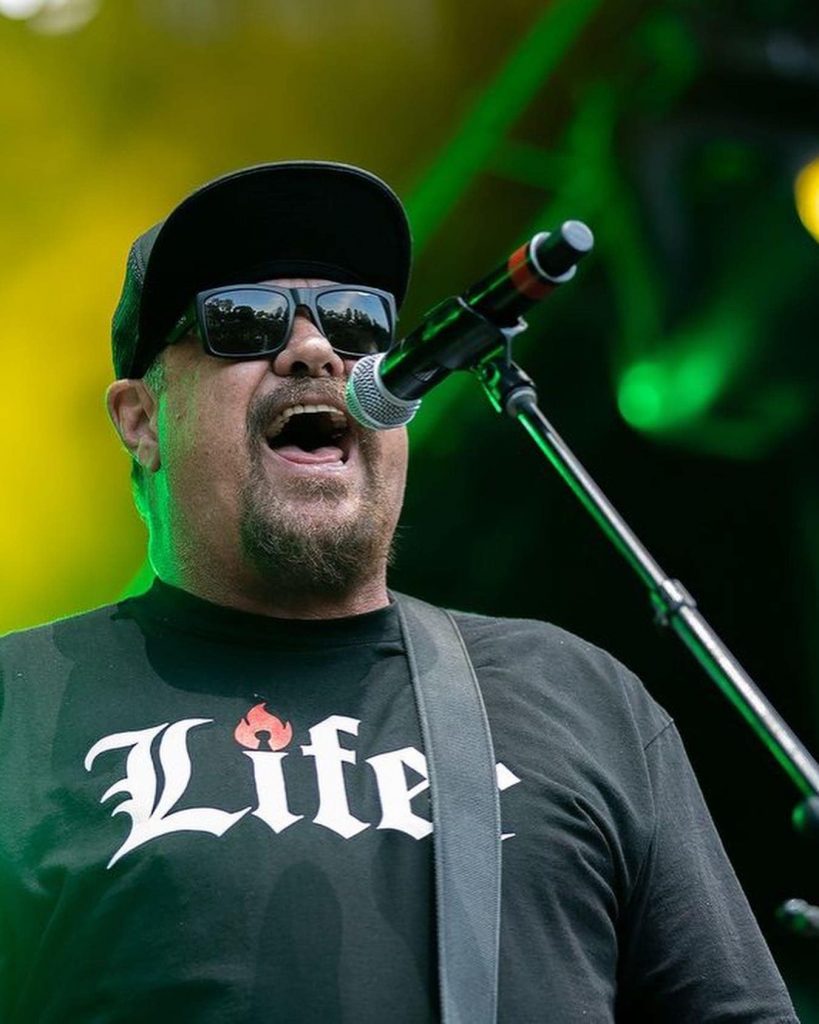 "They've forced all the locals out, so it's not the same as it used to be. When you go to Australia, you only get that small-town vibe from a lot of the smaller towns and beach communities. It's literally one of our favourite places to play in the world. If not our favourite, definitely I'd say Jim's (Lindberg) favourite. I love Japan. I like weird places, but if Jim had a chance, you move there in a heartbeat."
Fletcher's love affair with the country was taken beyond the music and the fans a few years back. "I married an Australian girl a couple of years ago, so I technically have a pad in Melbourne. When it's time to retire, it will probably be Australia. I'll get the fuck outta California, come to where the good life is"
After 30-plus years in the punk scene, the band's influence has stretched way beyond their original skate punk fan base of the '90s and '00s. These dedicated fans have had kids who are now dedicated fans who now have younger kids that love Pennywise.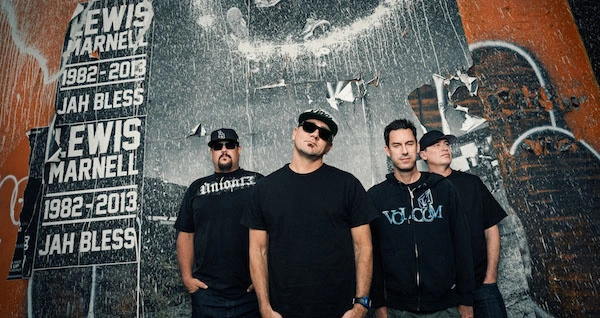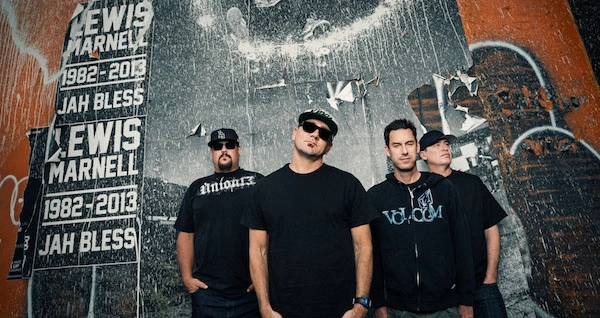 Their music literally stretches across generations. "Most parents are going to try to teach their kids based on what they like," says Dragge. "Like hey, I drive a Holden, or I listen to Pennywise or listen to Iron Maiden, and your kids are always going to be a reflection of you.
"But it's really cool when there's a 40-year-old dad with his eighteen or twenty-year-old kid in the mosh pit, drinking a beer or whatever it may be. I think it's crazy that we've had these generation gaps, like literally seeing a father and son just going hard in the pit. Then you meet them after the show."
Dragge recalls a few fans he's met that stuck with him; "This one guy said, 'I've been listening for 25 years, and this is my kid. He's been listening since he was in the womb'. It's always something like that now, which is so cool to see. Sixteen or fifteen-year-olds in the front row, twelve-year-olds." One particular event stands out to him. "There was this six-year-old singing every freaking word at one of our shows recently, and I was just like, damn! We brought him backstage and gave him some stuff. He was totally into it. So yeah, it's really cool to have been able to be part of watching that happen, and we're super fortunate to have had this long of a career."
For Australian punk fans, in particular, this tour is something not to be missed. The band will be touring with their own idols and fellow punk legends Circle Jerks. The first time Circle Jerks have ever toured the country in their forty-plus years on the scene. You have to wonder how did it happen that Pennywise was the one to convince these punk icons to make the long-haul trip.
"I was talking to Keith (Morris) five or six years ago trying to get him to reunite the band, "remembers Dragge. "And he was like, No! It's not gonna happen. I was saying what is it going to take and, you know, after like half hour he started to thank that there was some slight hope. Then, sure enough, they reunited."
With Pennywise sharing their longstanding booking agent Andy Somers with Circle Jerks it was as if they were always meant to be the ones to get Keith and the band on that red-eye flight.
Fletcher recalls, "Andy said, 'Hey, you want to take Circle Jerks on tour?' And we were like, Fuck Yes! We grew up on the Circle Jerks. You know this is their home, Hermosa Beach. One square mile is the home of Black Flag, The Circle Jerks, and Descendents, among a couple of others. I grew up listening to Black Flag, and Cir le Jerks and going into their shows. Tho e bands made me want to join a band. Seeing them onstage as a kid at fifteen years old, I wanted to be like them.
"Then twelve years later, whatever it was, we are playing with them in America, playing with him in Canada. You're like on the road with your hero's. It's like really hard to grasp. It's like you were starstruck. So when that was proposed, we were like, let's figure out how to make this work.
"So people in Australia that have been waiting forty years, your lucky day is coming because they're killing it right now. They're as good as I've ever seen them. Crushing it. I mean, obviously, they're not twenty-year-olds, but they're up there going hard, and it sounds insanely good." Circle Jerks have had an on-off relationship over their 43 years, so for fans, it would be suggested that this is an opportunity not to be missed.
Amongst the many festival and headlining tours, Pennywise have done on Australian soil; there is one particular show that remains a stand out on all levels for Fletcher. It just happened to be their first show in the country.
"I always go back to the same thing Sydney 1995, Alternative Nation. We were on our own stage, and it was off down the hill, and there was no one there. It was like a huge turnout, you know, five-ten thousand people, and there we e like three people standing there. It was drizzling, and Live was playing. You could hear them over this hill, and we were like, 'well, this is going to suck'. We were on in like twenty minutes and we're thinking, 'fuck! No one's coming. No one cares about Pennywise. And then people started coming over the hills."
The tone of Dragge's voice changed as if he was reliving that very moment. "People started coming this way, and then another person and another. Then five people and then me and Jason (Thirsk), the bass player, started chanting 'build it and they will come' from Field of Dreams. Within that 20 minutes, like three or four thousand people showed up at our stage.
"We were sitting there goi g, what the fuck is happening here? And they literally all knew we were playing. They walked out of Live while they were still playing. There was a whole army of new Pennywise fans, and it just exploded. The place went so fucking crazy. They literally broke the barricade. I've never seen a real legitimate festival barricade broken down to a ramp onto the stage. They wanted to rush on stage.
That's one of the best shows in my memory of all time shows in the history of Pennywise. It just went from nothing to complete chaos and mayhem and that's exactly what I love.
"They bought in cops on horseback, extra security like it was just insane. I don't think we played a full set, but that show, I still remember like it was yesterday. We just said, 'holy shit, Pennywise is loved in Australia'. That was like the beginning of our love affair with like the energy of the crowd and just how cool the people were.
"We said we will be coming back here as soon as possible, and it's never stopped since that show. That's one of the best shows, like in my memory of all time shows in the history of Pennywise was one of my favourite shows 'cause. It just went from nothing to complete chaos and mayhem, and that's exactly what I love.
With 30-plus years of killer songs to pick from, how do you even start to choose what tracks they play on tour? "It's always a fight," laughs Dragge. "I want to play like all the hardest ones that are going to kill Byron (McMackin) and Jim."
With the band playing full album shows back to back for a week earlier in the year, whatever the setlist is, it will be an easy gig.
"We did five nights, five fucking albums, and it was the dumbest thing we've ever done", says Dragge.
"But it was actually really, really fucking cool at the same time. So, after stuff like that, like coming and playing like a setlist that's got a little bit off each album is really fun for us." We'll pick a couple of secure ones and a bunch of crowd favourites, throw in a couple of covers, and it's just going to be a big party. So yeah, I think everyone's gonna have a good time for sure".
A good time is definitely guaranteed at any Pennywise gig.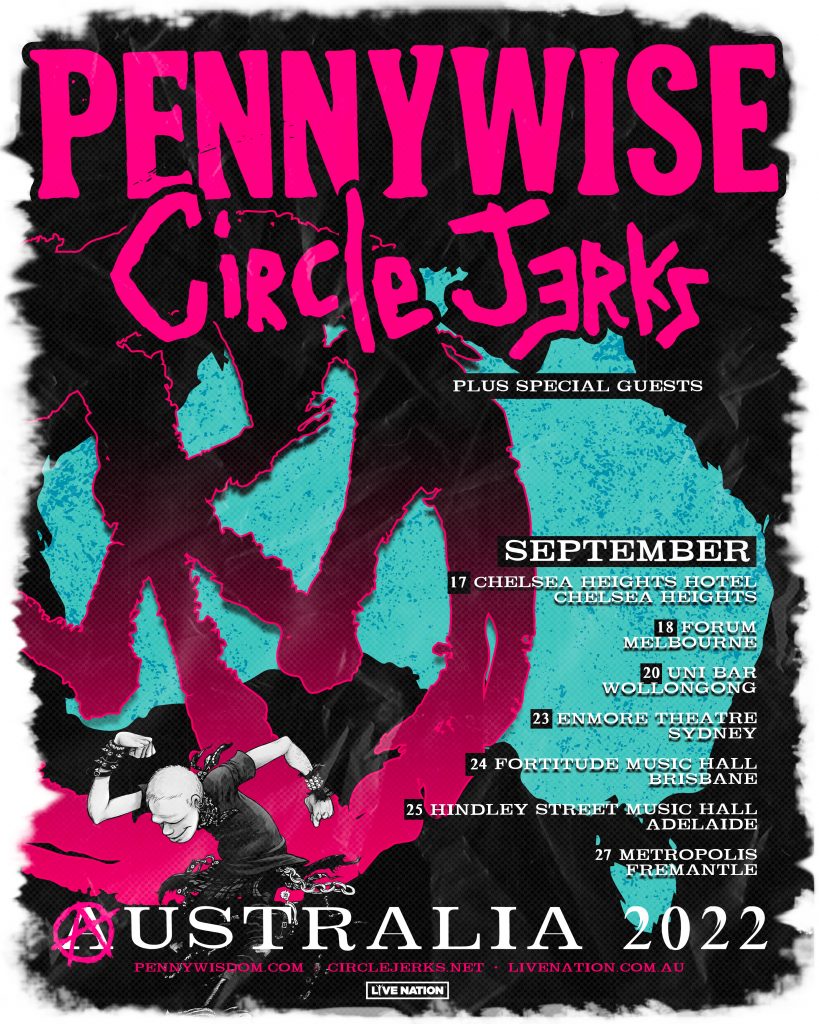 Pennywise Australia Tour 2022 with special guests Circle Jerks

Presented by Live Nation

Tickets on sale via Live Nation.

Saturday, September 17th 2022

Chelsea Heights Hotel, Victoria

Sunday, September 18th 2022

Forum, Melbourne, Victoria

Tuesday, September 20th 2022

Unia Bar, Wollongong, NSW

Friday, September 23rd 2022

Enmore Theatre, Sydney, NSW

Saturday, September 24th 2022

Fortitude Music Hall, Brisbane, Queensland

Sunday, September 25th 2022
Hindley St. Music Hall, Adelaide, South Australia

Tuesday, September 27th 2022
Metropolis, Fremantle, Western Australia
---
Follow Pennywise On Socials
---
More from Punktuation
Everyone should have a soundtrack playing loudly in the background of their life. I was born moshing to my own beat and have never swayed from my love of music. Spreading my passion through the written word is my soul's purpose. My punk heart beats loudly with the rhythm of my rock soul. I plan to continue to mosh like no one gives a shit.
Click on Tracey's photo for more of her articles!