The Swedish skate punk legends are looking forward to playing Good Things festival in Australia
There's a vibe of excitement surrounding the Good Things festival after the organisers released a colossal line-up of international acts and some great Aussie rock bands. Starved of touring bands for the last two years, the punters inevitably got on board with tickets selling so fast that the website consequently crashed.
The organisers have got a great mix of bands with heavier groups like Deftones, Soulfly and Gojira, along with the metalcore of Bring Me The Horizon and punk stalwarts NOFX. If that wasn't already good enough, we have melodic punk represented by Swedish legends Millencolin who have been tearing up stages since the early '90s.
Punktuation caught up with Millencolin guitar player Erik Ohlsson to hear about what has been going on with the band and his thoughts on coming back to Australia to play the Good Things festival in December.
Hi Erik, how are you? Oh, you have a dog with you. What's his name?
Hello, yes, this is my dog Pluto. He's a 3-month-old Rottweiler. He's only small at the moment but a big handful.
Aww, he's cute. I had a look at your current touring schedule, and it looks hectic!
It's really great to be back on stage, but it seems that everybody is travelling right now. Nowadays it seems that everybody in Sweden and Europe is at the airport, haha. I haven't missed the travelling part but being on stage is one thing I have truly missed.
When was the last time you toured Australia?
The last time we were there was for the SOS album tour with Goldfinger in 2019. We usually time our album release for our winter, and we then always plan to go to Australia right away to experience and enjoy the summer there.
How did you handle the Covid period?
It was just super boring! Everything was postponed, all the shows were being moved forward and forward, and you never knew when restrictions were going to ease off, so you know, we didn't do much. We were just waiting for restrictions to go away, and it took two years. Like, with this festival, we were just about to announce it two years ago, so it's great to finally be able to see the line-up and be able to say Good Things is on.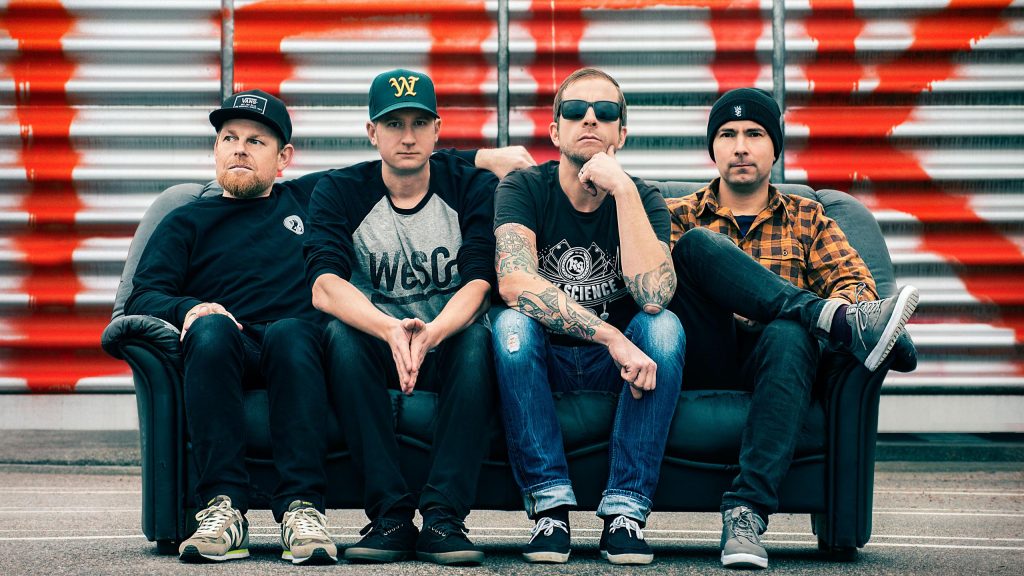 I take it that you're looking forward to the Good Things festival then?
It's gonna be great. I was really, really happy about it when I saw the line-up and just being able to go back to Australia. We love it! We used to go once every one or two years so we've spent a lot of time in Australia and can't wait to be back.
Are you going to try to watch any other bands at Good Things?
You know, there are a few, but probably NOFX playing the Punk In Drublic album in its entirety; I mean, they are always great and good friends of ours, so that's going to be fun to hang out and watch. It really is a great line-up, and I'm looking forward to seeing a lot of bands on tour.
What can the fans expect from Millencolin's set list?
Well you know we are celebrating 30 years as a band this year, we have already played an anniversary show recently in Stockholm to celebrate the milestone, and we played a lot of old songs, some we haven't played in a long, long time. So we're gonna continue that, maybe play a smaller version of that set, I'm not sure how long our set time will be in Australia, but it will be songs from throughout our 30 years. There will be a few from our last album and some more older songs, I mean, we always do a mixture pretty much, but this time, we are adding songs that we haven't played in like 20 years.
What else do you do outside of the band?
Musically it's just Millencolin, and I have other side projects like my graphic design company (check out Erik's graphic design company Eckhouse Design), and I also have a boat company.
I believe you did all the artwork on your albums?
Yes, I did all the art on our albums; everything graphic on Millencolin's albums comes from me, ever since the first demo tape, and you know I would never want anyone else to do anything graphic-wise.
Your artwork has a very 'cartoon' style.
Yeah, exactly. That's my style from the beginning. My skateboarding graphics influenced me. I changed it up a bit for the 'Pennybridge Pioneers' album using an oil painting, but now it's basically vector art that I'm mostly working with these days.
What can we expect from Millencolin in the near future?
We will definitely have something new, we are already working on new stuff, but we are not sure how or when we are going to release it. We are booked for shows until almost like next summer, so it's another year of touring first. Then we'll see about recording anything. Hopefully, Covid is not coming back, and the Ukraine crisis is sorted out, and we can continue doing what we love.
How many guitars do you bring when on tour?
Now, since we're flying, we're just bringing two guitars each, and we rent any other gear we need for overseas festivals. We just bring the essentials.
OK, cool, and how is Nikola's Duckpond Brewing venture going?
It's going good for Nikola. He's becoming one of the most successful micro-brewers in Sweden, so he's doing good. He's doing a lot of business and is exporting to the whole world.
Can you bring some to Australia?
He's probably doing some collaboration with somebody over there. Like he has his own brewery and then he's, you know, putting it out with different, bigger breweries. He's got some beer brewing at one company and some beer brewing at another company, he's all over the place. So he most definitely will do something in Australia, yeah.
Well, we are really looking forward to seeing you come out for the Good Things festival, is there anything you want to say before we go?
It's going to be great so hopefully, nothing's gonna mess this up so we can come over. It's a long flight to the other side of the world so no restrictions, please!
Go and see Millencolin rock the stage at the Australian Good Things festival in December 2022
Friday December 2nd, Melbourne (Flemington Racecourse)
Saturday December 3rd, Sydney (Centennial Park)
Sunday December 4th, Brisbane (Showgrounds)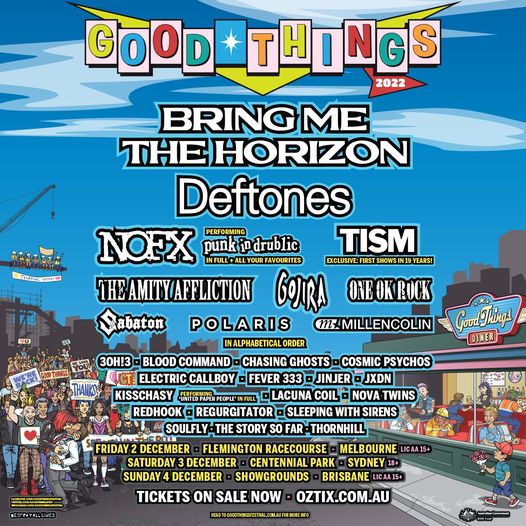 For tickets click this link at Good Things festival
---
Follow Millencolin On Their Socials
Follow Good Things Festival Socials
---
More of the latest in punk