Punktuation's Molly Tie caught up with Gymslips' drummer Karen Yarnell to talk about those early days of creativity, friendship and the resurgence of interest in all things punk.
The Gymslips were once branded the first female oi band although this label belies the depth of influences that were on display in their music. With a reissue of their 1983 album 'Rocking With the Renees', we get a chance to revisit the boys, booze and boisterous behaviour of this trio.
One of the most fun and relatable female bands to come out of that initial punk scene in the UK, East London tearaways The Gymslips– Paula Richards, Suzanne Scott and Karen Yarnell- barged their way onto the post punk scene in 1981. They openly embraced drinking, pie & mash, monkey boots and double denim right from the start.
Formed in 1980, they started playing live the following year, and opened for Dolly Mixture on a 1981 UK tour.
And although very much considered part of the UK punk scene, the influence of those early 60s girl bands like the Shangri Las and The Ronettes add a sophisticated melodic dimension to the songs which sets The Gymslips apart from some of their contemporaries. 
The sense of camaraderie and friendship pulse throughout their songs with playground harmonies and raucous riffs and mischievous lyrics. And they really were best mates as Karen explains:
"I didn't know the other girls before the band, I just answered an advert. They sent me a cassette with 3 songs on it and my dad heard it and said 'you're not gonna join that terrible band are you?!'"
But she did! And after some shuffling of band members in those early days, they settled on the familiar configuration of Yarnell, Scott and Richards.
"When the band started I was 19, Suzanne was 1 year older than me and Paula was 4 years younger- she was only 15/16 at the time. There were only 3 of us and we spent all our time together. We lived in the same flat for a while and would go see the other women-only bands and just spend all our time together which is why it was hard when we split up.
We started going a bit crazy together and started playing fast songs and thrashing! And writing about what we wanted."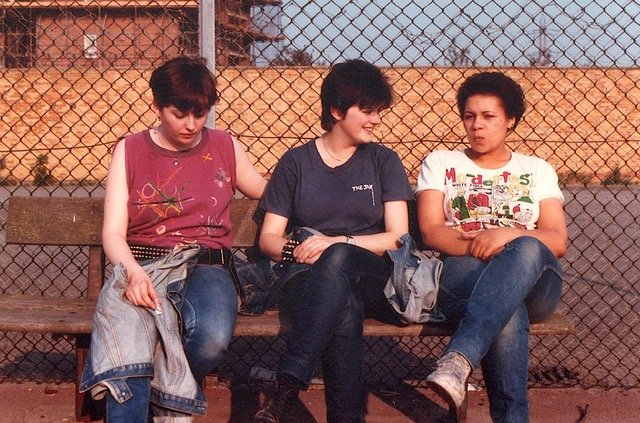 And the sort of topics they wanted to write about cover the triumphs and absurdities of life as a young woman from going out and partying to having your heart broken.
"We wrote songs about our everyday lives. It was a laugh, we didn't take it that seriously. Now I look back and think 'oh wow we did do like 4 John Peel sessions' but we weren't thinking about that at the time. We just wrote songs about what we knew: our friends; my nan…. whatever is happening at the time!"
And this includes one rather tongue in cheek song about a certain romance novelist….
"'Barbara Cartland'  was the only song I wrote on my own. Normally, we would share the songs and the credits and we would sit and write together. But I really hated Barbara so I wrote that one on my own!"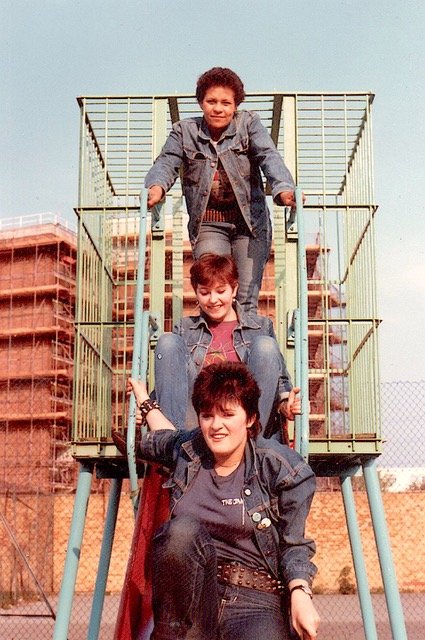 The band were together for around 3 years, although there was a reformation some time after the original band separated but this was short lived. Their album 'Rocking With The Renees' can now find a new audience thanks to this re-release as well as catching up with some old fans who can be reminded of what a great record it is.  
The album showcases all the influences that made up the member's listening habits, from 60s girl groups (adored by Suzanne Scott) to glam and punk. The lyrics in tracks such as 'Renees' and 'Drink Problem' are playful, boisterous and cheeky with lines like "We're the Renees/Here we come/1-2-3 and up your bum!" and "whiskey makes you frisky/gin makes you sin…". With all band members singing together there's a girl gang chant feel to the punkier songs- a gang that you definitely want to be a part of.
There's a strong ear for pop melodies in every song but it is given a twist depending on the genre it is reflecting which makes the album a varied and intriguing listen. 'Thinking of You' has a similar into to Blondie's 'Picture This' and a gentle dreamy vocal, it's a feminine love song. Whilst a track like 'Angels' has a more RAWK sound, a fast and riff driven instrumental. It shows they can do rock just as well as everything else.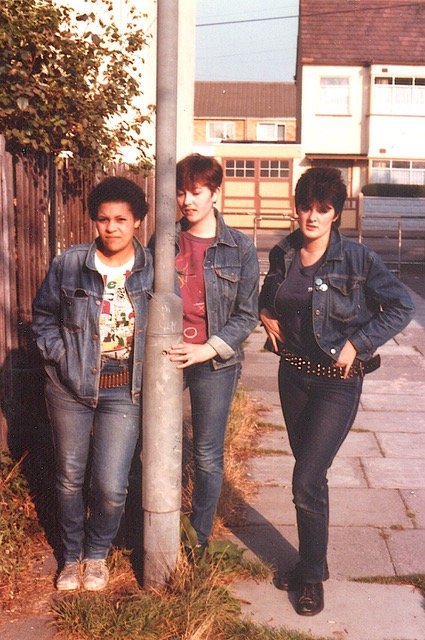 It's a great listen and this new reissue also features the 'Silly Egg' EP. But why now for the reissue? Does it reflect a trend for revisiting some underrated female-led bands in punk and giving them their dues?
"Its 40 years old! Things come round in circles so probably to do with general interest in punk bands. But this has been ongoing. Helen Reddington wrote a book about lost women of rock music a few years ago, so that was one little peak."
And on the topic of being an all-female band? Was that considered a novelty at the time, even in the more liberating punk circles?
"We were conscious that it was a bit of a selling point being all girls. We wouldn't have had a bloke join. We wanted to keep that selling point. It helped and hindered at the same time- some people think women can't play (or at least they did back then) and other people thought it was great (although it was mainly other women thought it was great). A lot of our audience was female.
And all the female bands were different. The Slits were very reggae based. The Raincoats more experimental. And we were different.
I did get 'oh you're good for a girl' though. At that time, I didn't know any women playing drums when I was learning. Just seemed like a handful. Now with riot grrrl and all that's gone on, there's more. Which is a good thing".
It must have felt like you were really beyond the norm being a young girl playing drums back then?
"I remember I asked a teacher at school about drum lessons and he just laughed at me. I didn't get anywhere. But luckily my dad was great and he took me to a drum shop to get a drum kit and we had a cellar to put it in so I was lucky! But a lot of parents in the 70s wouldn't have allowed their daughter to play drums."
After the band split, Karen played with other bands including Serious Drinking and a dalliance back with Paula for the Gymslips mark II. But after that fizzled out, Karen took some time away from playing and has now rekindled her love of drumming, albeit in a very different musical direction (Karen plays with an orchestra playing mainly Eastern European/Balkan music). But still with a punk ethos that has never left her.
"One thing I did like about punk was the energy and the DIY aspect- that is what attracted me to punk. And I've kept that! During lockdown, with a couple of friends we were playing in the street for the neighbours with our masks on, or on a friend's balcony playing accordions and clarinets! We were trying to keep things going otherwise we would have gone crazy and I feel like that's a punk attitude!"
And what of the fate of punk?
"Before punk when I was at school in the mid-70s, it was all Grease and disco and I just hated that! So it was refreshing to have something completely new to come along but then it just went back to record companies and making money so I don't like that money making aspect of it.
A lot of bands did sell out. I don't blame them, if you want to be a professional musician then you need to make money. Even all the clothes got ripped off, the safety pins and checked trousers, that wasn't what punks originally wore and then all of a sudden everyone had spiky hair. The original punks, we didn't dress like that, it was more like wearing your dad's old shirt! I used to cut my clothes up and paint on my t shirts and that was the fun bit!"
So, will there be any more Gymslips news or are you happy to leave things as they are?
"Punk was such a thing for young people, we're in our 60s now so just wouldn't feel right for me. And with Suzanne having passed away in 2021, there are no plans to gig or record anything else. There was talk about rereleasing some of the John Peel sessions which would be nice but I'm happy to leave things as they are."
The deluxe reissue of Rocking With the Renees + the Silly Egg EP is available to order on half & half colour vinyl with a white vinyl 7″ from Optic Nerve Recordings HERE.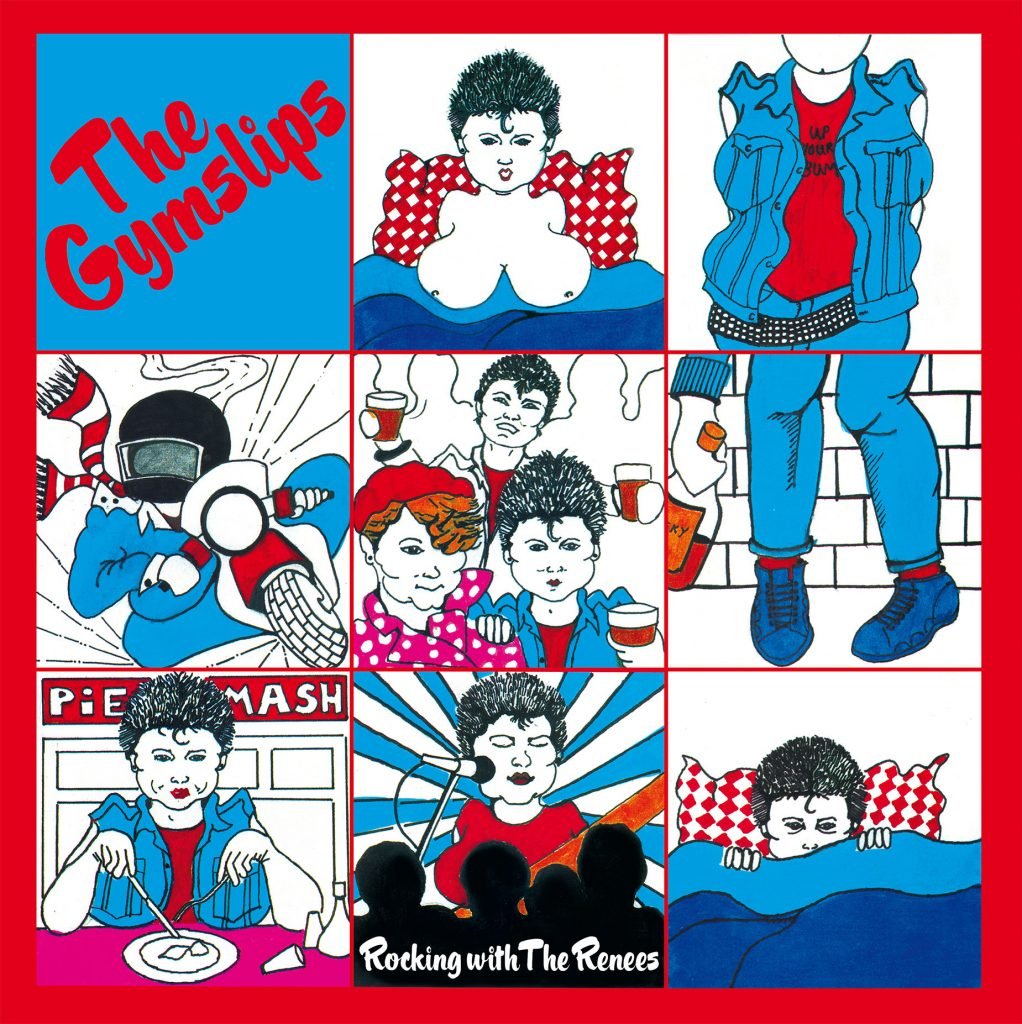 Renees
Drink Problem
Barbara Cartland
Face Lifts
Thinking of You
Angels
Robot Man
Dear Marje
Wandering Stars
Yo Yo
Some Girls
Complications
Big Sister
48 Crash
Untitled
Silly Egg EP:
Silly Egg
Pie 'N' Mash
Multi-Coloured Sugar
Take Away
Need more Punk In Your Life?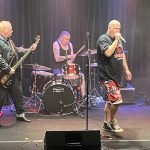 New Releases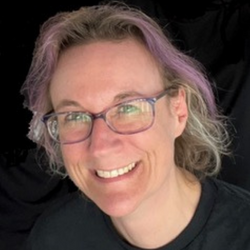 Red Anger 's second album 'Revolution Numb' is as a natural progression from their first. A call for freedom and change, with powerful delivery of
Read More »