Punktuation's Ruth Rae caught up with the Bar Stool Preachers to hear their views on authenticity, having fun with their best mates, and coincidentally making their best album yet!
Brighton's Bar Stool Preachers are looking forward to an incredible year in 2023 with a new album on the horizon and plenty of touring! I caught up with them at a full band rehersal in late January to hear all about it. Thank you to TJ McFaull, Alex Hay, Bungle Preacher, Karl Smith and Ray Waters for their words and their time!
Q: Firstly, a big THANK YOU on behalf of your fans for being such an engaged and approachable band – this is a big part of your ethos isn't it?
TJ: Absolutely! We as a band understand that the fans, especially our Bar Stool Preachers family, is the beating heart of everything we try to do. There's no point in us doing what we do if we can't bring people up with us, and have a positive impact in communities, especially ones that we build.
Alex: There's no point in just sitting in your dressing room when you're on tour either! We do this online and offline, I can't see a time when we're not doing our own merch.
Bungle: Even when we're doing the bigger shows where the venues have their staff do the merch, we still come out – in Brixton last year (where BSP supported The Interrupters – review HERE) we all came out at the end of the evening and stood in the foyer, because we want to talk to people! There shouldn't be a barrier, there's no hierarchy between band and crowd, we're all people who go to shows. Before being in bands we all went to shows and we always will, so I don't really see any difference.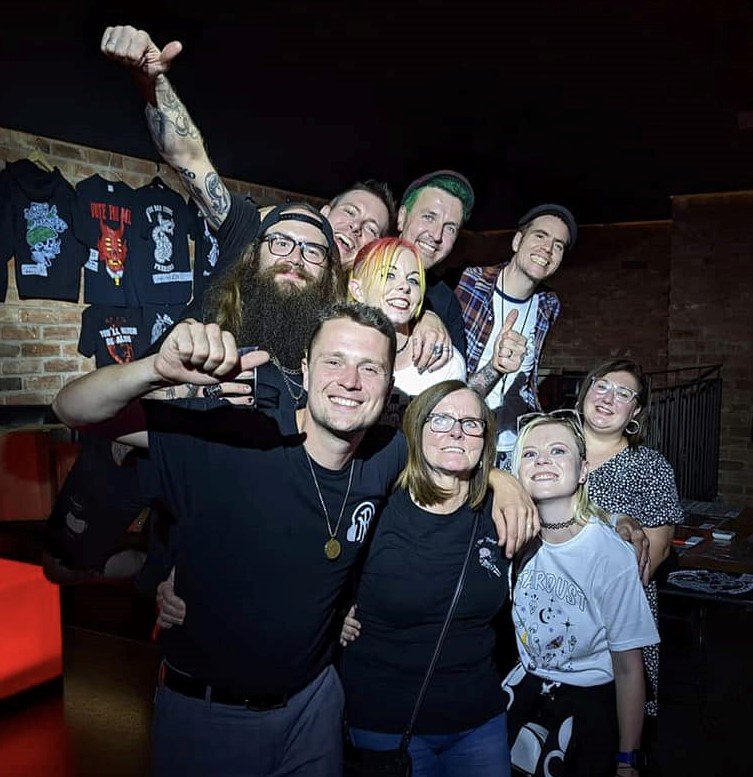 Q: The build-up to the new album 'Above The Static' pre-order was great fun – how do you come up with all these ideas?
TJ: Maybe if we'd thought about it we'd have come up with some better ones! (much laughter from the band!) We like to make sure it's always going to be fun, so whichever medium, online, at a show, down the pub we're the same band, the same people wherever we go. We knew we hadn't done a lot of live streams showcasing our music, and just talking and re-engaging with the fans, so that was at the forefront of all of our minds. We've made this incredible new album and we want as many people as we can to hear it, and in this modern engaged and interactive world we had to think of a way for us to do that. We didn't want to do anything insincere, so we did a lot of silly things live, quizzes, eating raw onions and of course playing some music – that's just us!
Alex: The onion eating got a cult following! We got more supporters for eating the onions than for the music (laughing). It's nice to all pitch in and take a turn at going live – obviously the main focus is going to be on TJ, as the singer and front man, as it's his voice and his words, but we try to take the pressure off a little bit.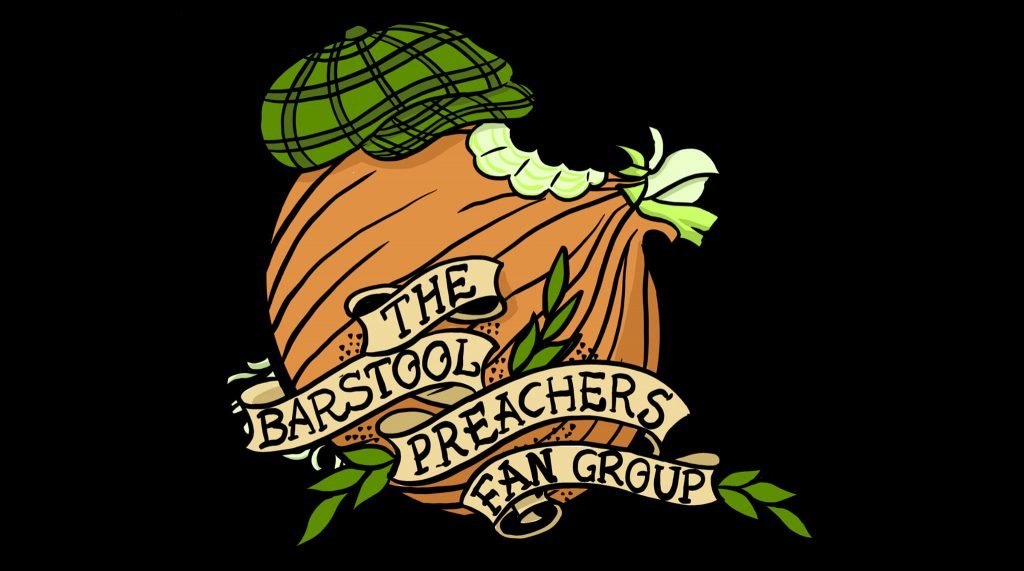 Q: The way you recorded 'Above The Static' harks back to the way bands traditionally worked – the lived-in studio experience – although doing it at an empty live venue (The Waterloo Music Bar in Blackpool) is a bit different! How did you all find the experience?
TJ: Yeah – that venue has always had really positive connotations for us, it holds a special place in our hearts, and Fletch and the team at The Waterloo are some of the best people around. They're really good at supporting the UK music scene, plus having a place to stay is a lifesaver for a band on the road! We filled the car up with all the equipment we could take, and headed up there. For me personally, I'd always wanted to do that immersive experience, like Led Zeppelin used to do, and it was a case of trying to capture that live feeling.
For those weeks we absolutely lived it – we'd go to sleep at 3am, having recorded up until then, and whoever was up first would put the pot of coffee on and we'd press play on whatever we'd recorded last night, and thankfully 90% of the stuff was really good! It was completely different from how we've done it before – less sterile and more authentic – for this album we've tried to take more risks, which is easier to do when you're not at home or sitting in another room waiting for your turn. There was time and space to develop our ideas, and when we brought them in it was like a wave gaining momentum. It ended up as something none of us expected, for us it's been a surprise how good and how different this new album sounds.
A big part of what makes it exciting for us is progress; we wanted to push the envelope more and take more risks, and when you're immersed in it, that's easier to do.
Alex: For me it was a really fun experience – we didn't feel pressured – what would you say was the reason for that TJ?

TJ: The environment was really nice and relaxed. We were all working, but it was really good fun – two and a half weeks with your best mates – it was a good laugh!
Alex: – It was like a summer camp!
TJ: It comes through on the recordings, that a huge amount of fun was had, and it was easier to do as we were all there living in each other's pockets! Because we're a touring band, to be able to spend loads of time together, not having to pick up sticks and go to another town the next day, we could all hang out together and everyone could take their own time and get in their own headspace which was also incredibly important.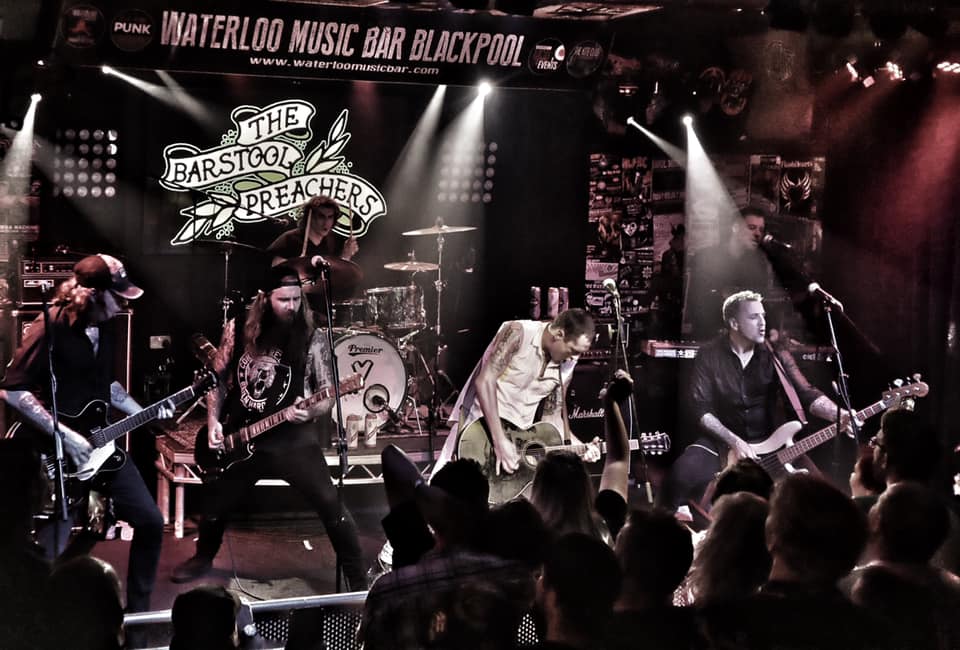 Karl: It was fantastic! We had a right time – perfect Covid activity! That was when I got involved – they asked me if I'd come and do the album (Karl is usually found playing guitar with Jaya The Cat). I had a great time – it was hard work, long, long days, but wonderful. Very inspiring place to be I think, surrounded by good people wanting to get the best out of each other. I think we all pushed each other, but it was a lot of fun too.
TJ: And it was positive from day one – we went in there saying "Right! Let's make the best album we can possibly make!" and as a result everyone was bringing each other up, bouncing ideas off each other. When you're writing there's no real bad ideas; it's like "So how are you hearing that?" or "Cool, where's it going to move from here on?" and that was really good as well – not going to a 'yes' or 'no' place.
One big part we haven't mentioned yet is that we didn't go there meaning to record the album – we went with the idea of pre-production and capturing the best demos that we could – then we'd go into a big fancy studio and do it that way.. so that alleviated almost all of the pressure. What we found was that we got the best out of people in that environment. As soon as we started recording and heard how big the drums sounded, we all looked at each other and went "This is it! Hold tight, we're gonna do this!"
New single 'Doorstep' from their upcoming album is released today – and it's a banger!
Q: You've said that this album gets more personal and emotional than your previous two – what prompted the more introspective approach?
TJ: Well, we were chatting with a guy called Ted Hutt, who one of our favourite producers of all time – he's worked with Flogging Molly, Dropkick Murphys, Gaslight Anthem – and he told me that we've got to take risks. That really hit home – and that was before we even got into the pre-production mindset. For me, I always knew that I didn't want to just fall into a formula, a specific prescribed way of writing Bar Stool Preachers songs. It was a big conscious decision to strip loads of instruments away; album track 'Lighthouse Keeper' is just the piano and vocals, some spoken words. We wanted to take these risks and make ourselves more vulnerable because we wanted to be as truthful as we could with what we were writing.
Alex: What Ted said was "If you've got an idea, and you feel it's a bit 'out there', just push it all the way out there".
Karl: I think it really shows on this album, there's more pushing musical boundaries, more influences from different avenues which makes it really interesting.
TJ: In 'Above The Static' there are loads of different styles of music that we always wanted to play but never have. Because we weren't under pressure and paying for studio time, we got a free swing to try these ideas out , to follow the rabbit as far as it would go. What came out surprised us and we absolutely loved it – we just went for it!
Bungle: For me it was like a once in a lifetime opportunity – we went in and we couldn't plan how it was going to come out – you were in the moment constantly. It was cool, wherever it took us we went from there, it was really spontaneous at points, and I think that's what really made it special.
TJ: We kept an open mind, which is what we ask people to do when they listen to it. We did things that weren't necessarily first nature to us and in styles that we hadn't played before, and reaffirmed to ourselves that we can write any fucking type of music we want! It's going to sound like the Bar Stool Preachers because it's got the vocals on it, it's got big choruses, it's got these huge anthemic hooks. In between choruses especially we could do whatever the fuck we wanted – we could just do synth and see how that sounded – there were no rules on this one!
Q: Working with Ben Hannah from Nosebleed on this album must've been great – what did he bring to the recording process?
TJ: Ben is a wonderful human being, a fantastic producer and a really good musician. Bringing in new people, as Ray and Karl attest to with their own style and talent, is only ever a good thing and should never be closed off, so Ben added that in spades. He has his own ear and idea of how things should sound, and he added a real nice spice into the mix. Also his work ethic – we worked really hard over the couple of weeks, and no-one more so than Ben – it would have been impossible without him.
Karl: He's also very honest, and I think that's important in this process. Some people beat around the bush and try to stroke egos, whereas if Ben didn't think a part was working, he'd say it as it is, and I think that's great! For us that's how we try to be with each other – when you're creating, nobody's out to try to hurt people's feelings, we were there to create the best thing we could, and I think Ben helped that too. He'd speak up if a part wasn't right, and we'd work on it. He brought a lot to the table – and he's hilarious!
Q: Having Kevin Bivona from The Interrupters mix some of the singles is also a real scoop – he's a great musician and an experienced audio engineer – are you pleased with the results?
TJ: Blown away! Kevin sent us his mixes back, and it was gold! His ear is incredible, and he's been working with some of the best musicians in the world. To have somebody on that level coming in who's already doing it for The Interrupters, for Rancid, for Jimmy Cliff – his ear is already in the world that we're trying to end up in, and that was really helpful too. He also had some great suggestions for hook lines and backing vocals – what was great for me was how fucking humbling that was – you think of yourself as having a skill set, or being very good at something, and our choruses and backing vocals are brilliant, but when Kevin suggested a couple of them I was like "Ah fuck! We didn't even think of that! That's sooo good!" Rising harmony and pre-choruses, things from somebody with talent and an ear coming in to make something you love even better.
Q: You've got a big touring year planned for 2023 – it must be exciting to finally get back to what you love doing, as one of the best live bands on the circuit?
Karl: It's going to be an amazing year! We're all very excited – we have a five week tour coming up in the USA – I've never been to the States and I can't wait! Before that there's a big UK tour and European gigs.
TJ: Soon to be announced are a couple of festivals we're in, later in the year. We're really glad we'll get to cover both sides of the States and some of the middle. There's European and UK festivals all through the summer, there's not many weekends we're not going to be playing! For a tour it's great, you get to go out and come back in a month's time, the weekend ones can be really tough because you get in a van on Friday and you get back out on Sunday and you've played one show! We're looking forward to playing some new ones, such as EXIT Fest in Serbia with The Prodigy and Skrillex, and we're doing some really cool punk ones including Rebellion.
Karl: We're playing some shows with The Levellers including Beautiful Day Out in Leeds at Millenium Square.
TJ: And headlining some of the biggest venues we've headlined, especially on the UK tour, such as Riverside in Newcastle, Camden Underworld, and Rescue Rooms in Nottingham.
Ray: It's the perfect mix of going back to the towns where we have a good following like Newcastle, Manchester and London, and the US dates are in a lot of places where the band has never been before. We'll be in the deep South! So looking forward to going to new places!
TJ: Big time! And that's the holiday aspect of it too – we love playing the UK towns, but we're gonna be playing in New Orleans, Amarillo, Austin and Houston – we're gonna have fun this year! We're also flying out to Norway for a punk festival there – we're really having some moments. When we started this band, it was only ever to look back and say we'd done something with our lives, but when you put these flagpole memories in as well, it really helps you on a cold wet Wednesday in Grimsby!
Bungle: It's absolutely mad looking at the tour schedule this year! When we started out, we had this little tick list of what we reckoned we could achieve, what was our bucket list, but then things popped up that we didn't even think about! I'm so excited to go and play in New Orleans – this adventure is just absolutely insane – it's brilliant!
TJ: And I think this year we've got to take the time to enjoy ourselves. We've worked really hard to get to this point, we've written a killer album, and we really have to take some moments this year to say "This is really cool". Whatever the future holds for our band, we love where we're at right now, and we're really excited to get back on the road and tour!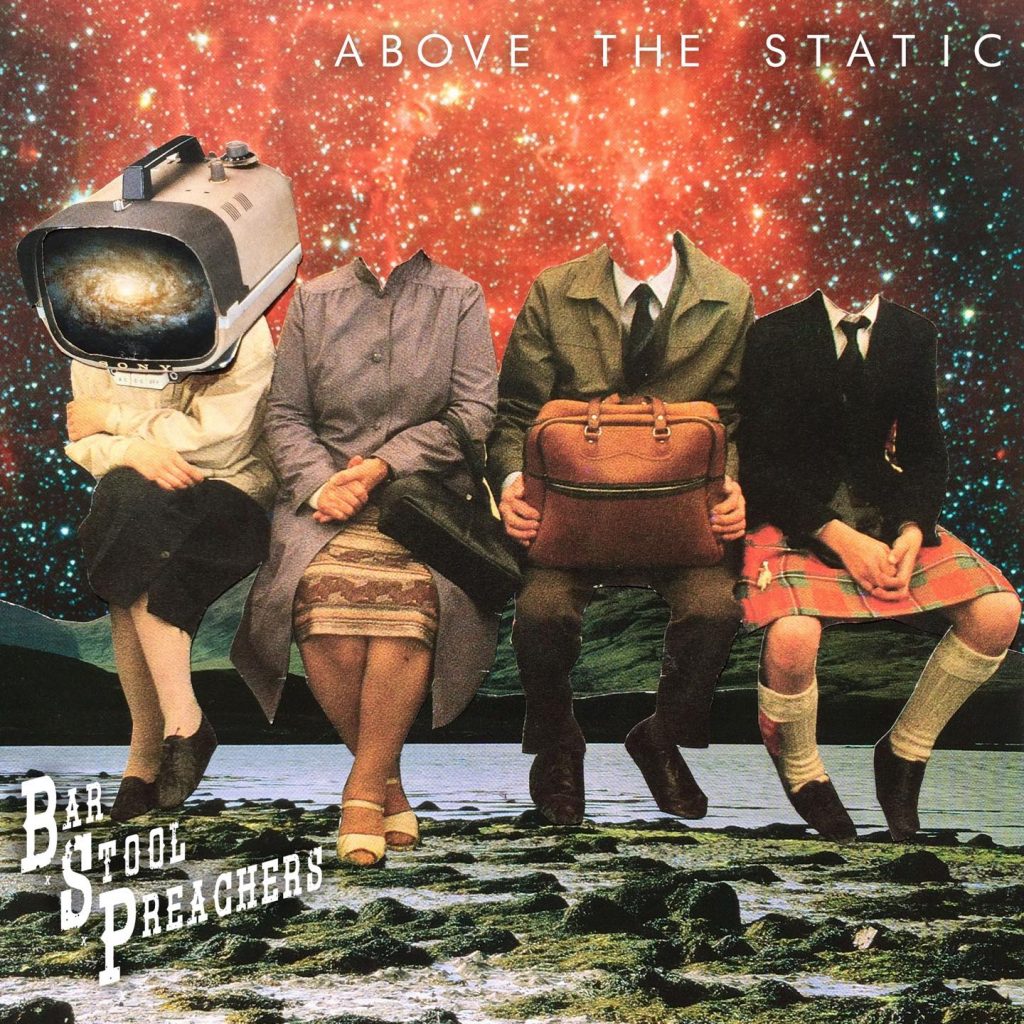 Main Photo Credit: BAR STOOL PREACHERS
Fri, MAR 3 – ALBUM LAUNCH –
The Waterloo Music Bar – Blackpool, UK
Sat, MAR 4 – Hand Fest – The Parish, Huddersfield, UK
Wed, MAR 29 – Don't Panic – Essen, Germany
Thu, MAR 30 – Bielefeld,
 Germany
Fri, MAR 31 –
Café Central – Weinheim, Germany
Sat, APR 1 – Back on Stage
 – Hamburg, Germany
Sun, APR 2 –
Kufa Haus – Braunschweig, Germany
Mon, APR 3 –
Wild at Heart – Berlin, Germany
Tue, APR 4 –
Chelsea – Vienna, Austria
Thu, APR 6 – Das Rind – Rüsselsheim, Germany
Wed, APR 19 –
Lost Horizon Arts Centre & Bar – Bristol, UK
Thu, APR 20 –
The Castle & Falcon – Birmingham, UK
Fri, APR 21 –
Corporation – Sheffield, UK
Sat, APR 22 – O2 Academy – Glasgow, UK
Wed, APR 26 –
The Craufurd Arms – Milton Keynes, UK
Thu, APR 27 –
The Waterfront Studio – Norwich, UK
Fri, APR 28 –
The Engine Shed – Lincoln, UK
Sat, APR 29 –
Green Door Store – Brighton, UK
Sun, APR 30 –
Underworld – Camden, London, UK
Wed, MAY 3 –
Rescue Rooms – Nottingham, UK
Thu, MAY 4 – Le Pub – Newport, UK
Fri, MAY 5 –
Bannerman's – Edinburgh, UK
Sat, MAY 6 –
Riverside – Newcastle UK
MAY 12 – 13 –
Mid West Music Fest 2023 – Winona, MN
Sun, MAY 28 – Punk Rock Bowling – Las Vegas, NV
Sat, JUN 3 –
Manchester Academy – Manchester, UK
Fri, JUN 9 –
Lux Club – Linden, Hannover, Germany
JUL 6 – 9 –
EXIT Festival 2023 – Novi Sad, Serbia
Sat, JUL 22 –
Millennium Square – Leeds, UK
AUG 3 – 6 – Rebellion Festival – Winter Gardens – Blackpool, UK
Get Tickets and News from Bar Stool Preachers on Their Socials
Need more Punk In Your Life?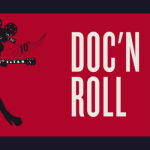 Punk News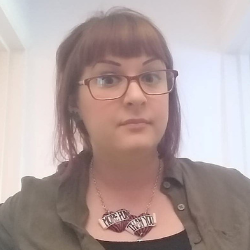 In it's 10th year, the Doc'N Roll Film Festival is celebrating a decade of inspiring, entertaining and vital films about the musicians we love.
Read More »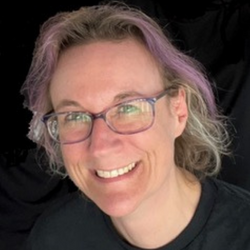 'Usually found jumping around down the front at gigs, I also relish taking photos and videos, singing, speaking with fellow music fans, and asking musicians the questions nobody else does  Writing about my favourite bands and connecting with people who love music too keeps me more-or-less sane  I've worked for over 25 years at a video production company, mainly filming live music events, therefore I have an additional backstage perspective!'