With an exhibition at the Saatchi Gallery London and being friends with bands like Adam & The Ants, The Damned, The Sex Pistols and The Professionals, Illuminati, a.k.a. Mark Sloper, is an artist with a seriously impressive punk pedigree.
Creating beautiful punk art from his Shepherd's Bush studio, using vintage flags, t-shirts, distressed wood, and punk neon messages, Mark Sloper's work is rooted the cultural vibes of West London where he spent his teen years skiving off school to hang out in the London punk scene.
Born into a long line of painters, many of whom had flocked to his birthplace of St Ives, Cornwall, to become artists, Mark says he always felt his career path was going to be different – especially after a chance meeting with a 'weird bloke with a purple eyebrow' when he was 11.
"I was cycling through a village just outside Bath where I lived, and I saw this bloke in a long leather coat. He had makeup on. I cycled up to him and said, 'Why have you got one purple eyebrow? You look really weird.' He laughed and said, 'I'm in a band you should come and check us out you might like us.'
Unbeknown to Mark at that time 'this bloke' turned out to be Adam Ant who was playing at the local art school.
"So they snuck me into the show," Mark says with a smile. "It blew my mind. This was when they were a proper punk band. Adam was hanging from the ceiling singing 'Plastic Surgery' and stuff. I walked away thinking 'What the fuck was all that about?
"From that moment on I became friends with the bass player Andy Warren, who then went on to the Monochrome Set and that got me into the whole punk scene. It was a brilliant time. Adam and The Ants used to take me on tour with them it was certainly better than going to school.
"I really liked Matthew Ashman (Adam & The Ants, Bow Wow Wow") Mark continues. "He was a cool guy. He would get me T-shirts from the Seditionaries shop on Kings Road. I would go in, choose a shirt, put it on the front of the rack, go out, give Matthew a tenner and he would go in and say, 'Can I take this I need it for my gig tonight?' Then he'd come out and give it to me.
"I had a huge collection. Fuck knows where they are now. I think I gave loads away! Wish I hadn't!" Mark says looking more than a little pissed off with himself.
Then I met the Pistols. I got to tell you; the Sex Pistols are my favourite band of all time. You were either into The Clash or the Sex Pistols. I always preferred the Pistols – nice bunch of guys. John's not a nice person sadly, but the rest of the band are great."
Mark's still mates with the band to this day, particularly the Pistols' drummer, Paul Cook, who uses one of the rooms at Marks art studio as a rehearsal space for The Professionals.
Spookily, as If on cue, Mark phone's rings… 'Hang on mate,' he says "I gotta let Cookie in through the gate. Mark wanders off and comes back moments later with a Sex Pistol in tow.
"Allo mate, Paul says interrupting our Zoom chat. "Sorry, we're just here using the studio working on some new stuff. I'll leave you with Mark. We'll chat soon, yeah?"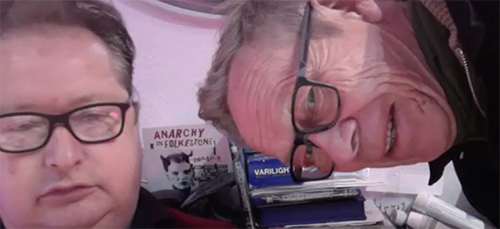 "Where were we?" Mark asks as he settles back in front of his computer. Mark goes on to explain how eventually he went to art college and studied photography and art.
"Yeah, I always thought I'd be a photographer," Mark admits. "I didn't think there was any money in art. I didn't want to be a graphic designer or any of them boring jobs, and I always had a camera on me, and I was always taking photos.
"When I was in my mid-teens my photos were used on one of the Monochrome Set album covers I supplied all the live photos to the guitarist, Lester Square and he was a graphic designer, and he did the cover – that was pretty cool for me.
"I also use to sell my photos to the NME, Melody Maker and Sounds – I made good money. I went to all the gigs and took photos if they used it you'd get fifty quid which was a lot of money back then.
Eventually, a career in videography beckoned, and Mark went on to work as a cameraman and a director of photography for bands like the Police, and Frankie Goes to Hollywood before joining the BBC.
During his successful film career, Mark has directed and produced documentaries on Billy Fury, The Beatles, John Lennon, David Bowie, Sid Vicious, the Sex Pistols and most recently filmed a video for The Professionals during Lockdown
However, the art gene in the Sloper family is strong, and Mark started to feel himself being pulled back into his art.
"Now my kids are older I have been able to concentrate on the art again for the past 6 or 7 years, and I love it," Mark confesses.
Featuring punk-inspired imagery emblazoned with familiar lyrics and the language of the subculture, Mark's works often incorporate artefacts and memorabilia from the era, including flags and t-shirts.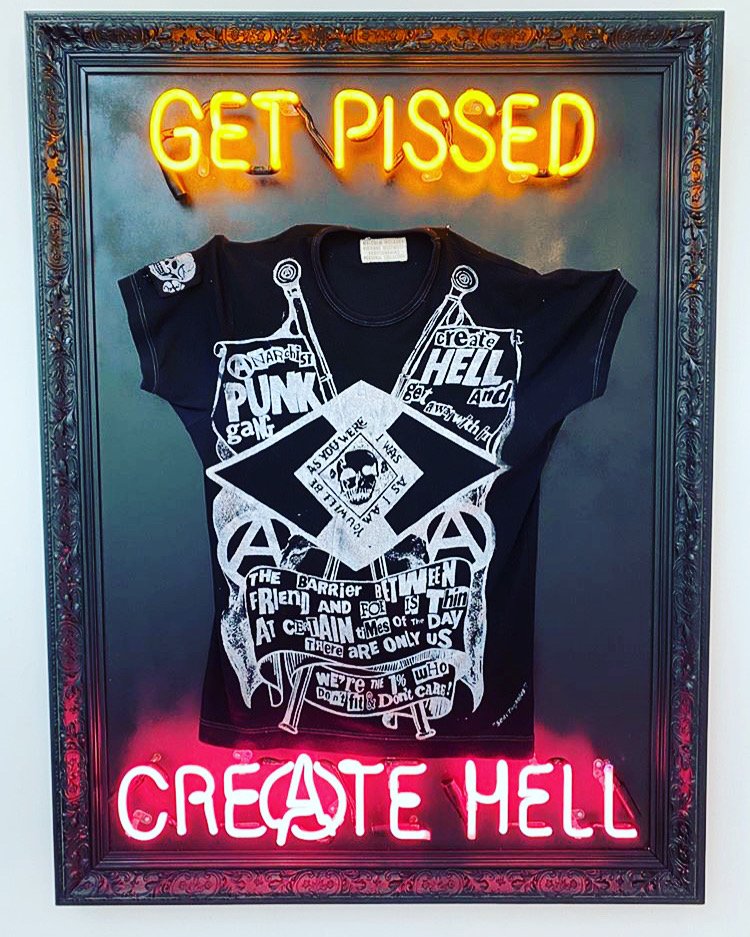 True to his punk roots, Mark combines montage, typography, graphic art and neon to channel not just his own narrative but the chorus and chaos of a generation.
"What I wanted to do was take things from the past and make them look very modern. So you're sort of confusing time parallels." Mark says. "I wanted it like when you look at the art in 100 years you will be confused about what period it was from."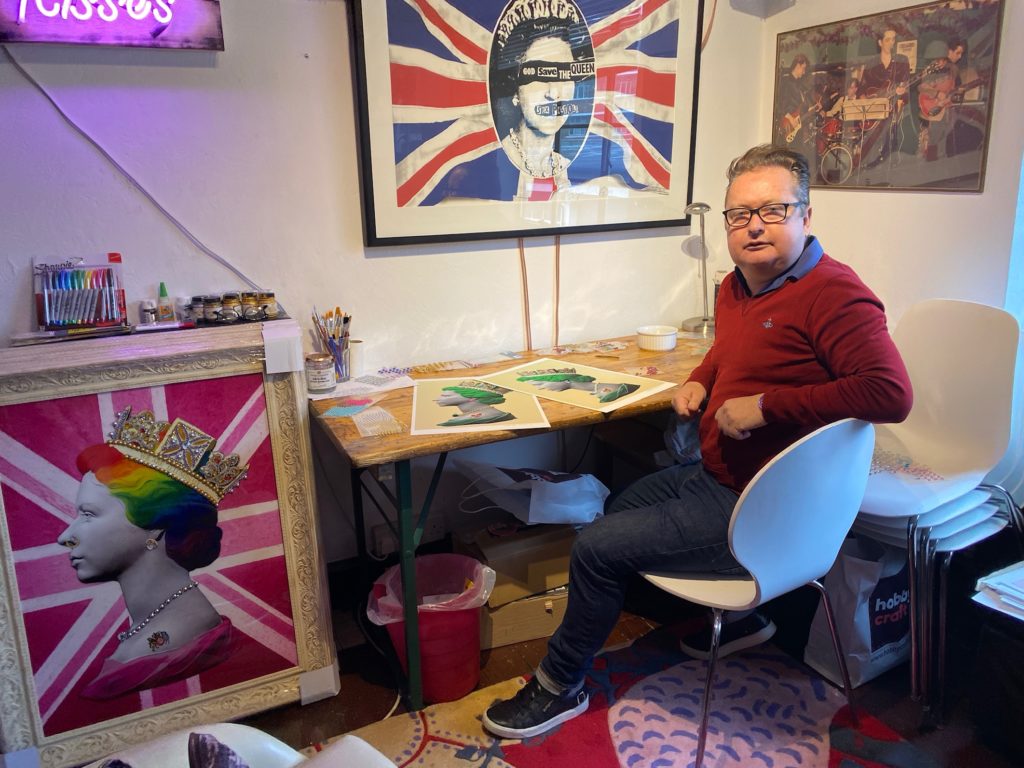 Mark also only use objects that are truly old and original in his art too.
"My flags I get from a flag dealer on the Portobello Road and he's like he's from the Antiques Roadshow – his knowledge of antique flags is amazing.
"Most of the flags I use are from World War Two. I've also just got a new flag from a lieutenant Schultz from the US Navy, and it's a flag from the back of a warship that saw active duty in The Gulf – on that I will put 'In God We Trust' which will make it really nice. I like to think about the stories flags would tell you if they could speak."
Mark's artwork can currently be seen at the prestigious Saatchi Gallery London's START Art Fair that specialises in emerging talent from around the world.
"Yeah, that's a big one, Mark says. "I had a few pieces at the show last year and I sold everything, and this year I am the headline artist – so I'm well pleased with that."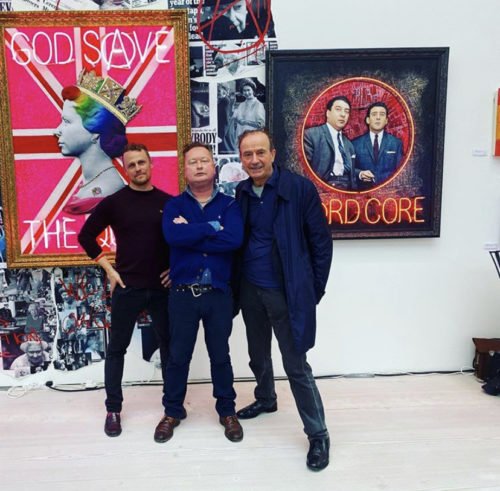 Even though Mark is an artist himself he doesn't hang around in the 'art social scene' hobnobbing with other artists too often. Sometimes, he probably wishes he did…
"Yeah well, yesterday this woman called me and asked if she could collect a rainbow print from me. It was a brief call. I said, 'Sure. Come over at 11.' " Mark gives a little embarrassed smirk then he continues his confession.
"I arrive here at the studio and there's a really expensive sports car in the car park. The lady was waiting. She bought the print then I showed her around the studio. We talked a bit about art and she seems really knowledgable. I thought she looked a little familiar, but I didn't think anything of it.
"All the boys from The Professionals were here, and when she left Cookie said 'You're such a cock, Mark. Do you know who that was?" I shook my head. It was only Tracey fucking Emin… I didn't even offer her a cup of tea! Ding! Another celeb client gone," Mark chuckles.
Mark's latest exhibition can be seen at the Saatchi Gallery, London
VIP Private View
Wednesday 21 October & Thursday 22 October

Public Opening
3 x timed sessions daily
Friday 23 – Sunday 25 October
---
Connect with Mark Illuminati
---
More Mark Illuminati Art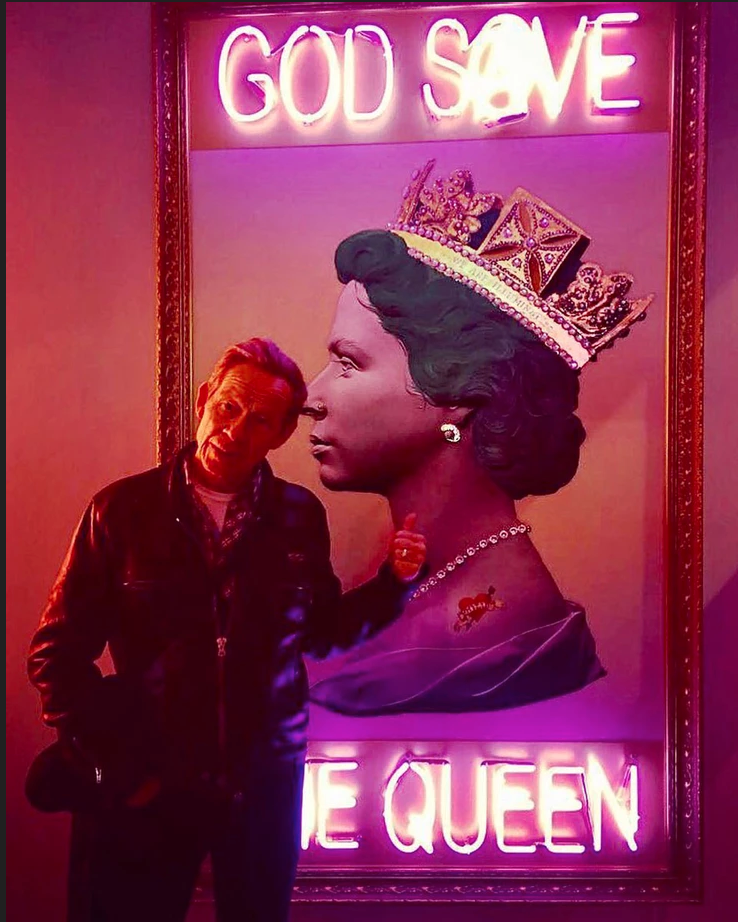 ---
I'm a London born and bred music journalist, a mediocre bass player and the occasional strummer of the guitar. In the '80s I worked in recording studios and made a few records you'd probably recognise. I have written a couple of books and made the odd media appearance as a music commentator. I now call Brisbane home.