The Orange County punks might be 'On The Ropes' but they come out swinging on latest album
It was always going to be a tough ask to follow in the footsteps of previous lead singer Zoli Teglas who played an integral role in Ignite's sound. However, new frontman Eli Santana is the perfect replacement, and we now see the band forging ahead with the same aggression and melody that gained them such a committed following.
After releasing music videos for new tracks' Anti-Complicity Anthem' and 'The River' comes the third track release off Ignite's forthcoming self-titled album, 'On The Ropes'. The beginning of the video pays homage to their dearly departed friend Jon Bunch of the post-hardcore band Sense Field who sang with Ignite on a month-long European tour in 2012.
Guitarist Nik Hill adds: "On The Ropes feels like a modern version of an old school Ignite song. It has that melodic bass intro that is very familiar and then it jumps into a high energy hardcore song that gets me really pumped up when we play it! I can't wait to play this one in a packed room"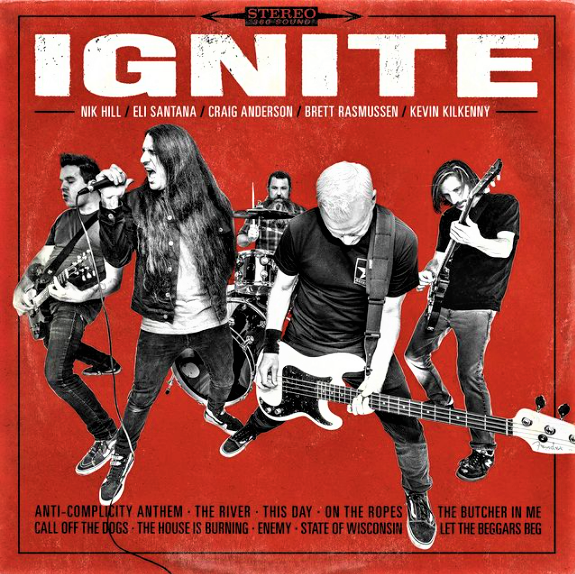 A statement from the band to their fans also reads: "We hope that everyone is staying safe and doing great. We are very excited to reveal the album cover artwork for our Self-Titled Album that is coming out March 25th. Our good friend Rob Wallace did an amazing job all around on the vinyl and CD/Digipack layouts! Let us know what you think of the cover."
"Next week we will have some big news to announce regarding our upcoming US Tour.
Thanks again for all of your continued support. We are currently working on US, Canada, Australia, Europe and South American tours. As soon as we have news to post regarding any of these we will post here! Let's hope the world gets back to normal soon! We miss you guys.
Thank you, IGNITE"
---
Follow Ignite on their socials
---
More of our latest stories and interviews