Seasoned Floridian punks are overflowing with energy on their latest catchy anthem
The latest music video for Hot Water Music is full of impressive skateboarding tricks and is soundtracked with one of the catchiest, melodious anthems we've heard in some time. Bursting with feel-good energy, this track is one to get your blood pumping while you sing along.
The world has changed in the last 25 years, but this band is still delivering music just as powerful and full of life as they are known for. They have also overcome many challenges along the way. In 2017, Hot Water Music vocalist/guitarist Chris Wollard stepped away from playing live with the band in order to focus on his mental health. While the other members – Chuck Ragan (vocals/guitar), Jason Black (bass) and George Rebelo (drums) – understood and supported his decision, it did nevertheless bring the future of the band into question.
After a chance encounter between Rebelo and The Flatliners' Chris Cresswell, Cresswell ended up stepping into Wollard's shoes for a performance at The Fest that year, which would eventually lead to him becoming a permanent member (with Wollard continuing to record with the band).
Latest album, 'Feel The Void' was recorded at Black Bear Studios in Gainesville, FL, and marks the return of producer Brian McTernan, who worked with the band on 2001's 'A Flight And A Crash', 2002's 'Caution' and 2004's 'The New What Next', often thought of as Hot Water Music's classic period. From the moment the dark, portentous intensity of "Another Breath" kicks the record off, it's clear that this is a band at the peak of their powers.
The band is currently on their 25th Anniversary tour. The new 12-track album 'Feel The Void will be released on Friday, March 18th 2022.
Hot Water Music tour dates from February 2022

FEBRUARY 2022
09 — Baltimore, MD — Ottobar
10 — Cleveland, OH — Beachland Ballroom
11 — Detroit, MI — The Crofoot
12 — Chicago, IL — Bottom Lounge

MARCH 2022
23 — Boston, MA — The Sinclair
24 — New York, NY — Elsewhere
25 — Garwood, NJ — Crossroads
26 — Garwood, NJ — Crossroads
27 — Philadelphia, PA — Underground Art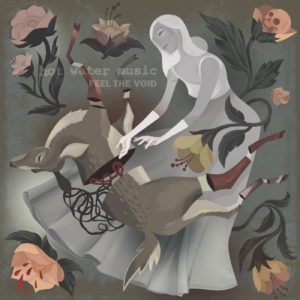 ---
Follow Hot Water Music on their socials
---
More of the latest in punk