Australia's Good Things Music Festival Announces 2023 Lineup Featuring Fall Out Boy, Limp Bizkit, and Devo's Farewell Tour
Good Things Music Festival is thrilled to announce the lineup for its 2023 edition, taking place in various cities across Australia. The festival has been one of the most anticipated events of the year for music fans, and this year's lineup promises to be bigger and better than ever before.
Headlining the festival will be Fall Out Boy, Limp Bizkit, and Devo for their Farewell Tour. These three iconic bands are sure to bring high energy and unforgettable performances to the stage. But that's not all – the festival will also feature performances by Bullet For My Valentine, Pennywise, Spiderbait, Slowly Slowly, Taking Back Sunday, Short Stack, Frenzal Rhomb, Corey Taylor, Magnolia Park, and many more.
This year's lineup is different from last year's, which featured bands such as Bring Me The Horizon, Amity Affliction, and TISM. The festival has always been committed to bringing a diverse range of artists and genres to its stages, and this year is no exception.
Friday 1 December – Flemington Racecourse, Melbourne (LIC AA 15+) 
Saturday 2 December – Centennial Park, Sydney (18+)
Sunday 3 December – Brisbane Showgrounds, Brisbane (LIC AA 15+)

Early Bird pre-sale tickets on sale Tuesday 22 August @ 10am AEST Time
Sign up now for early bird pre-sale tickets at www.goodthingsfestival.com.au
 
General Public tickets on sale Thursday 24 August @ 10am AEST Time
http://goodthings.oztix.com.au/ 
Follow Good Things on Socials
Need more Punk In Your Life?
New Releases
Grammy-nominated pop punk legends Sum 41 make a boisterous return with 'Landmines', their newest single and first release on Rise Records.
Read More »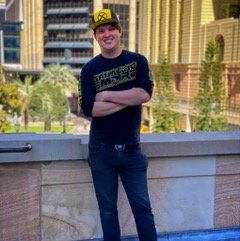 From the age of three, I've been a student of music trivia building up my knowledge of punk and Australian alternative music. (Thanks Mum). Punk has always played a big role in my life and inspired me to play the guitar. I work as a stagehand in the music and theatre industry and now run my own podcast, The Pixelated Popcorn Podcast.