Nic Howden headed to Lincoln to see the Strangers' first show of their twice rescheduled 'Final Full UK Tour'. Was it worth the wait?
So here it is, the Stranglers' Final Full UK Tour. Little under 18 months after its genesis – not a word I'm used to using in a musical context – the farewell to spending months on the road.
Primarily motivated by Dave Greenfield's health, this outing sadly turned into a tribute to the great man who died in May 2020.
New model Stranglers played a few dates in France late last year, former Rialto wingman Toby Hounsham honing the crucial keyboard chops in Dave's stead, but the anticipation, and the want, for fond adieus this side of the Channel was palpable.
Steeped in history as it is – William the Conqueror built the castle at the top of Steep Hill, which is exactly that, during the late 11th century, parliament met there three times in 14th century etc etc, Lincoln is a good place to get such a culturally significant UK tour rolling.
Since the Engine Shed opened in 2006 it's become a fairly regular stop for the Stranglers, its wide, flat floor and good sound adding to the atmosphere. Lighting could be a little less flamboyant perhaps, but I digress…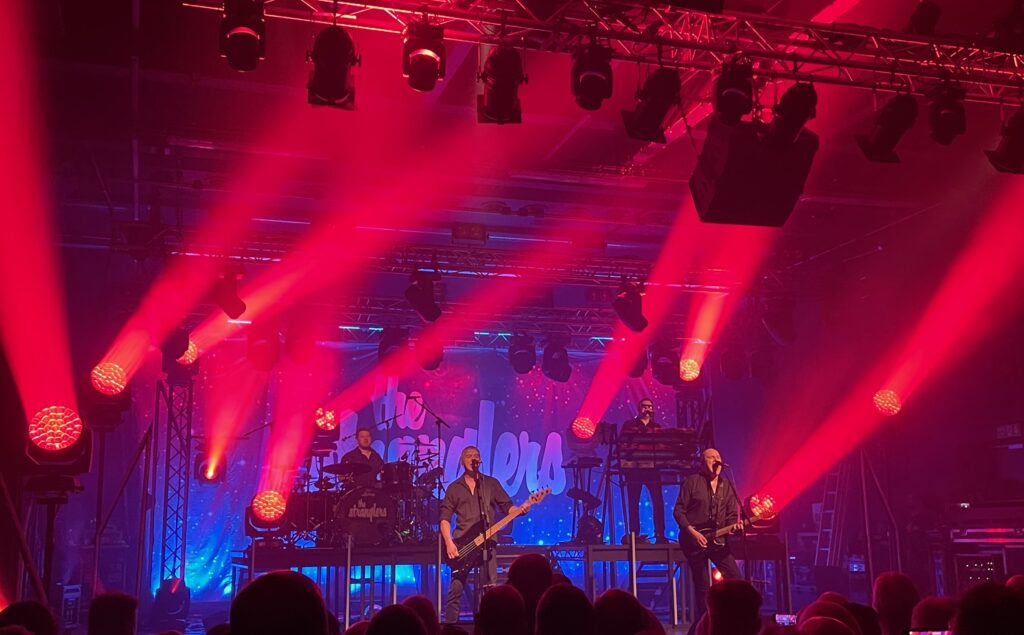 The stage set is old-school – in this size room at least – the band's timeless Filmotype Harper logo over the back wall partly obscured by Jim Macaulay's drumkit on one side and a towering keyboard instalment on the other. Testament to Dave's input, import and legacy, it's a striking platform for Hounsham.
This is the first time a Stranglers debutant has played alongside just one original member and there's pressure on JJ Burnel, particularly, to deliver. Under the Stranglers' umbrella since 1974, he was the youngster in the band who's now its elder statesman.
Prowling stage left, with customary glances at the players behind him, the swagger might be a little muted by circumstance but Burnel is in great voice and his playing is strong, vital, anchoring the show as tightly as ever.
Change
I remember going to see the Stranglers at the Old Trout in Windsor after Hugh Cornwell left. They played 'Sometimes' there – first song off the first LP, which was telling somehow, and they opened with it in Lincoln too, another reset post-Dave. From there it's into 'Water,' which opens 'Dark Matters', starts with the bass and brings the instruments in one by one, signature Stranglers' style…
Toby plays Dave's keyboard patterns fabulously well – chants of 'there's only one Dave Greenfield' from the crowd mean just that, they're no slight on his replacement.
"I didn't believe in reincarnation until I met Toby," Burnel chuckles.
It's been a long time, 10 years or so since the Stranglers toured behind a new LP. Released in one of the myriad eyes of the Covid storm, September last year, 'Dark Matters' deserved every column inch of praise heaped on it.
Related Stories
JJ Burnel Interview
Album Review: The Stranglers – Dark Matters
The Stranglers' Black and White: The 'Difficult' Third Album?
22 gripping facts you never knew about The Stranglers
Surprisingly there wasn't room for 'No Man's Land' but 'Water,' 'This Song' and 'The Last Men on the Moon' which closes the main set, are stronger still since their live debut 24 months ago and 'White Stallion', which sees Burnel uniquely arms aloft, is a huge addition.
There are staples to the set of course, 'Grip', 'Sleazy', 'Peaches' and 'Duchess among them. In my traditional pre-tour list of ideals, I'd replaced those with 'London Lady,' 'Death and Night and Blood', 'Sewer' and 'The Raven' – and who knows, this was the first night.
We get a sublime Harry and a fabulous Baroque Bordello, on the band's list and mine, while Curfew was a perfect fit with its 'stay in your homes' shout.
Guitarist/singer Baz Warne, who joined the Stranglers 22 years ago, really delivers on his own 'Relentless', which is packed with legacy hallmarks somehow, despite being a product of the band's third/fourth generation, and he packs 'Straighten Out' with all the original menace and urgency. 'Strange Little Girl', which comes before 'Golden Brown' like it used to in the late 1980s, is a surprise and all the phones are out for the band's big single, which isn't.
'And If You Should See Dave' – Dark Matters' first 'single', sadly that's just a digital drop in the 2020s, was always going to be difficult to deliver. Don't think they'd played it before – although I did stay away from French setlists to keep the surprise factor for this north of England show.
After 'Last Men on the Moon', Burnel and Warne came back unaccompanied, taking to chairs at the front of the stage, bathed in white spotlights. They played 'The Lines' – a wonderful nod to the march of time – before JJ talked about Dave, about his mate of 45 years, starting'And If You Should See Dave' suddenly, as if to combat the emotion. Baz Warne picked up the vocal as Burnel choked slightly – the bond between the two frontmen is the band's heartbeat.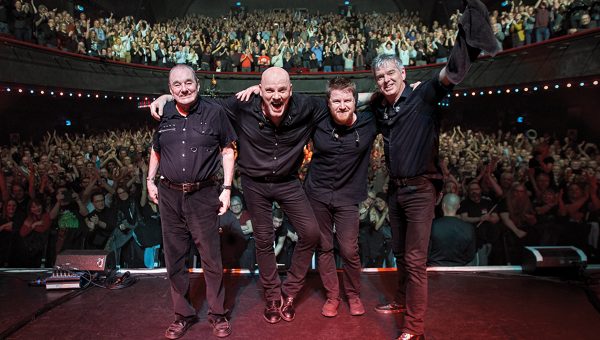 Jim and Toby were back to play 'Always The Sun' – about as far from a traditional, raucous Stranglers' finish as you could get, before ploughing straight into 'No More Heroes' – without the big 'can you feel it' bass hits that have become a fixture over the last five or so years.
And that was it. Gig done. Not the original idea for the end perhaps – but '5 Minutes' or 'Go Buddy Go' would have been tough to deliver and 'Always The Sun' was a rehearsed cushion, there if needed, which it clearly was.
Huge respect then Messrs Burnel, Warne, Macaulay and Hounsham. One extraordinary, in every sense of the word, historic gig.
That setlist will change as the tour goes on, and the show will get tighter, but Lincoln is where the 'Final Full UK Tour' started and it left a big mark on the players and their audience.
There will be more gigs, of course, there's a date booked for Paris in March 2023, but nothing as concerted, as practised, as this outing, which finishes at Cambridge Corn Exchange on Feb 26.
Here's to the Stranglers. Here's to Dave Greenfield.
---
More Stranglers Here!
---
Need more punk in your life?