There's never a frown with The Stranglers in town! Another sold out show in 2023, the band's 49th year, sees the Men In Black stronger than ever, wowing fans with hits old and new.
It had been a long-held dream of mine to see The Stranglers play in Paris – and they finally made it come true! My adventure started very early the previous morning, being dropped off at 5am in West London, to take the first Tube in to St Pancras to catch the 7am Eurostar. Train cancellations due to disputes over raising the state pension age in France meant that my travelling companions and I had to be flexible over transport times, but five of us managed to get on the same train up to Rouen for the Friday evening Stranglers show. On arrival at our hotel, who should we bump into but the men usually found front-of-stage, JJ Burnel and Baz Warne, about to head out for a walk around the pretty town to visit the cathedral.
Rouen was a most enjoyable gig, although too much beer was consumed before and afterwards – but we did manage to find the aforementioned cathedral, lit up spectacularly after dark, on the way back to the hotel after the very cool experience that is the Fury Bar in town – excellent music, seating ripped from an old cinema, flight cases for tables – and the local music lovers made us welcome!
Onwards to Paris the next morning, we had time to visit the Hard Rock Cafe for lunch where they put on three Stranglers videos especially for us! After hotel check-in we had to head straight for the venue to be sure of a good spot at the front of a sold out L'Olympia.
Brother Junior provided the support for all of the shows in France: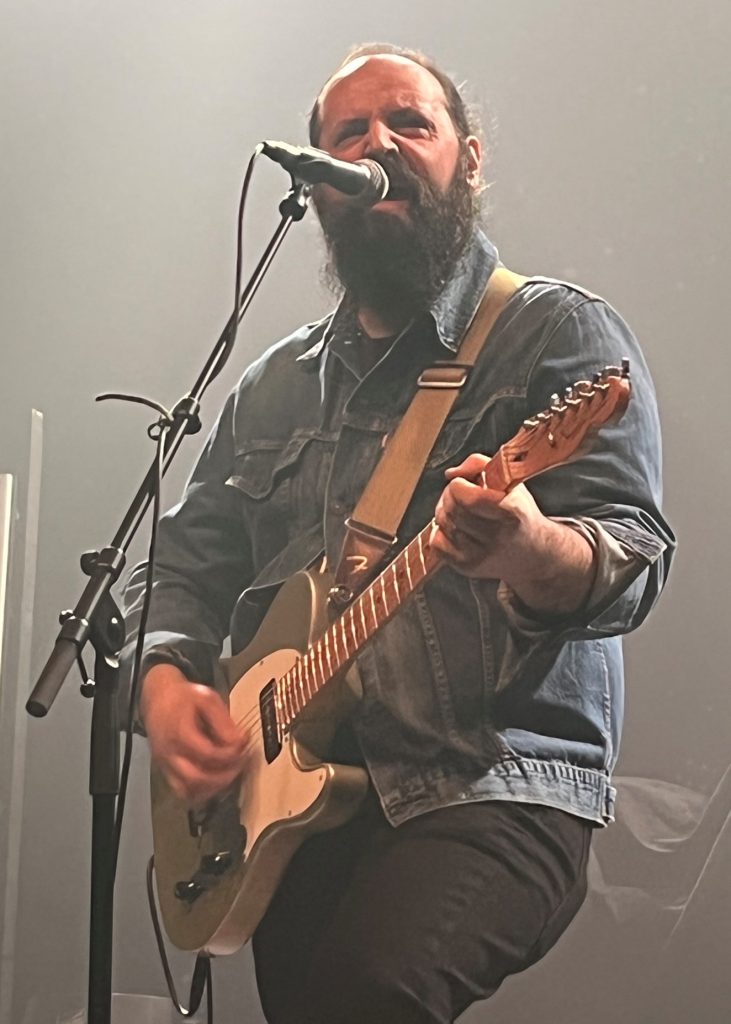 A new project by Jullien Arniaud, who wrote several solo songs while playing in bands The HOST and January Sons, Brother Junior proved to be a great choice to accompany The Stranglers on their French dates. Singing about love, kids, life and addiction, Jullien's lively ballads are instant earworms. With Jean Greco on bass and Julie Blasco on drums, the trio's energy and musicality shone through, and they had the crowd singing along to set closer 'I Deserve Love' every night!
The lights dimmed, the stage flooded with red light, and the eager crowd swayed to The Stranglers' traditional entry 'Waltzinblack', erupting into cheers as the four Meninblack took their positions upon the stage. 'Toiler on the Sea' has become the opening number for almost all of the shows in the last few years, its complexities allowing each band member to have their moment, whilst blending seamlessly into the music.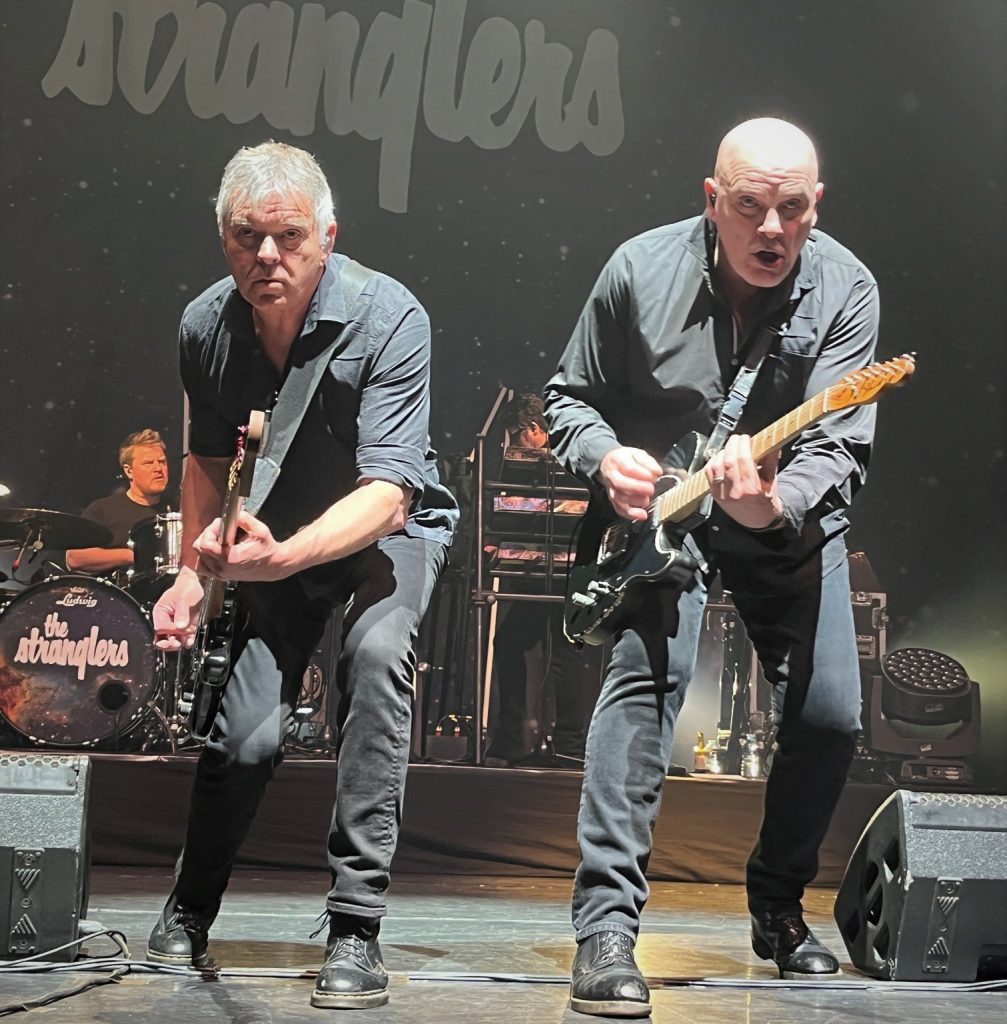 A now admitedly mellow bass legend JJ Burnel no longer takes on the entire audience, but he can still adopt a menacing air. "We wear all black and Doc Martens – we are The Stranglers" formed part of his greeting each evening. Baz Warne, relieved of banter duties due to not speaking French, was able to focus on his singing and guitar playing. Having recently completed his first tour with Wingmen, the lockdown boredom-buster turned huge live band success, Baz sounded even better than ever, allowing his own stellar style to radiate out.
Early in the set came a real treat for me – 'Never to Look Back' is one of my favourite songs (from the album '10'), a rarely performed JJ sung number, much enchanced here by Warne's guitar, plus vocal harmonies from all four band members. I captured this one on video (watch in HD):
The livelier parts of the set enjoyed a great reception, with the sprung floor of L'Olympia literally acting like a trampoline, as the crowd bounced higher and higher to 'Duchess, Sometimes', and live favourite from their 2021 hit album 'Dark Matters'; 'This Song' (whose writer Mathew Seamarks was also excited to be among the audience!.)
Drummer Jim Macaulay is now in his 11th year with The Stranglers, and he has matured nicely into the role. He's got power for sure – as evidenced by him sending his mic stand flying at one point during the show! – but he's also developed some of his mentor Jet Black's lighter, jazzier touches when needed, during 'Golden Brown' and 'Walk on By'. He always puts 110% effort in, as evidenced by the state of the well battered drum sticks he throws into the happy crowd after each performance!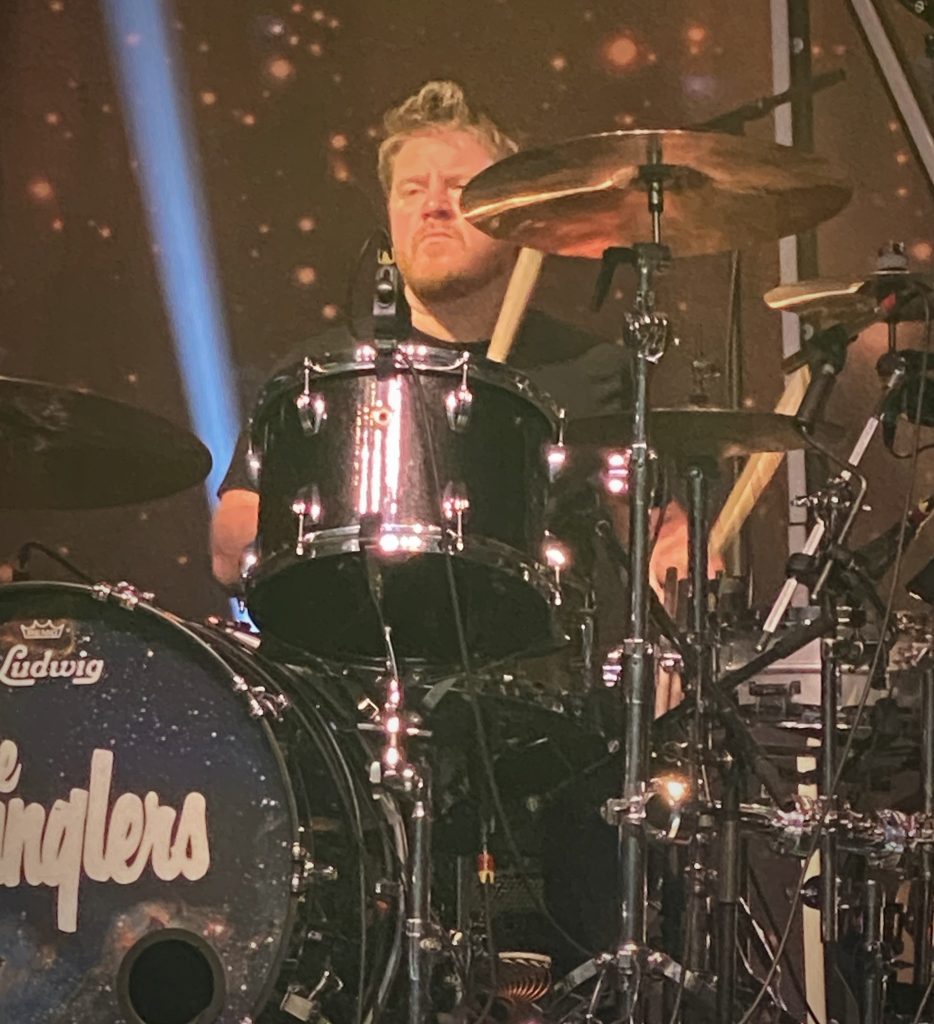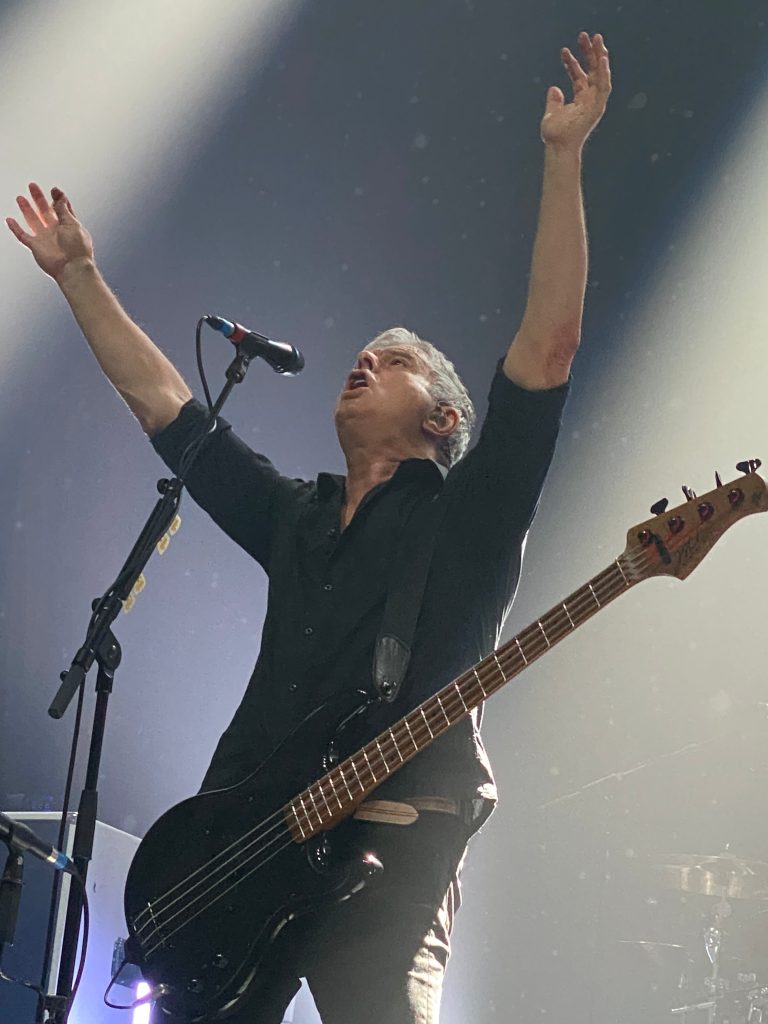 Keyboard duties were handled impeccably by 'new recruit' Toby Hounsham, who has now played over 70 shows since his live debut with the band in November 2021 (in Valenciennes). A self-confessed keyboard geek, Toby has recently acquired one of his predecessor Dave Greenfield's old keyboards, which he is in the process of having lovingly restored. As a musician he has brought his own brand of dynamism to The Stranglers music, playing those lightning-fast arpeggios with precision and grace. I like to sing "Go Toby go!" in tribute to his playing during 'Go Buddy Go' – and I was delighted to hear JJ saying "Show off Toby" before the keyboard solo part in that particular number!
Reference to England's 10 – 53 thumping by France in the 6 Nations rugby was made twice – by JJ at the start of the show to many French (and Scottish!) cheers – then by Baz during 'Peaches' "I can think of a lot worse places to be; Like down in the streets; Or down in the sewer; Or in fucking Twickenham this afternoon!" Baz was obviously feeling the heat – JJ kindly mopped his sweaty head with a towel mid-set.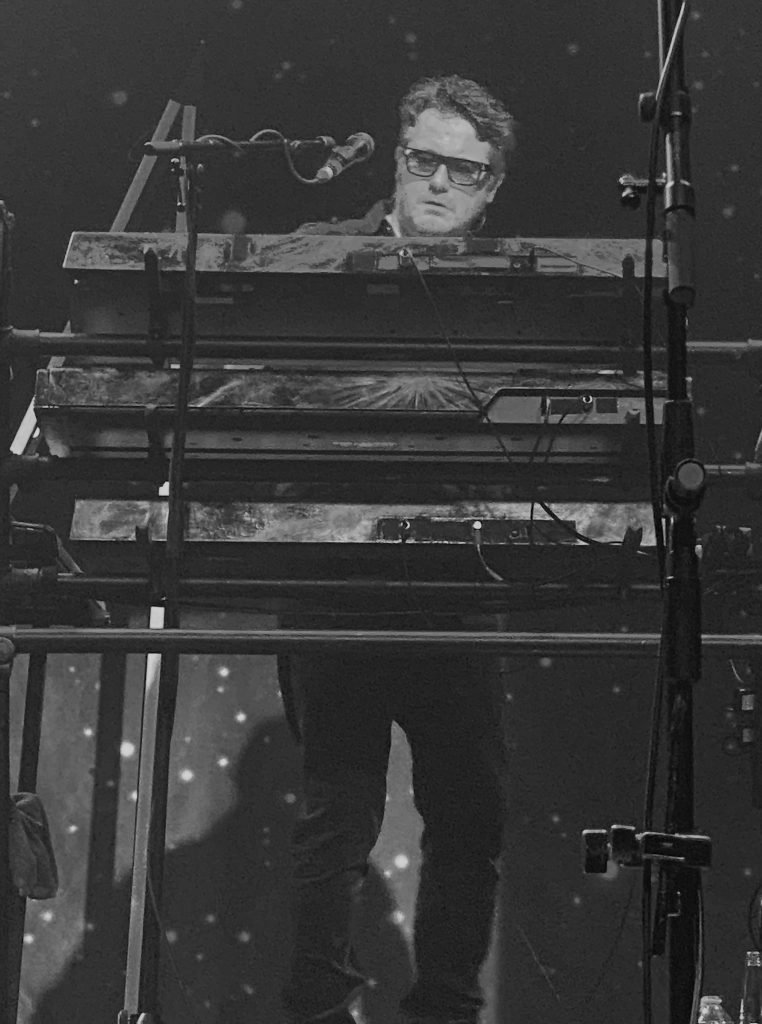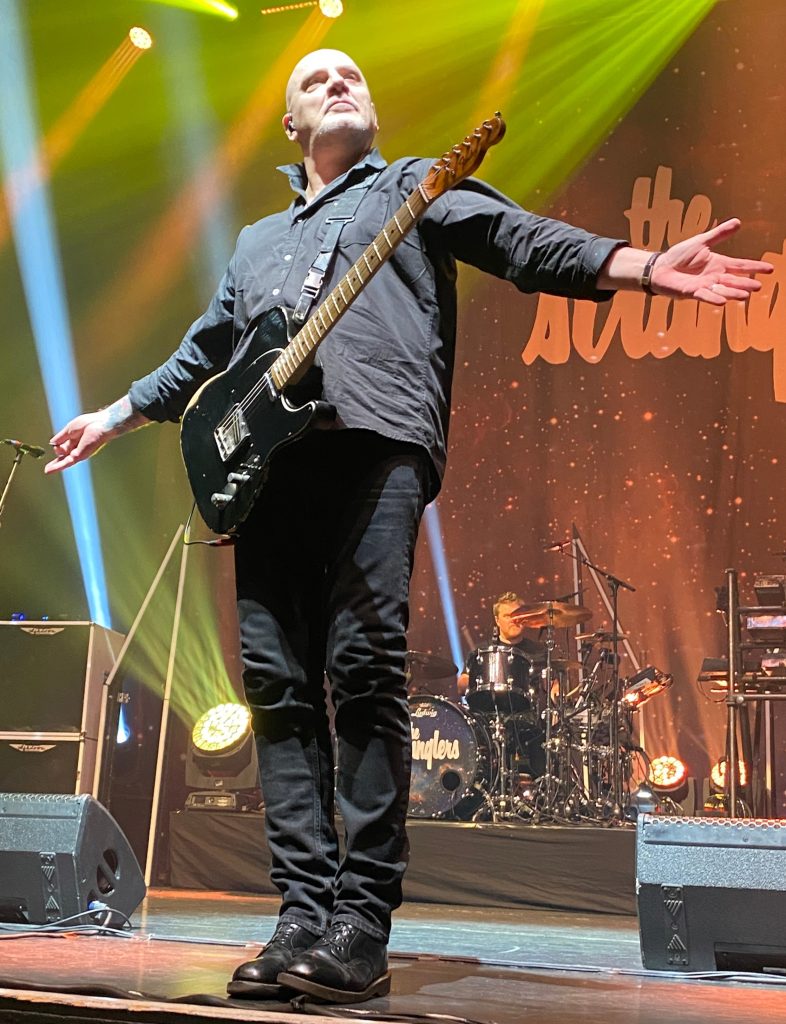 Monsieur Burnel looked very fit and well – having recently celebrated his 71st birthday, he showed no signs of slowing down – his trademark high kicks were still flying! Muscially, he keeps himself busy at his home in the South of France when away from The Stranglers, playing in the aptly named band Strangebird with Yardbirds drummer Jim McCarty.
JJ's new bass guitar, the Shuker JJ Burnel Zenith Bass, is obviously suiting him well. He's finding it a dream to play and it sounds fantastic! Here's more action with crowd favourite 'Sweden' – and yes, the floor really was moving that much!
After 20 songs in the main set, including a charming 'La Folie', sung by JJ to an appreciative audience, and concluding with a four song frenzy of 'Hanging Around', 'Straighten Out', 'Something Better Change' and 'Tank', JJ and Baz returned with guitars for 'The Lines'. A song about getting older, with the beautiful last line "These are for the smiles; When I look upon your face". Who says The Stranglers don't write love songs? After this, a visibly moved JJ spoke about the loss of his colleagues Jet Black and Dave Greenfield, before he and Baz played 'And If You Should See Dave' in tribute to the keyboard maestro. A respectful round of applause broke out when the empty keyboard stand was lit during "This is where your solo would go".
The Stranglers have always attracted some of the most eccentric of fans, and tonight we witnessed a short stage invasion during the final song of the evening 'No More Heroes', by Thierry from Belgium, who always amuses and entertains the band and audience with his jubilant dancing!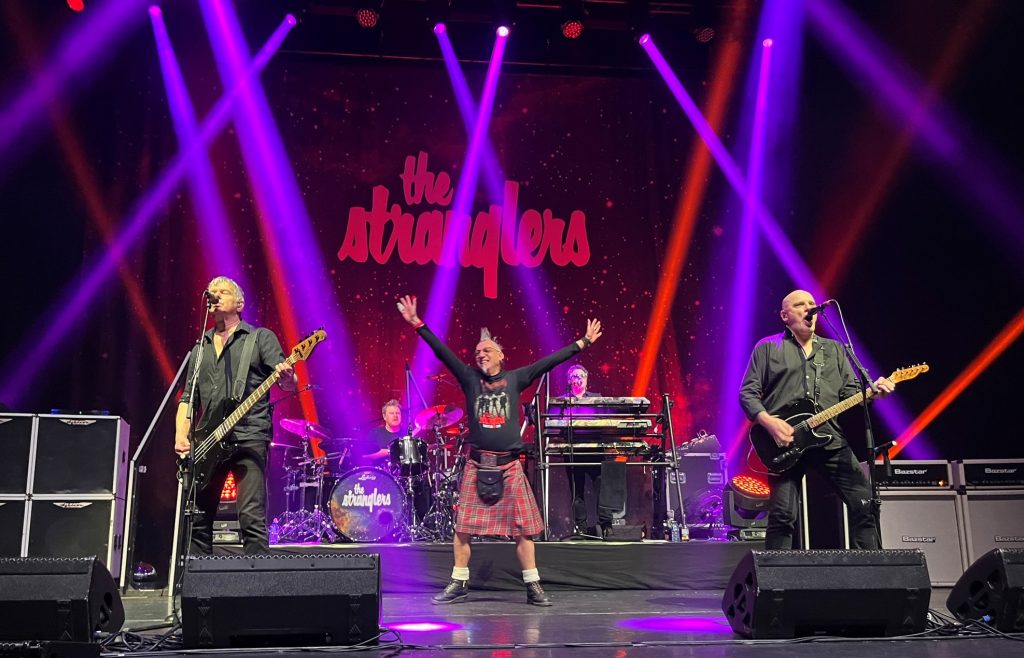 As the band came out to take a bow, the cheers and applause nearly lifted the roof off L'Olympia – and the smiles from the band signalled that they were as elated by their performance in Paris as we were!
Next year sees The Stranglers' hotly anticipated 50th anniversary – we'll bring you all the details of the planned celebrations as soon as we have them – it's sure to be a wonderful year of festivities for the Fans In Black to enjoy!
Next up – The Stranglers are heading Way Down Under for 8 shows in New Zealand and Australia, their first in the southern hemisphere since early 2020.
Grab your tickets soon, these shows are likely to sell out!
Main Photo Credit: RUTH RAE
Toiler on the Sea
Duchess
Sometimes
Relentless
Nice 'N' Sleazy
This Song
Never to Look Back
Always the Sun
La Folie
Peaches
Golden Brown
Last Men on the Moon
(Get A) Grip (On Yourself)
Sweden
White Stallion
Walk On By
Hanging Around
Straighten Out
Something Better Change
Tank
Encore
The Lines
And If You Should See Dave
Go Buddy Go
No More Heroes
Follow The Stranglers on Their Socials
Need more Punk In Your Life?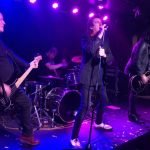 Reviews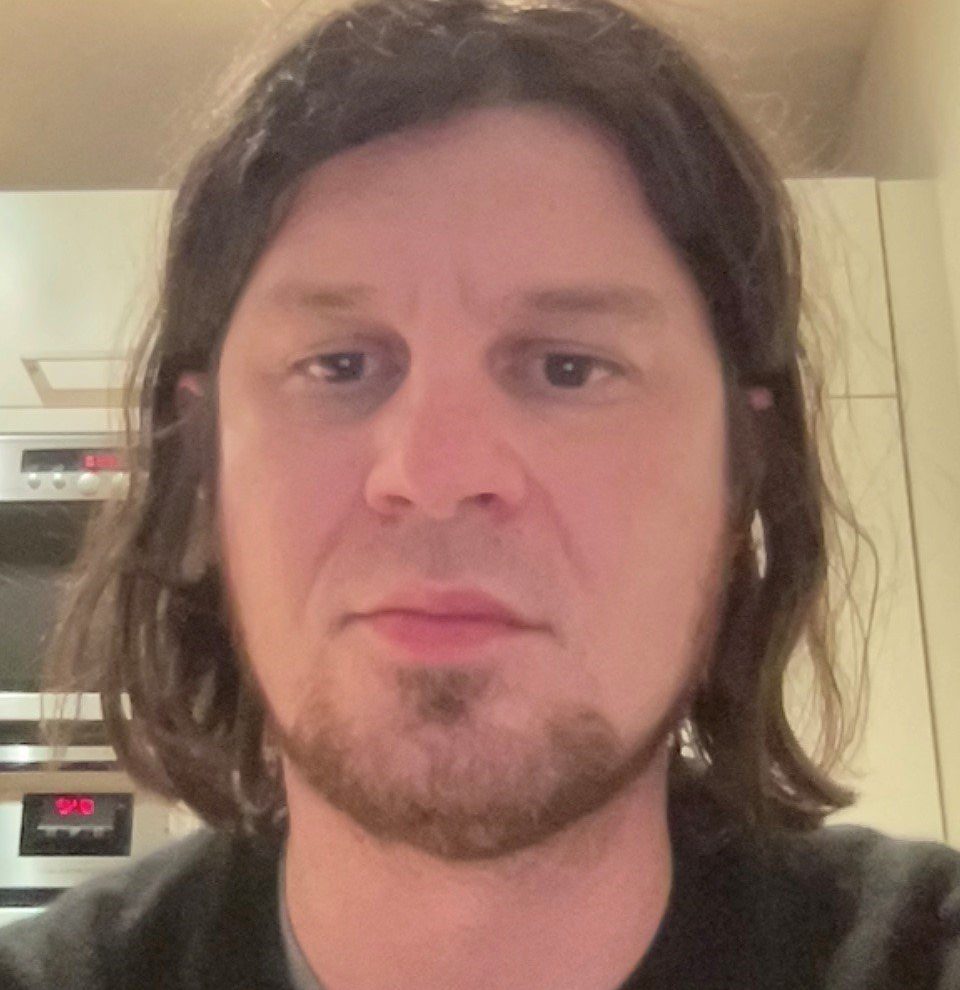 Vive Le Rock were ushering in the festive season with an impressive mid-week five band bill at London's The Water Rats.
Read More »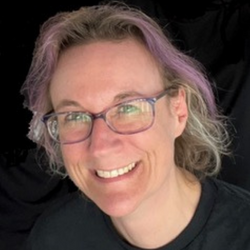 'Usually found jumping around down the front at gigs, I also relish taking photos and videos, singing, speaking with fellow music fans, and asking musicians the questions nobody else does  Writing about my favourite bands and connecting with people who love music too keeps me more-or-less sane  I've worked for over 25 years at a video production company, mainly filming live music events, therefore I have an additional backstage perspective!'