Glasgow indie punks light up the stage and the crowd with their 'chic punk' sound.
Last Saturday night at The Garage, G2 had a lineup featuring four of Scotlands' top up-and-coming acts including Crashkid, The Almonds, & Cherub. But tonight Punktuation Mag were there to check out upcoming indie punks Petty Cassettes. Reviewer/photographer Michelle Nursimiloo (Five D Creations) wnet along to capture the night in images and words. Read on for Michelle's insight into what's happeing in the Glaswigian live punk scene.
Setting the scene – I was standing outside waiting for my press pass at the Garage Glasgow. I saw a guy with pink hair and a very punk shirt, and I shouted I am going to take your picture. His reply was no your f*cking not, I replied was ooh yes, I am. That is how I met the guitarist Francesco Maria Pasi of The Petty Cassettes.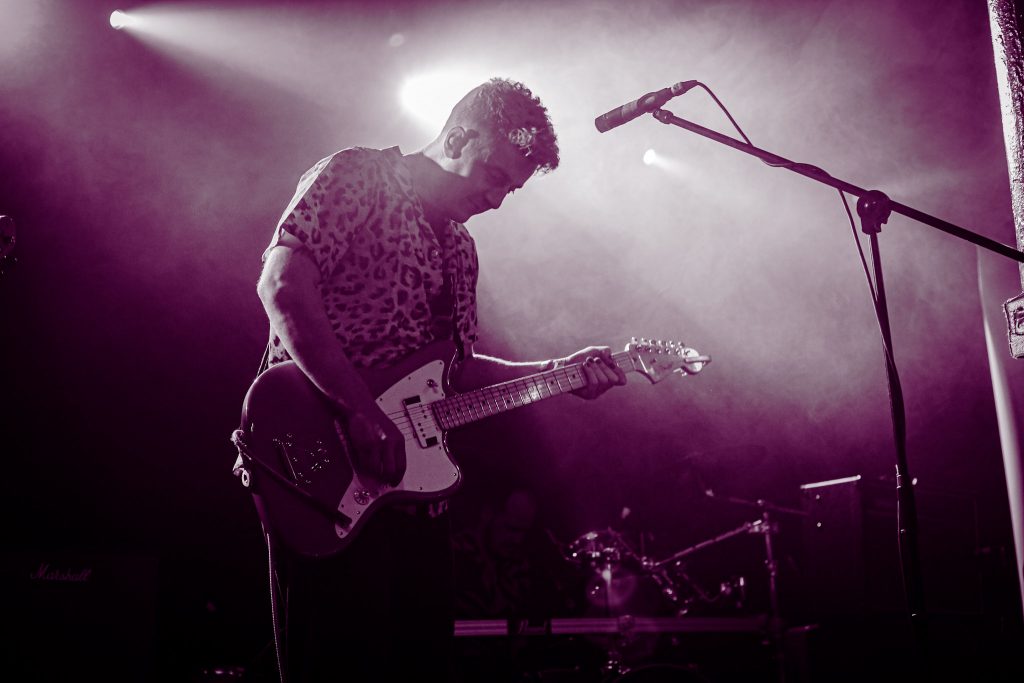 With Petter Cassettes due to take the stage, the crowd were eager for the band to come on. Clapping and stamping their feet, as the inticipation grew. Taking in the energy of the crowd I couldn't help but feel the excitment of what was to come.
The band came on and they had a presence about them. The kind of band that just said here I am, and we are ready to blow your mind.
First song was Don't Lock The Door– I thought to myself here we f*cking go, with the intro instantly grabbing my attention. The catchy riff played all throughout the song. I knew this is going to be a great gig.
They played titles like Rydo and Julianne which captures a bittersweet love story in the modern world. Not your typical Romeo and Juliette, more like a love story from the scheme where Rydo has been sent to jail and Julianne had a court order. The bass played by Harry Butler and guitar played by Francesco which was so upbeat it had you singing along.
They matched the crowds sentiment with their track Gimme More. A catchy indie-punk vibe fell over the venue, frontman David Philliskirk showing off his superb vocals. As he shouted a live set echo, 'nah nah nah nah nah nah', the crowd shouted back.
They incorparted two of their tracks Sexy/Lately . This is one of my favourites from the band. A mix of old school punk and new punk captured nicely. Drummer Ciaran Gallagher plays this rhythmically great.
The band engaged the crowd with some humour and some attitude. Spitting their drink on stage. That is some punk right there.
Playing through their setlist the band got through tracks Good enough and The Call, due for release in September. Picking Petals gave us a sneak peak at a track not due out until next year. The crowd fully taking in this fresh new Scottish punk sound.
They finished with Sensitive Boy last song of the night. The song started off at a mellow pace until they shouted "Here we f*cking go" which led the band to go mental. The sweat was dripping of them as they stomped about, everything was loud and musically phenomenal.
I manged to speak to the singer as he was going off stage. I asked him to "describe your music style" to which he replied – "Chic Punk"
Petty Cassettes may be fresh on the punk/music scene but are definitley a band to put on your playlist. With their own mix of Scottish/new punk the bands' on stage presence blended with their high energy sound, made it a fantastic night. It will be fun watching to see where Petty Cassettes are going to be in a years' time. The band are currently working towards making their first album so keep that on your 'one to watch for' list.
---
Keep up with Petty Cassettes on socials…
---
The Red Bastards release self-titled album full of partying and politics
Interview: Bar Stool Preachers talk new album, tours and meeting fans' pets.
No Trigger Debut Latest Record 'Dr Album'
One week left to get tickets for Loud Women Fest
Snark Release New Single 'Stay'
Wonk Unit, Death By Stereo, Lightyear and more for MPF 2023
Social Distortion and Bad Religion Announce Australia and New Zealand Co-headline Tour
The Chats team with The Bronx for US tour
Bruise Control sign with TNSrecords
Album Review: The Chats 'Get Fucked'
The Summer Set share some 'Hard Candy'
Live Review: Lars Frederiksen's one man show in Southampton
UK pop punk outfit Shark Bait announce new single
Girls In Synthesis announce new album, plus new single 'Watch With Mother'
Let me take you on a journey where music and photography collide! I capture these amazing moments through the lens of my camera, allowing me to replicate that feeling you get when you see that picture or when you hear that song! Let me take you on a trip with my words and through my lens, and let's see where we go… Michelle 🖤📸