Punk veterans conquer the night performing in Brisbane for the first time with their new frontman Tim Rogers .
–The Hard-Ons / FAT / Burnt Trash, 'I'm Sorry Sir, That Riff's Been Taken Tour', Friday, March 18th, The Zoo, Brisbane –
After a successful album release last year for 'I'm Sorry Sir, That Riff's Been Taken' with new singer Tim Rogers, the wait is over for the anticipated tour for Sydney punk veterans, The Hard-Ons.
We head upstairs into the venue, which is slowly filling up with punters and spot Ray Ahn at the merch stand. Amongst the CD's vinyl and T-shirts, I spot one shirt for the band Clandestine Sausage, the moniker used by The Hard-Ons when they played a secret gig at Woy Woy a week earlier. We stopped for a chat and rope in Blackie for a quick photo before heading to the front of the stage. There is a great atmosphere amongst the crowd already, securing the friendly reputation of Brisbane's live music scene.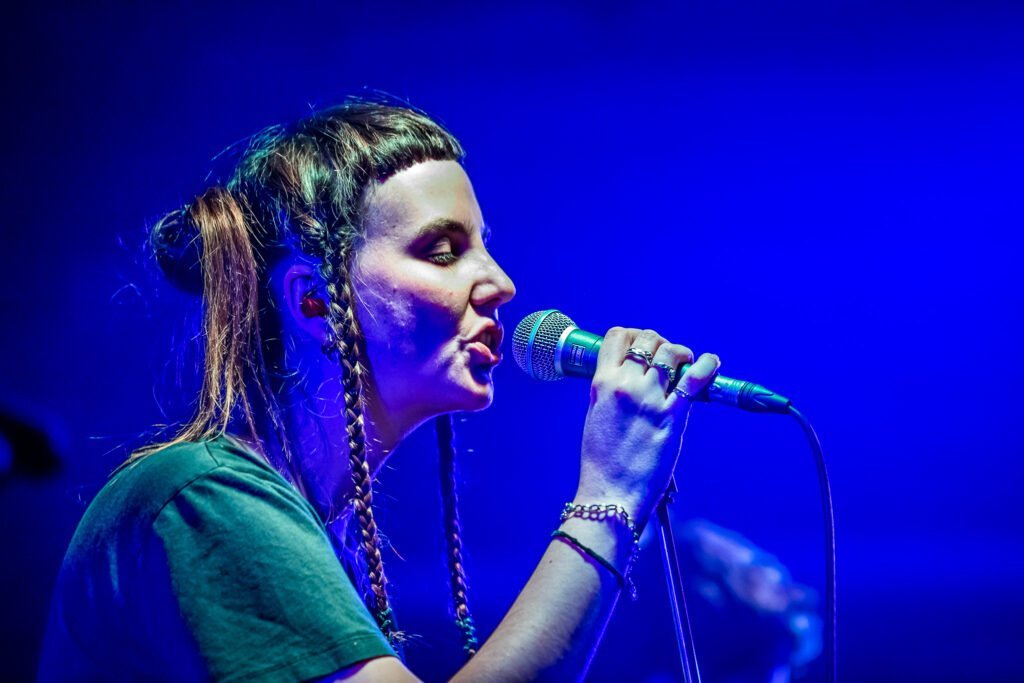 The first band onstage to warm us up is local five-piece band Burnt Trash. Aided by a keyboard player that added samples to their sound, this outfit could be uniquely described as Industrial, post-modern shoe-gaze punk. At times, the female singer added some heavier vocal flourishes, contrasting with her main vocal delivery. To add even more depth, the other members sang main vocals at times as well. Overall, a great band that was received well and won over a few new fans.
Next up is another local band, FAT. How I have missed seeing this band is beyond me. They are a full sonic force to be reckoned with. They belt out some mighty heavy riffage that hits like a shockwave to the senses. The drummer is simply insane and is the main driving force of the group, but every member gives their all, and FAT take us on one hell of a ride.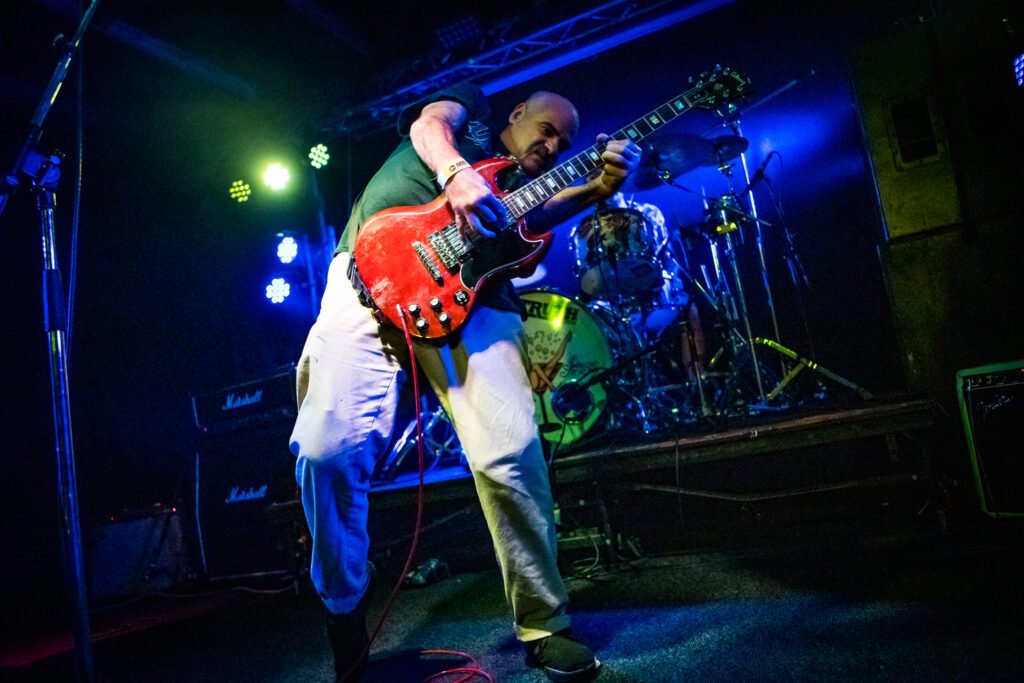 The room is filling up to capacity by now as the crowd awaits the headline act. We are soon privileged with the presence of the four talented members of The Hard-Ons, Peter Black, Ray Ahn, Murray Ruse and newcomer Tim Rogers, well-known frontman of Aussie group You Am I. They begin with an updated version of an older song, 'Made To Love You,' before playing tracks from the new album.
I sense some nerves coming from Rogers initially, but after the second song, every member of the group has their shirts off showing their tattooed, sweaty torsos, and it's game on. The energy this band presents is incredible, and Rogers' adds a new progressive vocal element and a tambourine and handclaps at times.
He is full of frontman swagger, commanding the stage and loving every moment of it, as is the crowd of mostly over 40's who are starting to get a rowdy moshpit going up the front that belies their years.
Related stories
Hard-Ons Interview: "Some people couldn't see it. For us, it was like how could it not work having Tim in the band?"
Review: The Hard-Ons – 'I'm Sorry Sir, That Riff's Been Taken'
Aussie punk icons the Hard-Ons announce the first tour with new singer Tim Rogers
One thing that never gets old, is watching both Ray and Blackie with their low-strung instruments playing like it's their last show and giving everything. After over an hour, they thank everyone and walk off stage; the crowd chant for more and then, of course, they're back for an encore. We are treated to an older classic 'Suck and Swallow', and then it's all over. I've lost count of how many times I've seen The Hard-Ons, and they are amazing every time. A great night.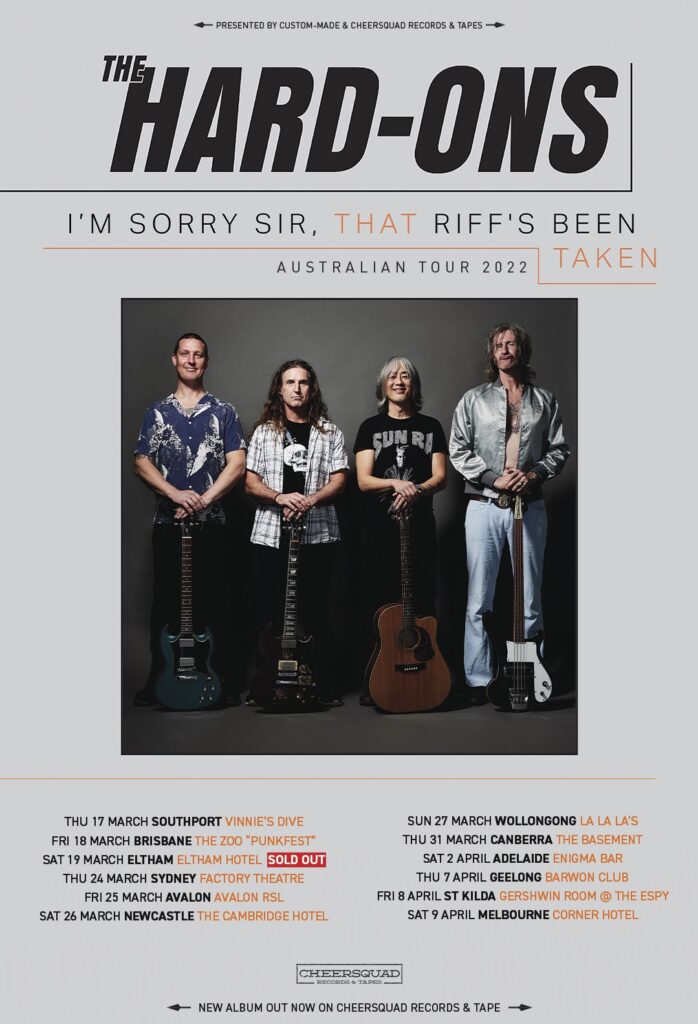 The complete run of Hard-Ons tour dates

THE HARD-ONS
I'm Sorry Sir, That Riff's Been Taken
Australian Tour 2022

MARCH
Thu 17 – Southport, Vinnie's Dive – with guests BLUSHH – tickets here
Fri 18 – Brisbane, The Zoo "Punkfest" – with guests FAT and BURNT TRASH – tickets here
Sat 19 – Eltham, Eltham Hotel – with guests MASOCHIST – tickets

Thu 24 – Sydney, Factory Theatre – with special guests SMUDGE and FLOWERS FOR JAYNE – tickets here
Fri 25 – Avalon, Avalon RSL – with guests RAISING RAVENS – tickets here
Sat 26 – Newcastle, The Cambridge Hotel – with guests BITCHCRAFT – tickets here
Sun 27 – Wollongong, La La La's – with guests LUCIFUNGUS and CHIMERS- tickets here

Thu 31 – Canberra, The Basement – with guests GLITORIS and CHARLOTTE & THE HARLOTS – tickets here

APRIL
Sat 2 – Adelaide, Enigma Bar – with guests CULL – tickets here

Thu 7 – Geelong, Barwon Club – with guests DEAD and EYEROLL – tickets here
Fri 8 – St Kilda, Gershwin Room @ The Espy – with very special guests THE MEANIES and RIVER OF SNAKES – tickets here
Sat 9 – Melbourne, Corner Hotel – with special guests C.O.F.F.I.N and CHEEKY GEEZERS – tickets here
---
Follow Hard-Ons On Their Socials
---
Need more punk in your life?
---