The punk icons play alongside a cast of punk friends old and new with Penetration, TV Smith & The Bored Teenagers and Smalltown Tigers all supporting.
I wasn't certain this night would ever happen, having waited 2 years since Dave Vanian, Captain Sensible, Brian James and Rat Scabies– the original members of The Damned– first announced a short reunion tour which was a huge surprise to fans, considering the previous animosity between band members..!

Having been nowhere near old enough to see them before their initial break-up in 1977, I nabbed a ticket early for the 3rd November Manchester show, as it's an excellent venue which attracts a good crowd. The band obviously thought so too, as this performance was being filmed with multiple cameras.

It's always great when a support band you've never seen before comes on and blows your socks off, and Smalltown Tigers (an Italian punk trio) did exactly that! Described musically as "if you shake '76 Ramones and 78' B52's and pour them in Joan Jett's rock 'n' roll glass before she was sucked up by the limelight", these ladies put on a stunning performance, garnering huge respect and loud cheers from the crowd. Considering they formed only in 2019 and were unable to tour for 18 months due to Covid restrictions, their excellent set certainly earned them a support slot on this tour. A band to look out for!

TV Smith bounced onto the stage in his usual animated fashion, explained briefly that he wasn't going to talk much, then launched at breakneck speed into a set of The Adverts songs with The Bored Teenagers. Leaving no gaps between songs and having the volume turned up to 11, it was difficult to make out what they were playing sometimes! I understand that he wanted to fit as much in as possible to give good value, but there is beauty in the space between songs, and sadly this detracted from the performance. Nobody likes to feel hurried!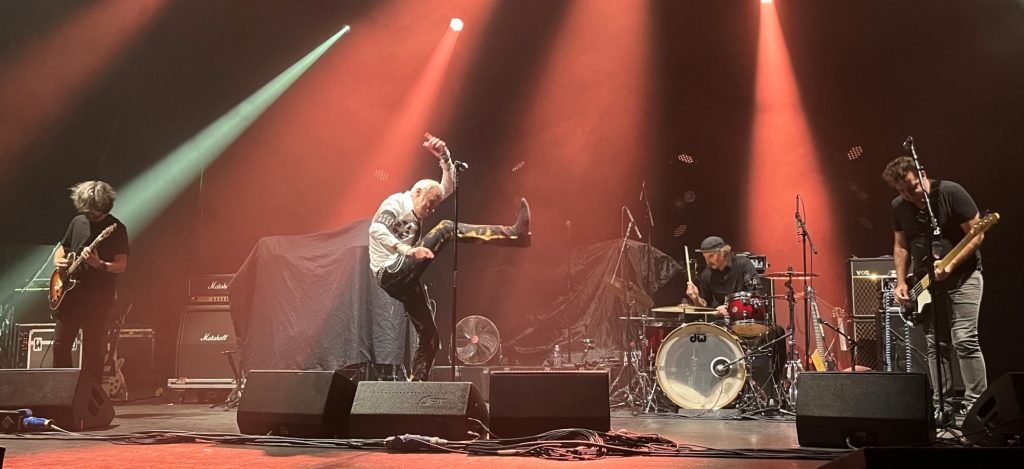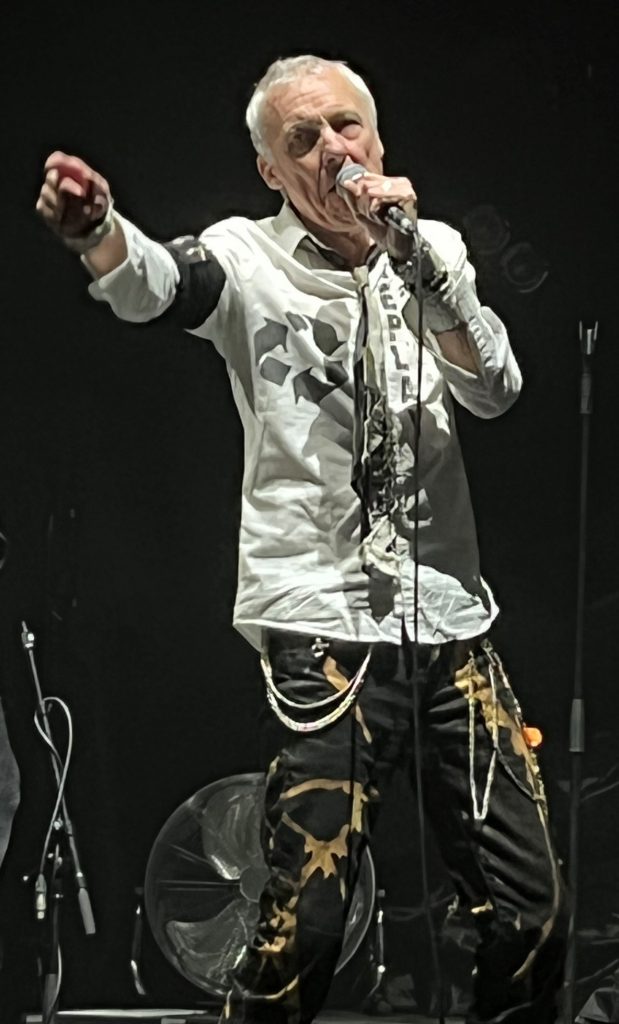 Penetration are another of the 'old skool' punk bands making a welcome return to the circuit. Vocalist Pauline Murray warned that they were a little out of practice at the start.. and sadly this proved to be the case. Opening with a cover of the Buzzcocks 'Nostalgia', they gave a weak performance, with Pauline frequently flat or off key. 'Don't Dictate' is one hell of a punk song, but this performance did not do it justice. I wonder if there were sound issues affecting the band?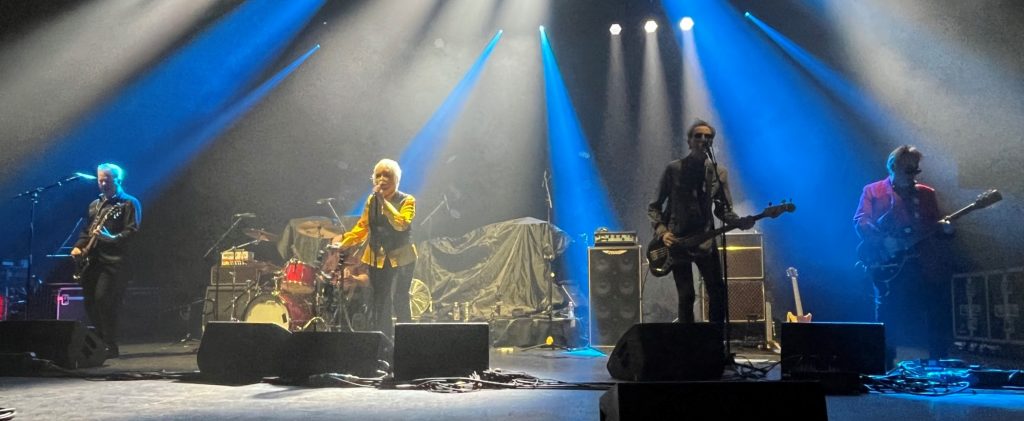 The Damned were heralded onto the stage by the Dr Who theme, and I was elated to see all four of them together at last! Opening with their cover of The Stooges '1970′ which we Damned fans know as 'I feel Alright', Vanian (dressed in killer black, with freshly blackened hair, lipstick and eyeliner) instantly mesmerised the audience, introducing the show with "Welcome to the 1970s!" An equally black-clad Scabies gave an outstanding performance on the drums – not only was his musicianship on point, but he was cheerful, energetic and looking incredibly fit and well. He was obviously invigorated playing to a large crowd again – "I met most of you in the pub next door" he gleefully quipped.
Sensible appeared perfectly happy playing bass again – and what a powerful sound came from his ostentatiously large amps – just brilliant to hear! He was obviously enjoying himself all evening, smiling with his old bandmates, grinning at the audience, and allowing the music to take the limelight. James unfortunately has mobility problems – he was helped to walk on and off stage, and remained in situ once his guitar was strapped on – yet this did not stop him from giving a blistering performance! The man can certainly play a guitar, and without him of course there would be no Damned. At the end of the show he was given a roof-raising cheer by an appreciative crowd!

Although Brian James didn't move his feet, Dave Vanian must have covered every square centimetre of the stage at least 10 times! He also jumped down to greet the audience, stepping cat-like along the steps behind the barrier. He stopped to take the hands of the young lass who'd been next to me most of the evening (until an obnoxious guy elbowed his way in between us when The Damned came on!) and had a little dance with her, a lovely interaction.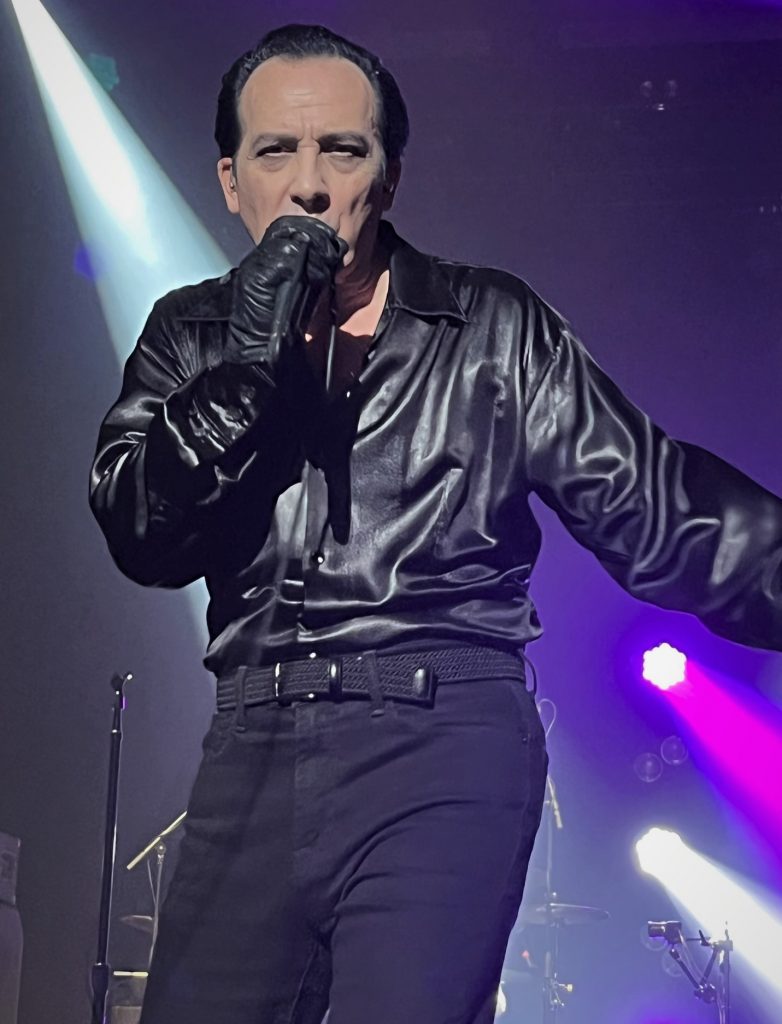 The set list consisted mostly of material from The Damned's first two albums, plus some covers, yet was delivered in a way that showed how far each musician had come since then. Vanian took singing lessons and developed a melodious powerful voice, in addition to refining his exceptional stage presence. Scabies has improved his virtuosity on the drums, no longer just thrashing the life out of them! Sensible switched to guitar, learned to write songs and became a solo artist in his own right. James not only went on to form The Lords of the New Church, but also wrote and recorded several albums of his work, and collaborated with numerous other musicians.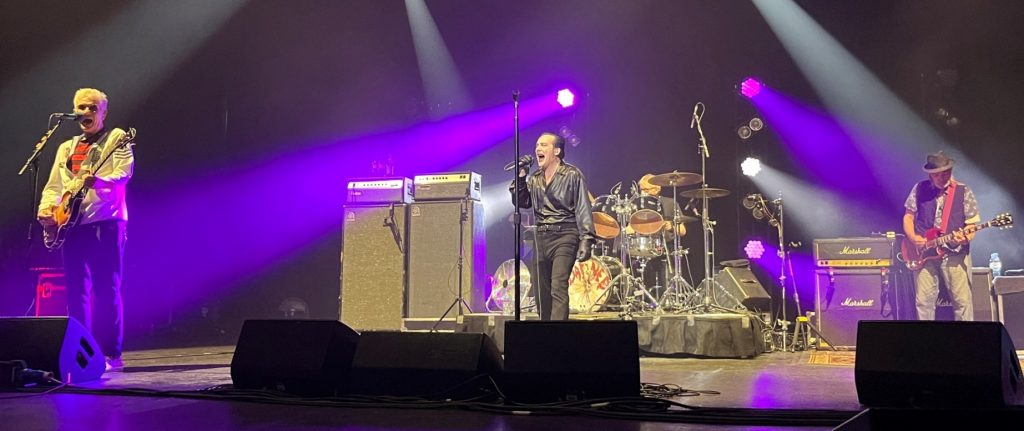 Saxophonist Mike Smith joined the quartet on stage for two songs, adding an extra frisson to the music, interweaving perfectly with Brian James' guitar. The band gave a longer encore in Manchester, kicking off with 'New Rose', the song which started their journey into public consciousness in 1976, with its distinctive guitar riff which I was thrilled to finally see Brian James play live. This was followed by two covers, Bo Diddley's 'Pills' and The Rolling Stones' 'The Last Time', during which a smiling James seemed to enjoy me singing along with as much as I enjoyed watching him play it!

Unlike their previous two shows in London, the band chose to end the evening with 'Messed Up', which saw Scabies pouring two bottles of lighter fluid over his cymbals and setting fire to them, much to the apparent horror of the stage crew, followed by Sensible assisted by Vanian smashing up a bass guitar. The old dogs are still up to their tricks!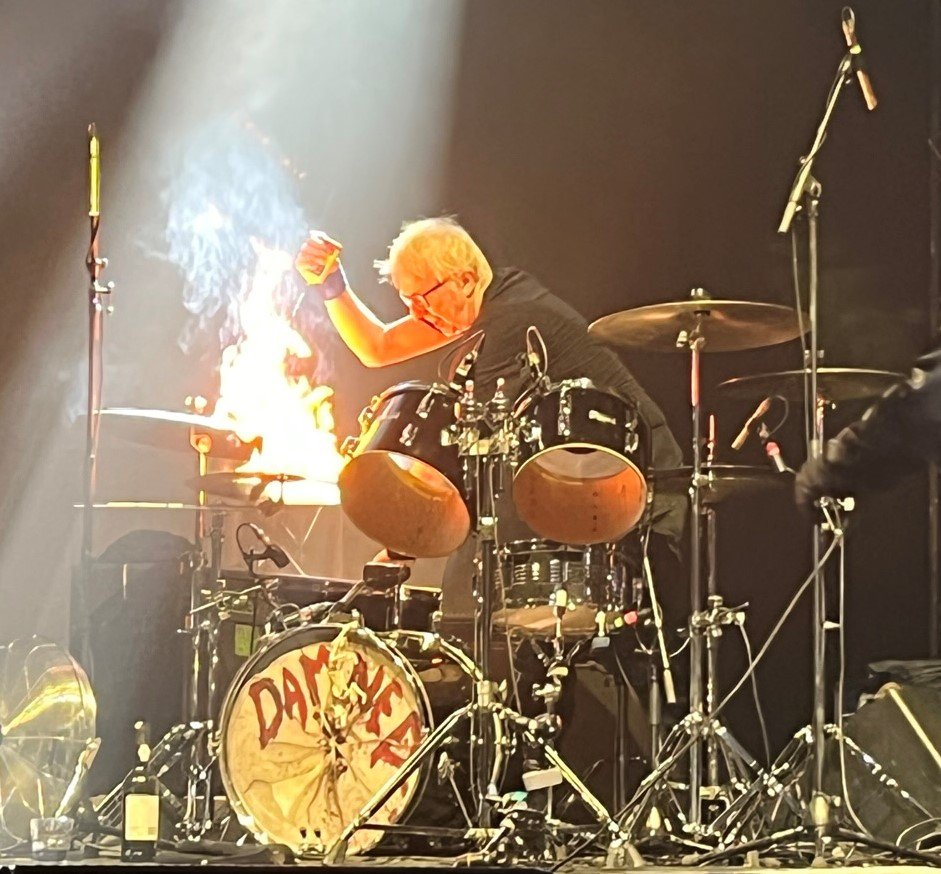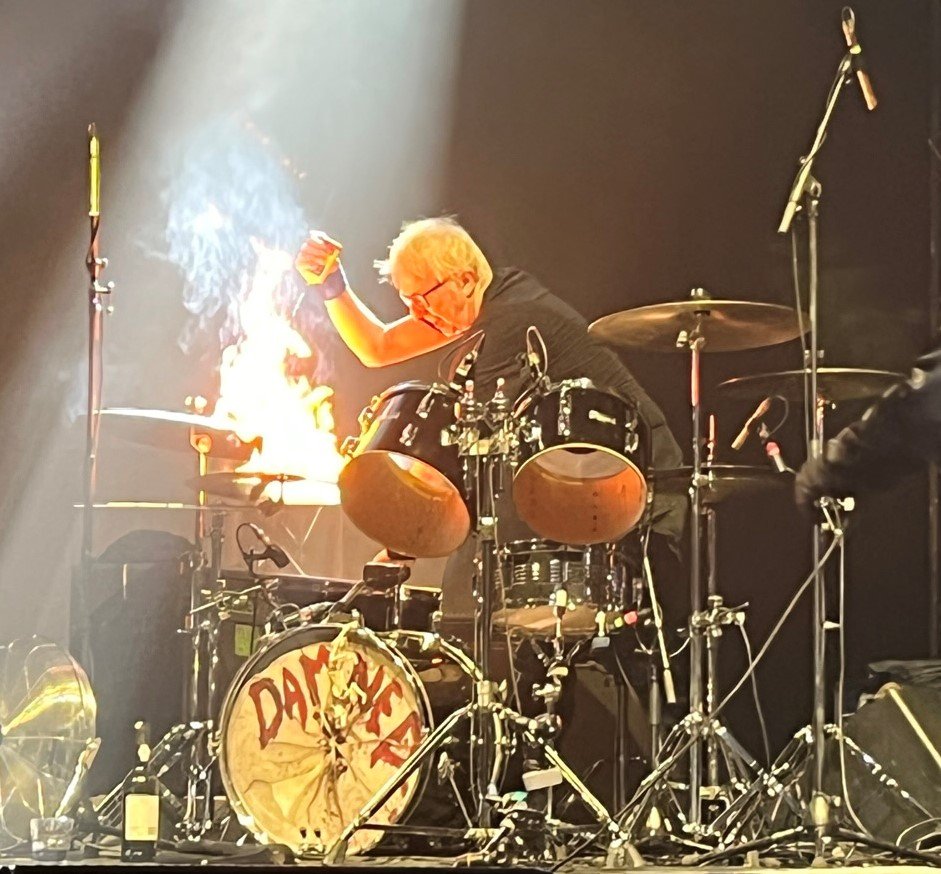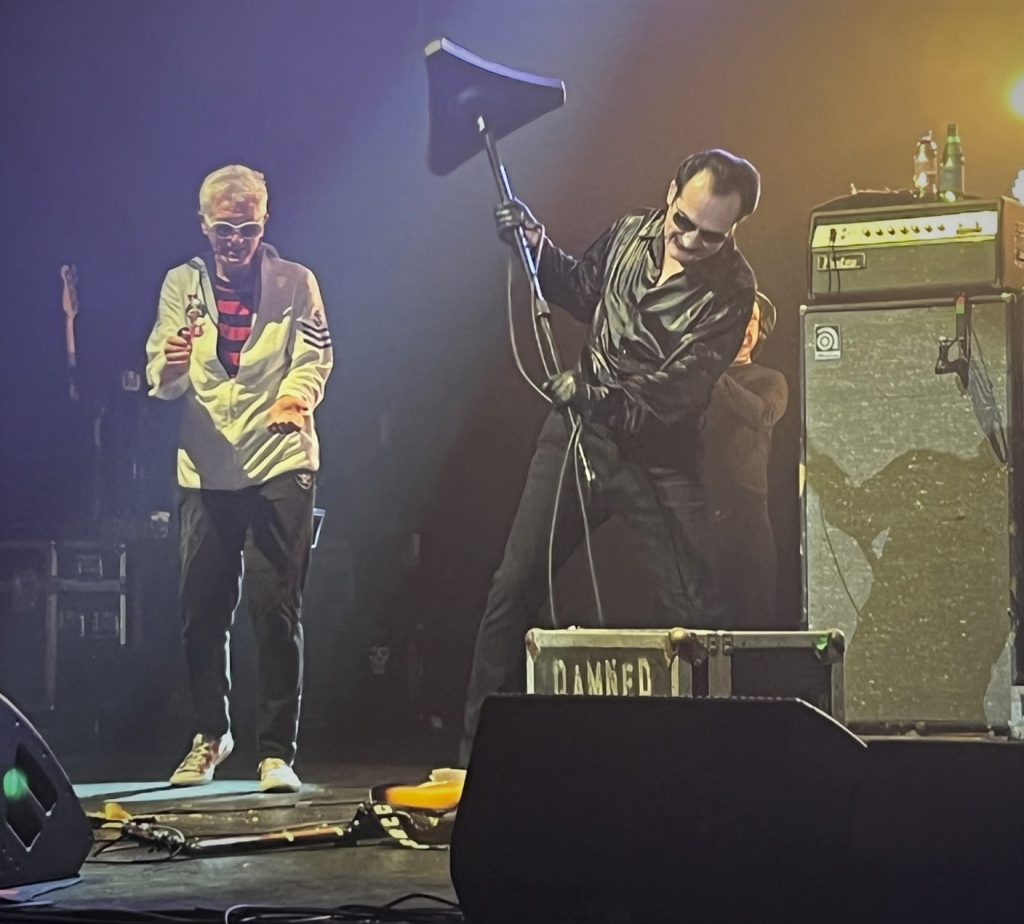 Was this 'The Last Time'? Yes, going by the expression on Brian James' face as he played the song.. but they have gone out with a bang! The Damned will continue with their regular line-up of Vanian, Sensible, Gray, Oxymoron and new drummer Will Taylor, and I'm hopeful that Scabies will return to play somewhere soon. Brian can retire with dignity, knowing that he started something enduring, and I'm very proud to have celebrated his vision with The Damned tonight.
---
Follow The Damned on socials…
---
More of the latest from Punktuation: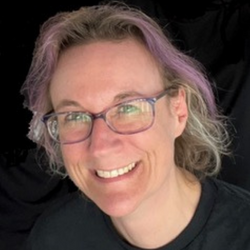 'Usually found jumping around down the front at gigs, I also relish taking photos and videos, singing, speaking with fellow music fans, and asking musicians the questions nobody else does  Writing about my favourite bands and connecting with people who love music too keeps me more-or-less sane  I've worked for over 25 years at a video production company, mainly filming live music events, therefore I have an additional backstage perspective!'