Socially-distanced trestle tables for six. Beer brought to you on trays, not thrown over you by an over-excited muppet! And please stay seated – we'll bring the merch to you.
It's a punk gig, but not as you know it!
A point not lost on Riskee lead singer Scott Picking who announces at the top of the show: "It's strange, but we'll make it work."
And boy did they make it work.
Who knew you could make a mosh pit from trestle tables? But somehow the crowd did. Only occasionally being told off towards the end as the energy and excitement boiled over (socially distanced, but there was some standing – shock!).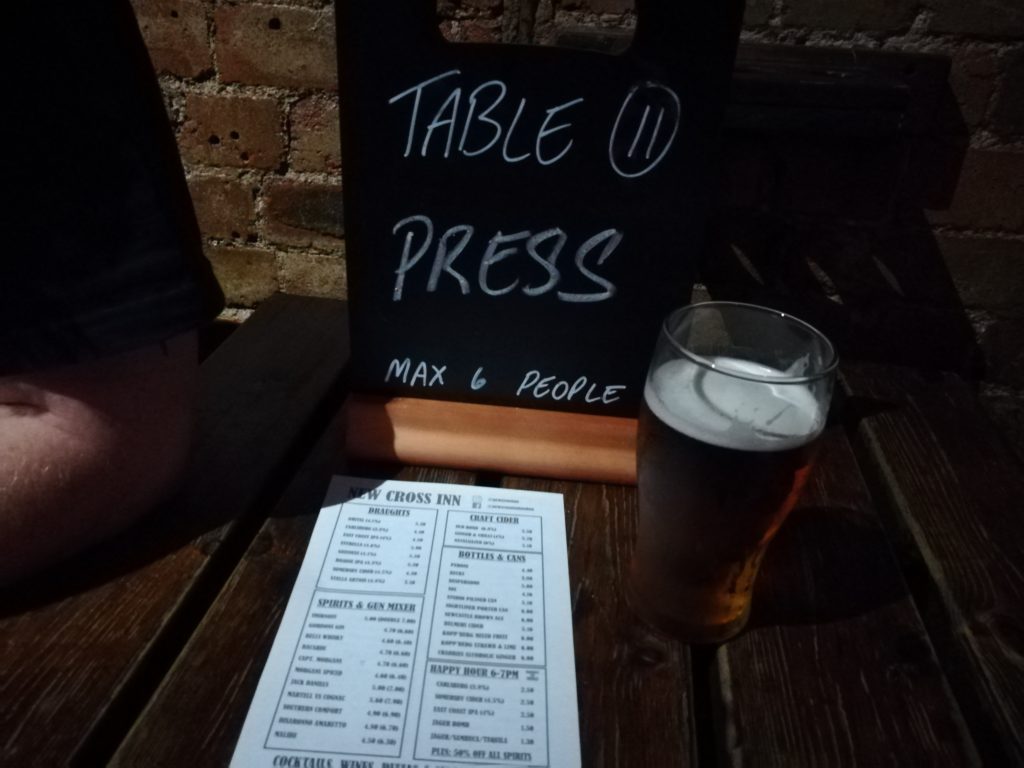 But everyone observed the rules – just – even Mohican Man who stood up and beckoned the rest of the crowd in good-natured exuberance.
Gifted a place on an empty table right by the front of the stage, he regularly acknowledged the group who had given up the space for him and his entourage.
Very magnanimous and friendly – there was such a great atmosphere.
Preceding Riskee was guitarist and harmonica playing Tom Birch who is mate of the band, and warmed us up nicely. He had a great range of thought-provoking songs and a nice guitar-style, mixing intricate with strumming effectively. Highlight for me was when he was hitting the fiddly delicate notes – he sounded so good.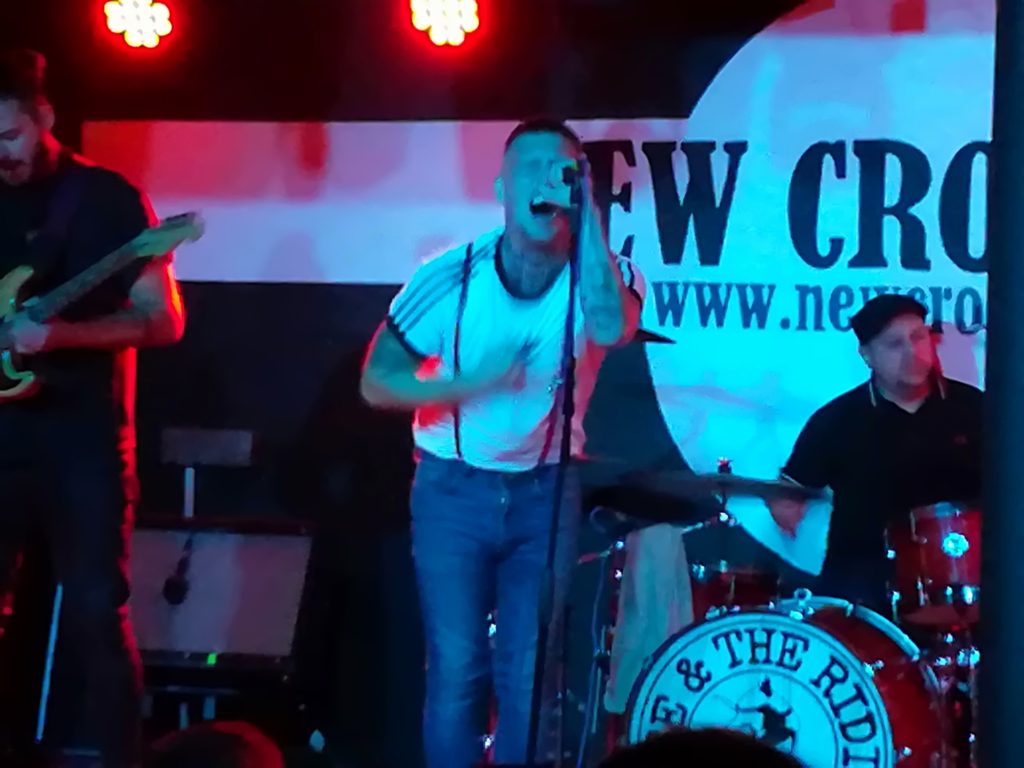 Soon the force of nature that is Riskee was centre stage.
If there was a stereotype of a guy you wouldn't mess with on a Thursday night in New Cross, it's Riskee. Doc Marten boots, tight drainpipe jeans, Fred Perry t-shirt, and braces. Short hair, shaved at the sides, tattoo-covered arms. But Punktuation was lucky enough to meet him before and after the gig – and what a great guy. No stereotype here. Friendly, genuinely grateful for us all turning up, and humble. It was that kind of a night.
"It's been a while," he says before launching into the first song.
"Make sure you've got enough beer and it'll be all right."
And it was more than all right. It was energetic, powerful and in yer face. With anything ranging from socially and politically-acute takes on Brexit to the fear of ageing ('will you still love me when I'm no longer beautiful'), the tunes exploded when Riskee hit the mic.
Accelerate, Kaboom! Blue Jacket, In The Dark We Dwell, Millwall Brick – Glasgow Kiss, Our Time and Molotov Cocktails – they raced through the set, with Riskee prowling on stage, looking angry and ready to tell the world his thoughts.
"We're exorcising Covid demons tonight," he tells us. "I've missed you fucking bastards."
We roar back. We've missed you too.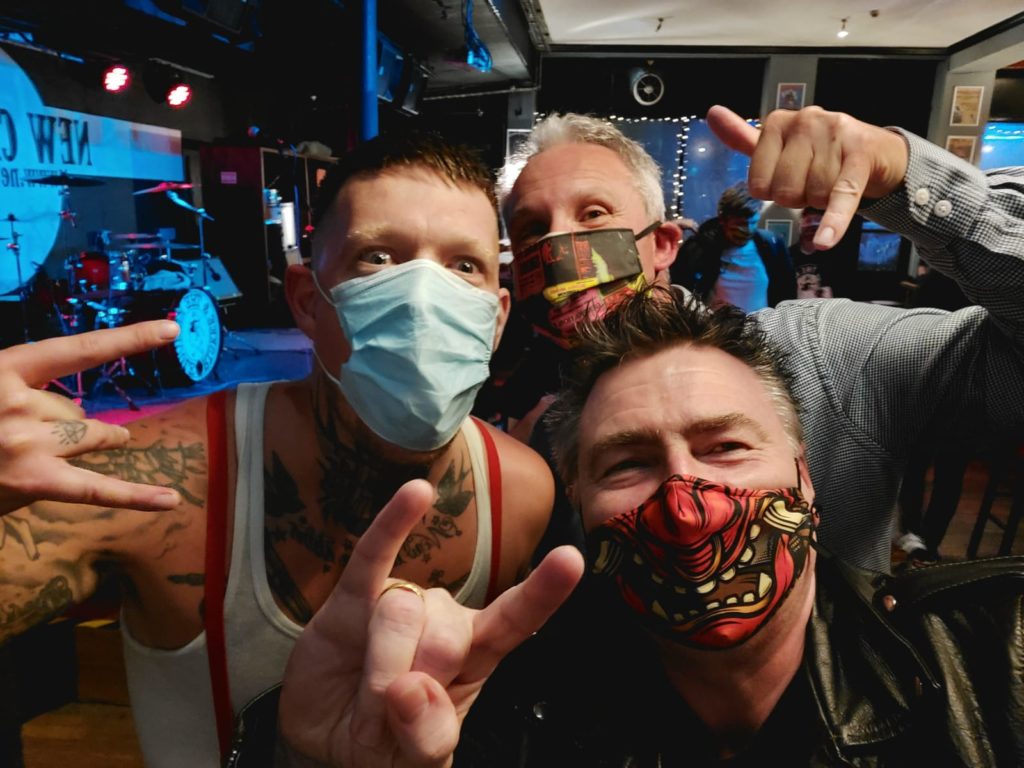 And what did others think?
Robbie, 24, mohawk guy
"I've known Riskee since pretty much they started. I fucking love them. I used to work in a pub that their old manager used to work for and they're a beautiful band. They deserve to go very, very far. They will always surprise you with a good album. This is the second time I've seen them since Lockdown The first time was in Ashford, Kent (their home town) and it was a social-distanced gig, but it was just so good to see live music again.
It's lovely to sit at a table, behave yourself. The only thing I miss is that you can't mosh together. You can't throw each other into each other."
Connie, 19, student
"They're everything that's amazing about our generation and embrace it if you can. They represent the frustration of our generation with the contemporary world we live in. Look at the everyday news and politics – how can this music not represent some kind of change we need to enforce? We need to change shit. You can't do it by just sitting around and accepting what is going on. You have to question and protest. This is what our generation is about, embracing punk."
John, 20, student
"They speak to simmering anger which is not necessarily expressed in pop music of our generation. Mixing punk with grime elevates it. Punk music is an established format for expressing anger and discontent, and you mix it with grime music which is a larger part of our generation's popular music. Mix the two, and you have something that speaks to the people around us. It voices a malcontent nature which our generation has. The media ignore us. It's an energy that goes untapped far too often, and it speaks to me on that level."
TONIGHTS SHOW 23/10/20 – SOLD OUT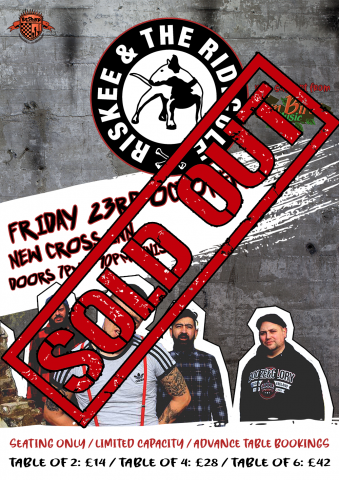 ---
More Riskee and the Ridicule
---
I'm Roger Kasper, 55. A punk since October 77 when the Stranglers rocked Top of the Pops with No More Heroes. Journalist since 1983 with stints on national newspapers and magazines and editor of local papers. I'm Gravesend born and dragged up I keep poultry, garden, run and generally make a nuisance of myself!