Herman de Tollenaere, one of the vocalists of late '70s Dutch punks, Cheap 'n' Nasty, heads to Leuven, Belgium to review a trio of punk bands for Punktuation!
Het Depot is a big concert hall, a former cinema, in the centre of Leuven city in Belgium, and it was here on the 20 May that three bands, Pussy Riot from Russia, Hägar the Womb from England and Hetze from Belgium. attracted a big, enthusiastic audience.
It was part of the Breaking Barriers festival a punk and post-punk festival that started in 2016, and in 2020 it was forced to pause for 'you know what'. This gig was originally meant to take place last October with Pussy Riot, Spizzenergi and Hägar the Womb but because of a European-wide spike in Covid figures, it had to be postponed. However, with the pandemic now behind us, nothing was going to stop tonight's gig!
This event certainly broke barriers between various pigeonholes in punk. Hetze plays 'hardcore' in the post-1980 sense. Hägar the Womb play fast, loud punk, but not in the post-1980 hardcore mould. Pussy Riot play in their brilliant usual theatre performance style.
The concert came at a significant time, with the Russian armed forces' invasion of Ukraine. And the recent escape from Russia of Pussy Riot's Maria Alyokhina.
Hetze were the first band on stage. The band hails from Antwerp and formed back in 2016, and has built up quite a reputation. From the first note, Hetze goes into full-on overdrive mode. For sure, they had their amps turned up to 11!

The group consists of three women on vocals, guitar and bass, and a very passionate bloke smashing the skins. My mate, a 1970s Dutch punk veteran drummer told me that the drumming was great and really held the band together.
For some, Hardcore is just a lot of noise. For others, it is also a lot of noise, but good noise! Hetze for sure made a lot of good noise, especially with their songs Bedbugs and Human Garbage. I for one will be interested in watching how Hetze will develop in the future.
Hägar the Womb
Once the speaker stacks stopped smoking from the aural assault Hetze had given them, Hägar the Womb climbed onto the stage.
Hägar The Womb are veterans of the anarcho-punk wave of the early 1980s. Initially, the group was all women, with the express intention of giving voice to women in the punk scene, today they have a male bass player.
What was great about a performance by Hägar The Womb, is just how much joy they radiate from the stage. They simply love playing, having fun and entertaining. Although, there is also time to get serious and to at Brexit and Boris Johnson.
They kicked off with Idolisation from 1984 then straight into Visible Woman, a relatively recent song. Song number seven, Hated By The Daily Mail, about the British conservative newspaper, was greeted, like other songs, with frantic dancing by the audience.
Throughout, the anarcho-punk ´Hags'´ sense of humour shone through. The set was just brilliant!
Het Depot had been steadily getting more and more crowded as the set by Pussy Riot neared. Moments before they hit the stage the Depot was heaving. The audience was pumped as the anticipation of what was to come started to grow.
Pussy Riot
Pussy Riot played only one 'song' in their one-hour set: Riot Days. They are here with a message. The message is: Putin is a villain and Russia has slid into a dictatorship. Their performance is not so much a concert but more a performance in which they tell their story against a musical background.
On drums and keyboard was Diana Burkot. On saxophone, Anton Ponomarev and on vocals Olga Borisova and Maria Alyokhina. A big screen in the background showed images of bad conditions in Russian prisons and police violence and translations into English from what we heard in Russian.
Riot Days shows that Pussy Riot had always been against Putin. Contrary to, as they pointed out, the military industry in western countries which had sold weapons to Putin.
Alexander Dugin, an adviser to Putin, attacked Pussy Riot, as these 'immoral girls'. He said that the 'very conservative and top-down' ideology of the Putin regime, hating liberalism and democracy, required that there should be no separation between the powers of the Russian Orthodox Church and the government.
He and Putin believed that Pussy Riot was a threat to that conservative ideology. In Leuven, Pussy Riot mentioned that in the constitution of the Russian Federation, religion and state are separate. And that the Putin regime violates that constitution.
The central figure of Pussy Riot was Maria Alyochina, one of the two members of Pussy Riot who was sentenced to two years in prison after the band's infamous performance in the Cathedral of Christ the Savior in Moscow. 
Maria wrote the book 'Riot Days' – in which she tells the story of Pussy Riot from their formation to her experiences behind bars – on which this performance is based.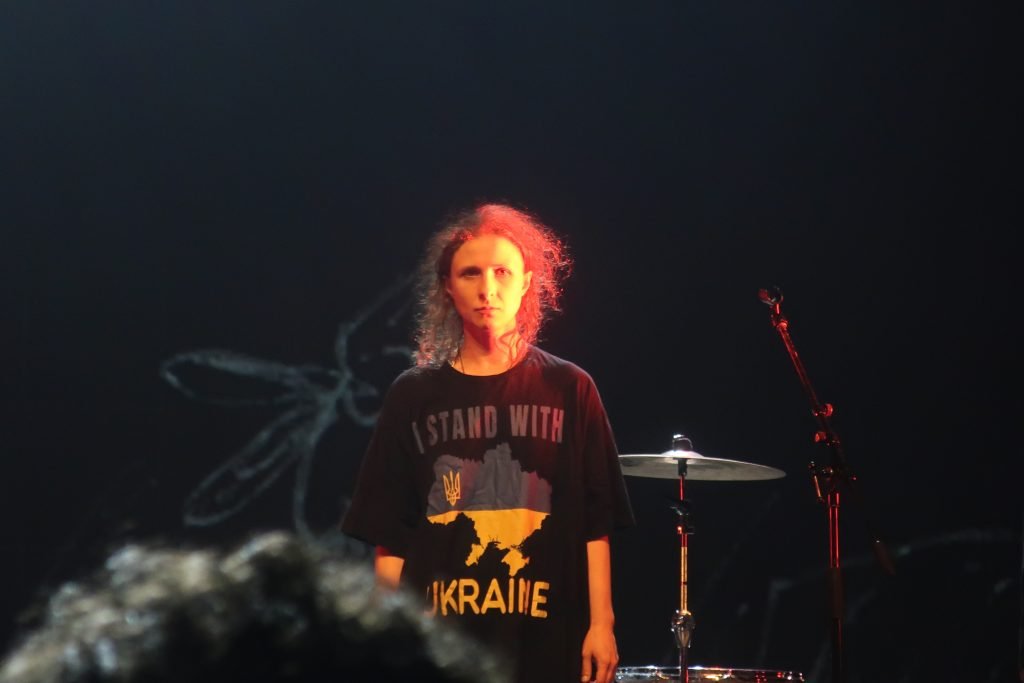 Pussy Riot appreciates punk bands from the USA, like Bikini Kill. And bands from the UK, like the Cockney Rejects. In Leuven, the screen behind the performers showed the slogan "Anyone can be Pussy Riot, like Anyone can be a Sex Pistol, from the Great Rock 'n' Roll Swindle film."
They ended by stating their opposition to the Ukraine war.
What an unforgettable set by Pussy Riot! What a great night in Belgium! Up the punx!
---
More punk news…
In 1978 Herman co-founded Dutch Rock Against Racism and was a founder of Pin punkzine. He's vocals/saxophone for Cheap 'n' Nasty and in 2021 co-founded the Punk Scholars Network, Netherlands.