Californian punks Pennywise return for another Australian tour with icons Circle Jerks tagging along for their first Aussie trip.
Words: Tracey Moyle & Jason Bruckner
With two of the best USA punk bands hitting our shores in Pennywise and Circle Jerks, this was always going to be a must-see show. Aussie punk fans flocked to Fortitude Valley Music Hall in Brisbane last Saturday to witness a first; the 'first' being iconic L.A. punks Circle Jerks bringing their hard, fast, loud legendary punk show to their fans Down Under.
Joining Pennywise on yet another Aussie run, Circle Jerks finally played for their long faithful fans. And the fans were out in mass, with Brisbane's wildest music lovers out for a good time and not planning to hold back. Here's how it went down.
Fortitude Music Hall is a reasonably new establishment that can handle a large, wild crowd perfectly. Approaching the venue, we saw a long line-up of eager punters ready for the night to begin. Once inside, there is already a queue at the merch stand a mile long with fans hoping to grab a shirt, stubby cooler, record or book. Getting in early was a good idea; the merch was almost entirely cleaned out by the show's end.
We make our way upstairs to the balcony area that overlooks the stage, also a good vantage point to watch over the crowd who are now pouring in. The fans span all generations; some have even brought their kids along. There are a lot of tattoos, mohawks, skaters, punks and ageing-gracefully rock fans.
The night started with the perfect local fit – Melbourne punks Civic. Their style melded classic punk rock reminiscent of the early days. Civic's sound embraces early Californian punk influences from Misfits and Black Flag mixed with some old-school Aussie rock reminiscent of The Victims, Radio Birdman and The Saints. They played without fanfare, just belting out high-energy tracks from their repertoire. Tracks like Another Day and Just A Fix woke the crowd up, and they obviously won a heap of new fans.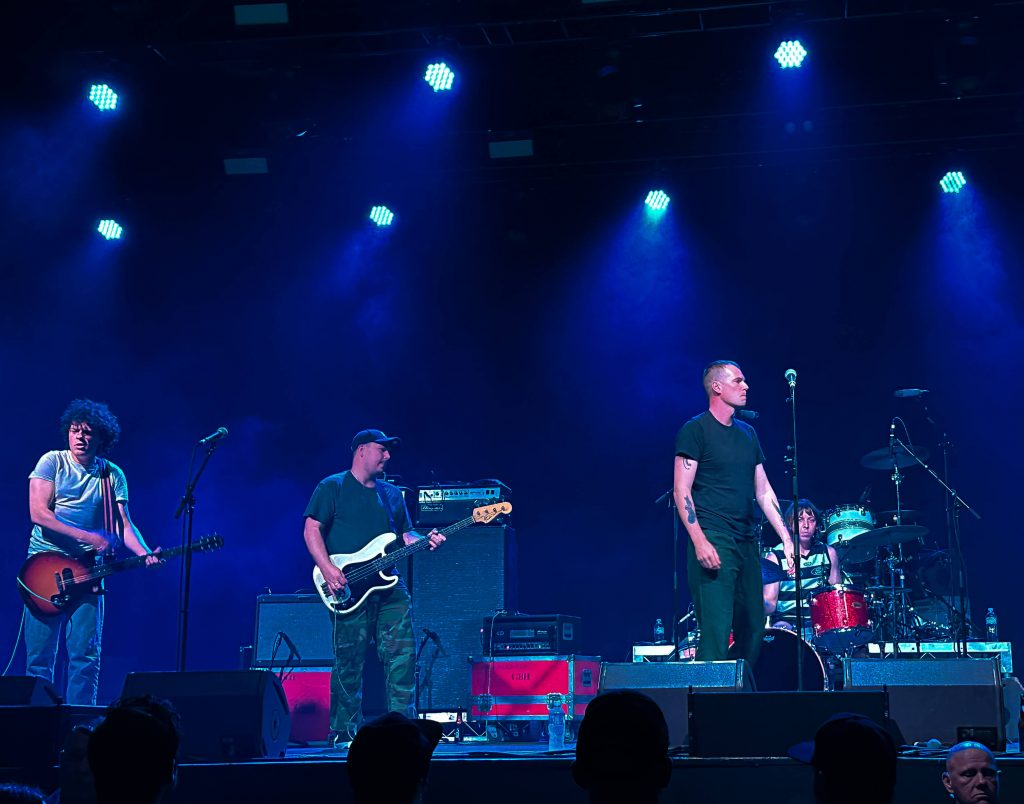 They spoke about Circle Jerks touring for the first time and continued to rally the energy of the punters with their no-bullshit-just-play attitude. They belted out a setlist of tracks, including As Seen On TV, Tell The Papers and New Vietnam.
After a break for more drinks, fans found their ground up front, ready to be a part of this momentous occasion. Circle Jerks t-shirts were scattered amongst a sea of Pennywise emblems, with age no factor in the crowd pouring in up-front.
These punk pioneers took to the stage like it was their second home, Keith Morris introducing the band without fuss before opening with the short, sharp, fast, Deny Everything – their first track from their debut album.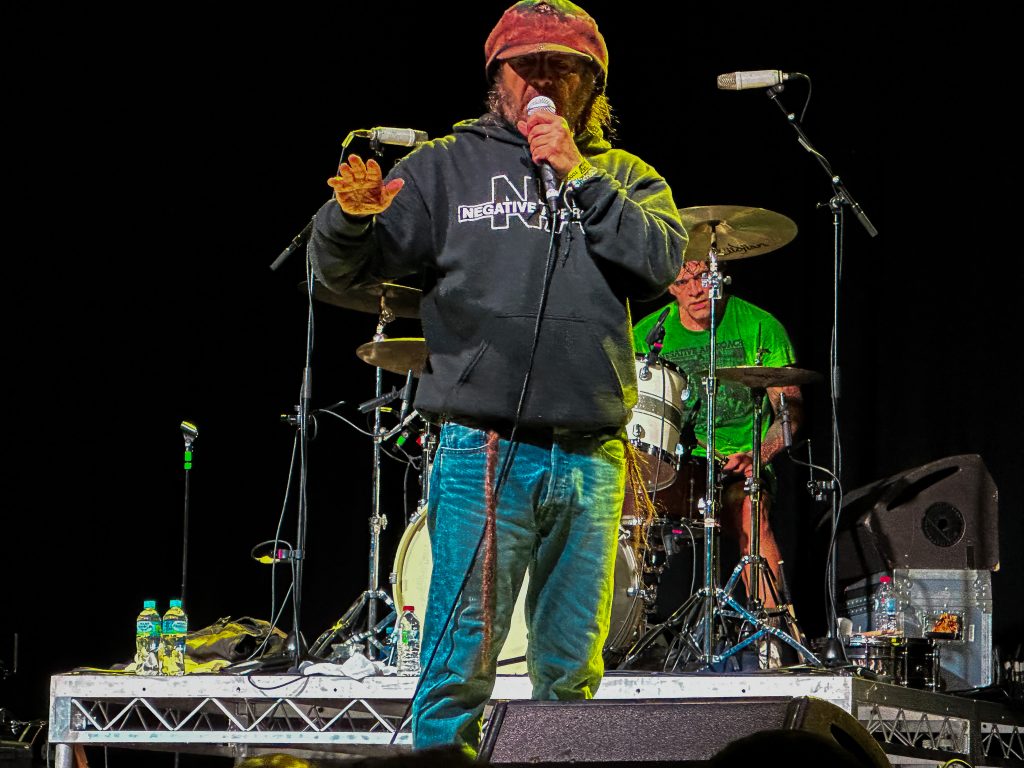 The crowd in front of the stage kicked off the night's mosh pit with a highly charged energy. There were bodies, drinks and even shoes flying in the air.
With the band commemorating 40 years of their iconic L.P. Wild In The Streets, they celebrated the album by playing through tracks including Letter Bomb, Stars and Stripes, Trapped and the album's title track. At one point, they stopped to berate someone in the crowd who was acting up in a less than cool way, then continued through their set.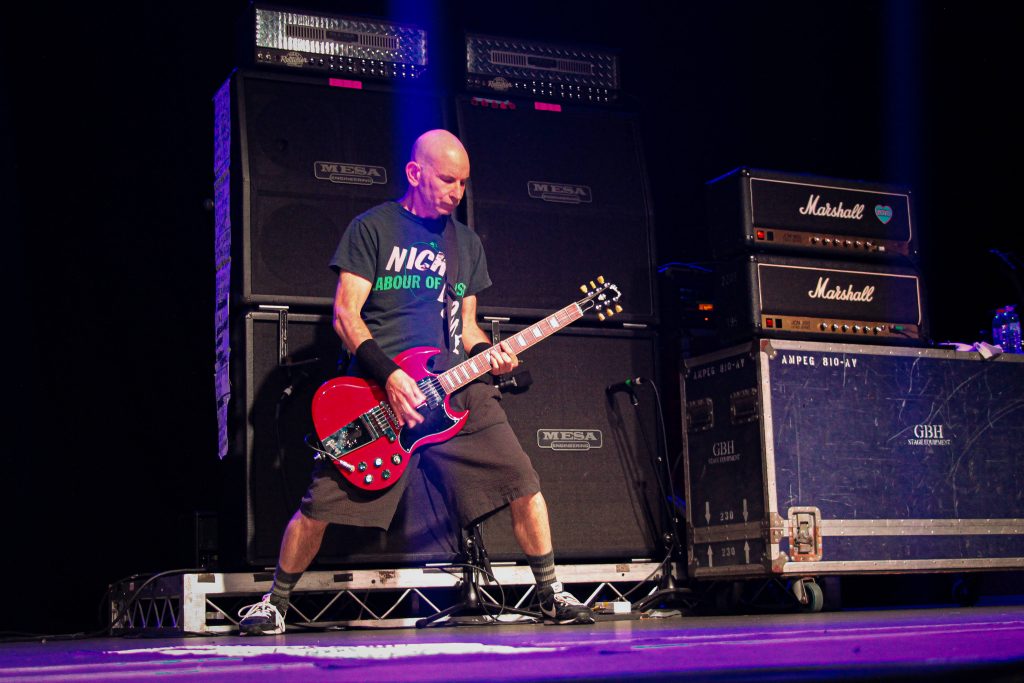 They kept smashing out crowd favourites with more energy than most bands half their age. Morris spoke to the crowd about the band having not played most songs for over 15 years, so had to relearn all the songs for the tour. He introduced his favourite Circle Jerks song, When The Shit Hits The Fan taking the crowd into the next block of songs.
Drummer Joey Castillo, a legend all on his own, smashed through the set like Animal from the Muppets. They powered through tracks from their 1980 debut, Group Sex. Beverly Hills, Behind the Door, I Just Want Some Shank, World Up My Ass were amongst the songs that took a fair chunk of the crowd back to the days when they had nothing to worry about except trying not to get arrested at a local punk show. (A common occurrence due to QLD's political climate in the '80s).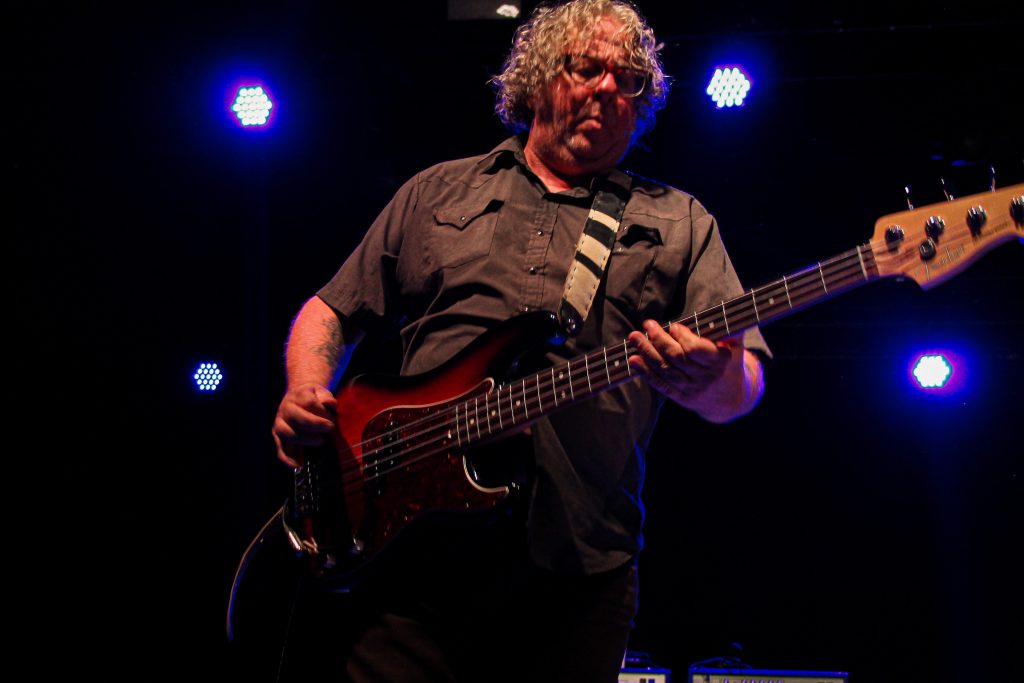 They closed the set with Wasted, High Price On Our Heads and Red Tape. The fans are ready for a well-earned breather, with a Pennywise gig always demanding maximum energy.
The Fortitude was now packed on both levels. There is a reputation for Pennywise fans loving a drink or six, and the break in between sets allowed some time to grab a few beverages and get their wind back in preparation for the headliners.
With a massive backdrop behind them, Pennywise came out swinging with 'Fight Till You Die' from their album Full Circle. The mosh continues up front, keeping security on its toes throughout the mayhem.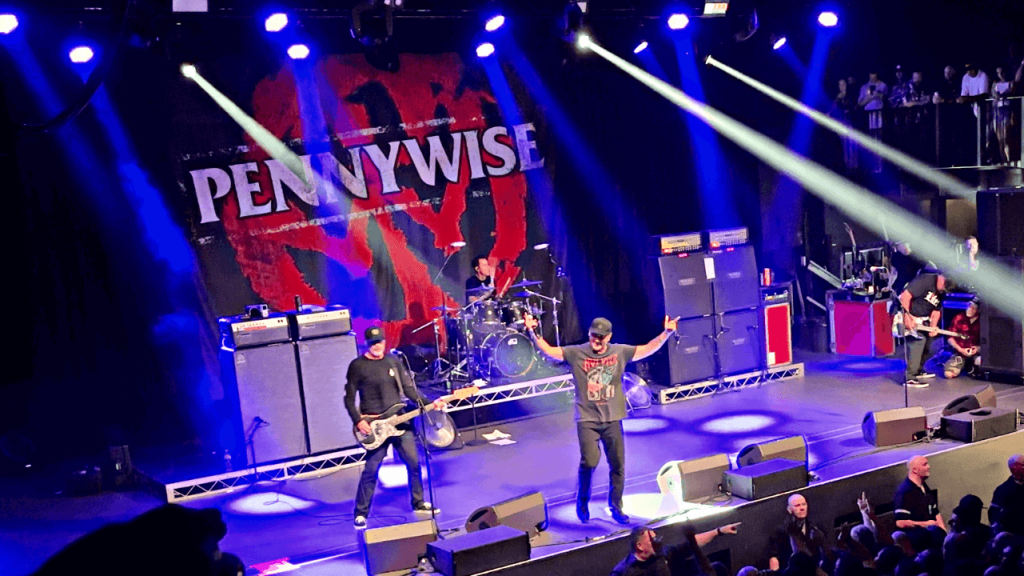 With a dozen albums worth of material, the band gives the fans a good mix of songs, including Straight Ahead and their highest charting track, Same Old Story which guitarist Fletcher Dragge dedicated to all the parents bringing their kids up right.
He added that Australia was one of their favourite places to tour, and took the crowd into Society and their namesake track Pennywise. Already the hundreds of punters on the floor were moving together like a school of fish swimming in an ocean of Red Bull. The best place to be for the diehard Pennywise devotee.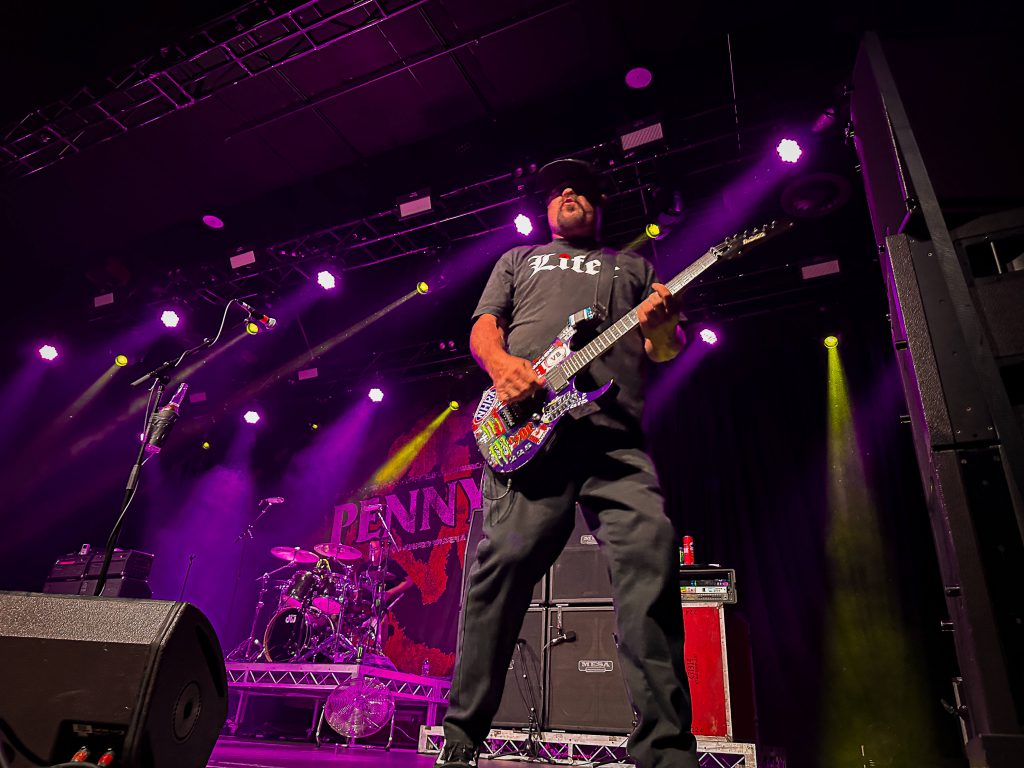 There is a lot of candid between-song banter, mostly from guitarist Dragge and vocalist Jim Lindberg. About halfway through the set, they pay tribute to the bands that have helped them throughout their career and jam out a mix of songs from Epitaph punk legends Bad Religion, Rancid, NOFX and Offspring. The crowd sings along in unison. The energy never lets up for a second as they continue through their set.
Every track is fast-paced, and it's a sight to watch the crowd pump their fists in the air, all in time with Jim's melodic vocal punch. They performed their Aussie ode with their cover of Men At Work's Down Under encouraging a massive punk choir. Another cover, Ben E. King's Stand By Me, gets more crowd assistance with the hits continuing with Every Single Day, Peaceful Day, the anthemic – Fuck Authority and more. It's no secret that Pennywise adore their fans as much as their fans adore them. Fletcher recently spoke to Punktuation Magazine about many things, including their absolute adoration of their multiple generation-spanning fan base.
"This one guy said, 'I've been listening for 25 years, and this is my kid. He's been listening since he was in the womb'. It's always something like that now, which is so cool to see." – Fletcher Dragge
So it was more than fitting that for the big finale, the band got two young local kids on stage. One straps' on a guitar, and the other is given a mic to help with the closing number Bro Hymn. The entire stadium sings as one. The crowd went off as Pennywise changed the lives of two very young fans.
It was quite simply an amazing night, an experience that people will talk about for some time.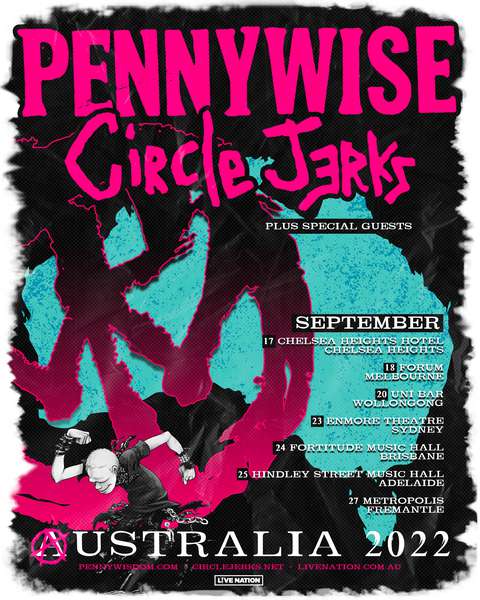 ---
Need More Punk?